Research from YouGov shows that a majority of Americans now support legalizing marijuana. 52% of Americans now support legalization, while only 34% oppose it. This is slightly up from 48% support for legalization when the question was last asked in March 2015. 
Majority Rules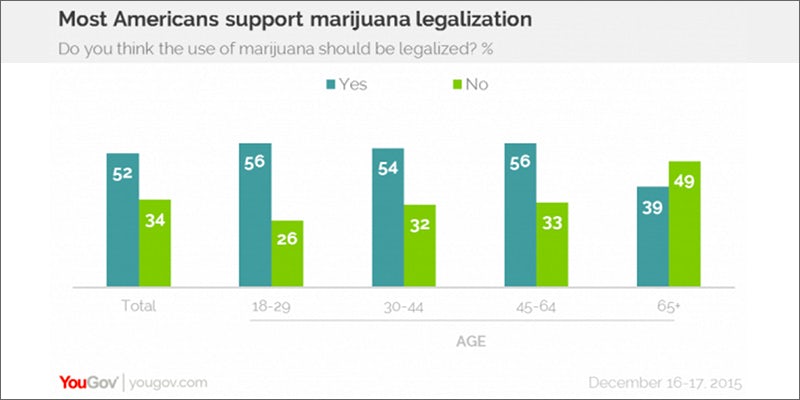 In recent years, the legal, and political, environment surrounding marijuana has been transformed. Four states have now fully legalized marijuana for recreational purposes and many others have either decriminalized possession or passed laws to allow medical marijuana.
Four states have legalized marijuana for recreational use including Alaska, Colorado, Washington and Oregon and the District of Columbia. New York, which traditionally has had strict drug laws, has become the latest state to allow medical marijuana when their first dispensary opened on January 7th. Marijuana is still strictly illegal at a federal level but, in general, the federal government will not take action against people who are not breaking state laws or facilitating the interstate trade in marijuana.
The Cost of Enforcement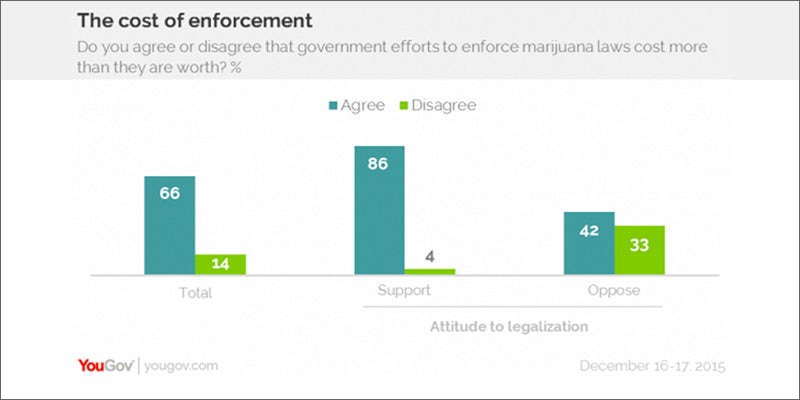 A massive majority of those polled agreed that government efforts to enforce marijuana laws were costing more than they're worth. 66 percent of those polled said the attempt to enforce the country's marijuana laws cost more than it's worth, with just 14 percent disagreeing.
Let us know your thoughts on the latest poll results. Drop us a line  on social media or in the comments below.