A new report by Date for Progress, a liberal data research organization, finds that the majority of Democratic lawmakers are not adequately representing Democratic voters' desires by supporting cannabis legalization.
Volunteers from Justice Democrats, a progressive political action committee, analyzed the voting records of every House Democratic on twelve bedrock issues for the political Left, including a $15 minimum wage, free college tuition, and cannabis legalization.
For cannabis legalization, the volunteers looked into whether House Democrats co-sponsored either the REFER Act of 2018 or the Ending Federal Marijuana Prohibition Act of 2017. These two pieces of legislation are central to the mission of both protecting states' individual rights to determine their own cannabis laws, and to amending the federal government's Schedule I classification of cannabis under the Controlled Substances Act.
"We also sent out emails to every member of Congress and to their staffers. We also checked their websites." Sean McElwee, the report's lead author and founder of Data for Progress, tells Herb. "So if anyone had wanted to indicate their support, they had an opportunity to do so."
According to the report, roughly 72 of all Democratic voters are in favor of supporting cannabis legalization, including 81% of Democrats under the age of 40. But according to the report, despite the fact that an overwhelming majority of voters support legalizing marijuana, "only 26 percent of House Democrats support it."
Only two Senate Democrats, for example—Ron Wyden and Kristen Gillibrand—co-sponsored Cory Booker's Marijuana Justice Act of 2017.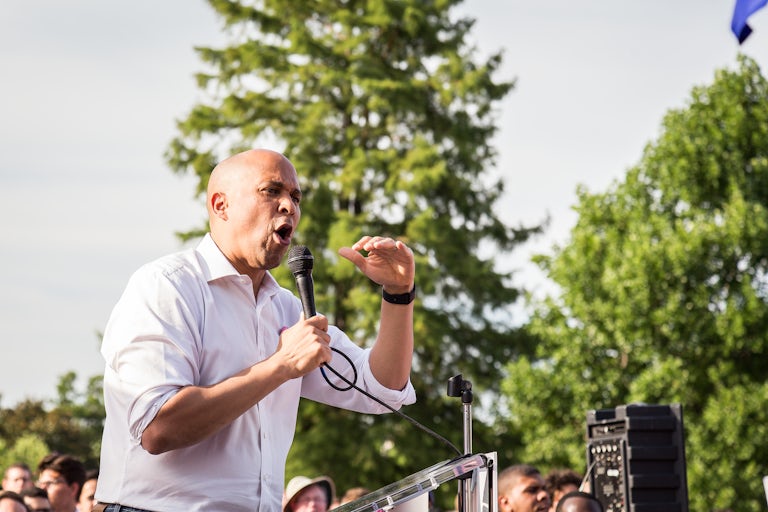 Cannabis reforms reform's increasingly non-partisan nature makes the lack of Democratic support even more puzzling. According to the report, 61% of Republicans and 76% of Independents under the age of 40 support legalizing cannabis. "In addition," reads the report, "private polling of deep red districts suggests that even there, legal marijuana garners strong support."
Despite widespread support for cannabis reform, as of now, the Ending Federal Marijuana Prohibition Act of 2017 only has 33 cosponsors. The REFER Act of 2018 has even lower support, with a mere 10 cosponsors. McElwee compares this to the wide Democratic support for the Equal Access to Abortion Coverage in Health Insurance (EACH Woman) Act of 2017, which received 133 Democratic cosponsors.
When held up side-by-side, it's apparent just how low Democratic support for marijuana reform actually is.
McElwee believes that marijuana reform is a necessary issue for Democratic lawmakers to get behind if they wish to represent their base and start winning elections—both on the local, state and federal level.
"Even in states like West Virginia, folks like Richard Ojeda see this as a very effective way to win over Trump voters." Says McElwee. "It's an amazing political issue for Democrats because it's something that for one, you don't have a ton of backlash. Two, it's an issue in which the base is very united. And three, it's one of those really key issues where you can play to the Obama-Trump voters, while also standing for racial justice, and also energizing those young voters that you need to win. So it's a really, really sexy issue."
Based on cosponsorship for either the REFER Act of 2018, or the Ending Federal Marijuana Prohibition Act of 2017, the following Democratic lawmakers—representing the following states, cities and/or counties—actively support cannabis reform.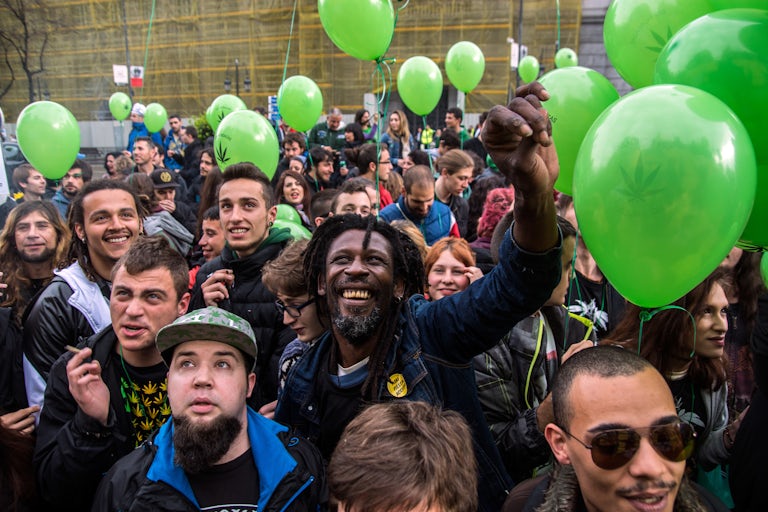 If your county, city, or local Democratic representative is not on the following list, they're likely not representing voters' desires and supporting cannabis legalization:
OREGON: Clackamas County, Multnomah County, Clatsop County, Columbia County, Multnomah County, Washington County, Yamhill County.
Democratic Representatives:
Rep. Blumenauer, Earl [D-OR-3]
Rep. Bonamici, Suzanne [D-OR-1]
ALASKA: AT LARGE.
Democratic Representatives:
Rep. Young, Don [R-AK-At Large]

COLORADO: Adams County, Boulder County, Broomfield County, Clear Creek County, Eagle County, Gilpin County, Grand County, Jefferson County, Summit County, Weld County, Adams County, Arapahoe County, Jefferson County.
Democratic Representatives:
Rep. Polis, Jared [D-CO-2]
Rep. Perlmutter, Ed [D-CO-7]
NEVADA: Clark County, Lyon County, Esmeralda County, Lincoln County, Mineral County, Nye County, White Pine County.
Democratic Representatives:
Rep. Titus, Dina [D-NV-1]
Rep. Kihuen, Ruben J. [D-NV-4]
NORTH CAROLINA: Beaufort County, Camden County, Carteret County, Chowan County, Craven County, Currituck County, Dare County, Greene County, Hyde County, Jones County, Lenoir County, Onslow County, Pamlico County, Pasquotank County, Perquimans County, Pitt County, Tyrrell County.
Democratic Representatives:
Rep. Jones, Walter B., Jr. [R-NC-3]
CALIFORNIA: Santa Clara County, Alameda County, Santa Clara County, Orange County,  San Joaquin County, Contra Costa County, Sacramento County, San Diego County, San Mateo County, Santa Cruz County.
Democratic Representatives:
Rep. Khanna, Ro [D-CA-17]
Rep. Lofgren, Zoe [D-CA-19]
Rep. Rohrabacher, Dana [R-CA-48]
Rep. Hunter, Duncan D. [R-CA-50]
Rep. McNerney, Jerry [D-CA-9]
Rep. Lee, Barbara [D-CA-13]
Rep. Swalwell, Eric [D-CA-15]
Rep. Eshoo, Anna G. [D-CA-18]
FLORIDA:  Pinellas County, Osceola County, central Orange County, northeastern Polk County.
Democratic Representatives:
Rep. Crist, Charlie [D-FL-13]
Rep. Soto, Darren [D-FL-9]
OHIO: Ashtabula County, LakeCounty, Geauga County, eastern Cuyahoga County, northern Trumbull County, northern Portage County, northeastern Summit County.
Democratic Representatives:
Rep. Joyce, David P. [R-OH-14]
HAWAII: Oahu County, Honolulu County,  Kauai County, Maui County, Kalawao County, Hawaii County.
Democratic Representatives:
Rep. Gabbard, Tulsi [D-HI-2]
Rep. Hanabusa, Colleen [D-HI-1]
VIRGINIA: Accomack County, Northampton County, York County, Arlington County, Fairfax County.
Democratic Representatives:
Rep. Taylor, Scott [R-VA-2]
Rep. Beyer, Donald S., Jr. [D-VA-8]
MICHIGAN: Barry County, Calhoun County, Ionia County, Kent County, Montcalm County.
Democratic Representatives:
Rep. Amash, Justin [R-MI-3]
ARIZONA: The city of Nogales, Somerton County, San Luis County and parts of Yuma County.
Democratic Representatives:
Rep. Grijalva, Raul M. [D-AZ-3]
TENNESSEE: Shelby County.
Democratic Representatives:
Rep. Cohen, Steve [D-TN-9]
MARYLAND: Parts of Carroll, Frederick County, and Montgomery County.
Democratic Representatives:
Rep. Raskin, Jamie [D-MD-8]
TEXAS: El Paso County.
Democratic Representatives:
Rep. O'Rourke, Beto [D-TX-16]
WASHINGTON: King County, Snohomish County. Also portions of Thurston County, Pierce County and Mason County.
Democratic Representatives:
Rep. Jayapal, Pramila [D-WA-7]
Rep. Heck, Denny [D-WA-10]
MASSACHUSETTES: Cities of Chelsea, Everett, Randolph, and Somerville.
Democratic Representatives:
Rep. Capuano, Michael E. [D-MA-7]
PENNSYLVANIA:  West Philadelphia, North Philadelphia, Northwest Philadelphia, parts of South Philadelphia, Center City, the Lower Merion Township in Montgomery County.
Democratic Representatives:
Rep. Evans, Dwight [D-PA-2]
ILLINOIS: Parts of Cook County and DuPage County. All or parts of Chicago, Elmhurst, Elmwood Park, Franklin Park, Hinsdale, La Grange Park, Norridge, Northlake, River Grove, Schiller Park, and Oakbrook Terrace.
Democratic Representatives:
Rep. Quigley, Mike [D-IL-5]
WISCONSIN:  Dane County, Iowa County, Lafayette County, Sauk County and Green County, portions of Richland County and Rock County.
Democratic Representatives:
Rep. Pocan, Mark [D-WI-2]
GEORGIA: Parts of DeKalb County, Gwinnett County, Newton County. All of Rockdale County.
Democratic Representatives:
Rep. Johnson, Henry C. "Hank," Jr. [D-GA-4]
DISTRICT OF COLUMBIA: AT LARGE.
Democratic Representatives:
Rep. Norton, Eleanor Holmes [D-DC-At Large] (non-voting Delegate)
MAINE: Cumberland County, Knox County, Lincoln County, Sagadahoc County, York County. Most of Kennebec County.
Democratic Representatives:
Rep. Pingree, Chellie [D-ME-1]