Last week, The Lawyers Committee for Civil Rights Under Law launched a national campaign to convince local prosecutors in legal recreational marijuana states to expunge the criminal records of individuals with drug misdemeanors. The effort is largely an attempt to help address the disproportionate prosecution of African Americans for minor criminal charges which are increasingly inconsistent with current marijuana laws, and which have always been partially racially motivated. 
"We may not be able to erase all of the damage that the war on drugs has unleashed on marginalized communities. But it is critical that we give all individuals with low-level misdemeanor marijuana possession convictions a clean slate and a chance to take care of their families free from the barriers to reentry they may otherwise face," writes Kristen Clarke, President and Executive Director of the Lawyers Committee for Civil Rights Under Law, in their news release.
While some states, like California and Oregon, have already created a path for expungement, it's not always an easy and accessible one. The campaign is not just about allowing people to clear their records but about making sure they know they can and that they have the resources to do it. 
"Expungements are the right thing to do," continues Clarke of The Lawyers Committee. "Since states have started legalizing marijuana, those with criminal justice records for misdemeanor marijuana convictions have watched while others have become wealthy from the business of selling marijuana."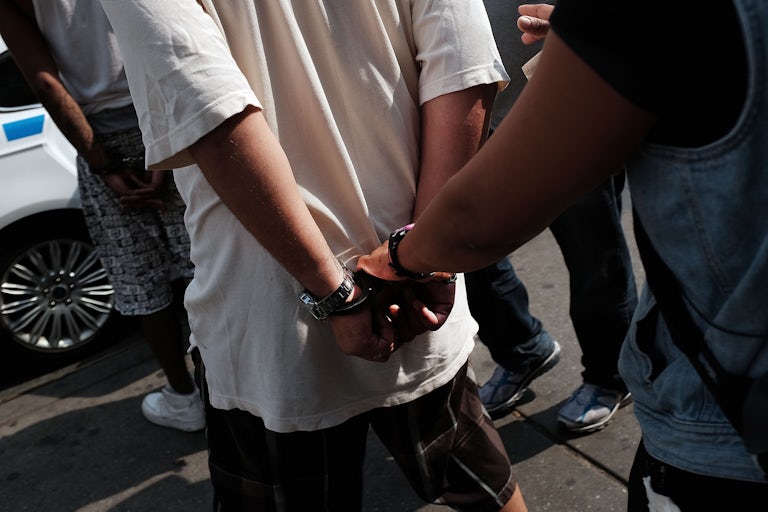 According to The Lawyers Committee, arrests made for marijuana-related crimes represent half of all the total drug arrests made in the United States, 88 percent of which, between the years of 2001 and 2010, were made for simple possession. In these years, 8.2 million people were arrested on marijuana-related charges. Criminal records often prevent these individuals from accessing basic rights and services such as education, employment, the ability to rent or buy housing, the right to vote, access to food stamps, and more. 
The Lawyers Committee also writes that African Americans are three times more likely to be arrested for possessing marijuana than white Americans. This disparity in drug arrests exists even though numerous studies have found that African Americans and white Americans sell and use illicit drugs at virtually identical rates.
Some states and cities are acting on their own to clear marijuana-related charges from peoples' criminal records. Last month, Seattle declared that it would be vacating all marijuana possession convictions that were prosecuted by the city between the years of 1986 and 2010. Oregon passed a similar measure in 2015 which allows individuals charged with any marijuana-related crimes to clear their criminal records. In California, individuals can similarly request to have their past marijuana penalties reduced or removed from their records. Colorado passed a similar measure last year which only applies to marijuana misdemeanors. And the city of San Francisco is working on a similar measure to dismiss marijuana misdemeanors and is also reviewing approximately 5,000 felony cases.
Nine states—Alaska, California, Nevada, Colorado, Oregon, Washington, Massachusetts, Maine, Vermont and the District of Columbia—have currently legalized the recreational use of marijuana for adults over the age of 21.