While recreational marijuana has been legalized in nine states and the District of Columbia, and medical marijuana in 29 states and D.C., arrests for marijuana possession continue to rise in a significant number of U.S. states.
In fact, in at least 21 states, the number of marijuana arrests made in 2016 was higher than in 2014.
In some states, the increase in marijuana arrests has been dramatic. According to The Intercept, between 2014 and 2016, arrest rates have gone up by 30 percent in Arkansas, 31 percent in New Jersey, and by 51 percent in Hawaii. Not enough data was available to assess arrest rates in Washington, D.C., Illinois, Alabama or Florida.
Even in legal marijuana states like Colorado, people are still being arrested for marijuana infractions (even if much fewer than states like Alabama). Overwhelmingly, these arrests were made against Black and Latino citizens. In fact, as NPR reports, White 10-to-17-year-olds saw roughly a 10 percent decrease in marijuana arrests between 2012 and 2014 in Colorado, while Latino Americans experienced a 20 increase in marijuana arrests, and Black Americans experienced a more than 50 percent increase in arrests.
In 2016, the official number of marijuana arrests was about 587,700. The significant majority of these arrests were for simple marijuana possession.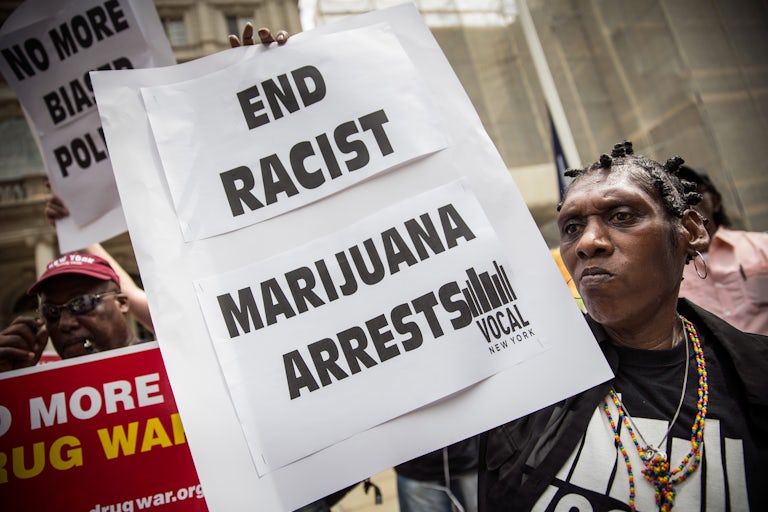 In New York City, the disparity between Black and Latino, and White Americans' experiences with marijuana and the law is stark. While arrests for marijuana possession in New York City decreased between 2014 and 2016, for example, White Americans were overwhelmingly the beneficiaries of declining marijuana law enforcement. In these years, 86 percent of marijuana arrests were made against Black and Latino Americans.
In the United States as a whole, Black Americans are roughly 3.5 times more likely to be arrested for minor marijuana crimes, despite all racial groups using the drug at nearly identical rates.
Despite mass incarceration becoming an increasingly prominent political issue in the United States—particularly as it pertains to non-violent drug arrests—the situation is far from getting better in an overwhelming number of states. As The Intercept's data shows, between 2014 and 2016, arrests for marijuana possession have increased in at least the states of Georgia, Arkansas, Hawaii, Idaho, Indiana, Kansas, Louisiana, Michigan, Mississippi, Missouri, Montana, Nevada, New Hampshire, New Jersey, New Mexico, North Dakota, Oklahoma, South Carolina, South Dakota, Tennessee, Utah, Vermont, Wisconsin and Wyoming.