The Canadian government wants you to hold off on buying weed until the summer, when it's taxed and regulated. In the meantime, Prime Minister Justin Trudeau would like Canadians to understand that marijuana is still bad—at least until they can figure out how to stop arresting cannabis consumers.
"We recognize that anyone who is currently purchasing marijuana is participating in illegal activity that is funding criminal organizations and street gangs," Trudeau said to reporters in London, Ontario.
In the two years since Trudeau announced his plans to legalize marijuana, he has tip-toed around the topic as though he were defusing a bomb. One of the most glaring unanswered questions is what will happen to the thousands of people with criminal records for simple possession. It's an issue which Trudeau keeps saying the country will deal with at some unspecified time in the future.
"We'll take steps to look at what we can do for those folks who have criminal records for something that would no longer be criminal," Trudeau said at a town hall meeting in Toronto last year. That was his timid response to a rather straightforward question. If the government thinks the current law is wrong, will it offer amnesty to those who have been wrongfully jailed?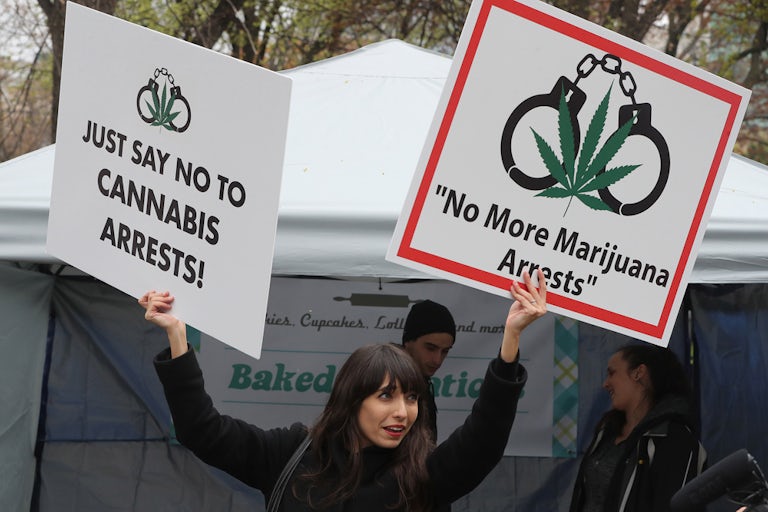 The easy answer would have been a simple "yes," the real answer is: "we're making this look more complicated than it has to be."
Despite the government's clear intention to legalize marijuana by July, 55,000 cannabis-related arrests were made in 2016 alone, according to Statistics Canada. While that's the lowest number of arrests made since 1995, it's important to note that 2016 was also the year the government publicly announced the law is flawed and they intended to change it. Of those arrested, 23,329 were charged; the overwhelming majority of which were for possession.
On some level, these arrests are understandable. The law is the law and we have to enforce it. Even the PM's cautious tone can be forgiven when you consider that he's set a hard deadline for legalization and stood by it firmly in the face of opposition from local governments.
The provinces have had a hard enough time deciding how to tax and regulate legal cannabis, adding amnesty to the debate would likely only delay the process. But excluding it is also sloppy policy which could have been addressed by a moratorium on possession arrests—if nothing else.
The continued arrests for simple possession reveal the government's inability to take a real stance on the criminalization of weed, even though it's had two years to make up its mind about amnesty. It also shows that Canada's government is still squeamish about cannabis, even if its people are not.
"This must be an orderly transition. It is not a free-for-all," Public Safety Minister Ralph Goodale said last April after admitting to reporters that the government hadn't even considered amnesty as an option.
That's because from the moment Trudeau announced his intent to legalize, he passed the buck to politicians and law enforcement officials who have been less than eager to embrace that change. Among the top officials chosen to lead the legalization charge is Bill Blair, the former Toronto police chief well-known for locking up cannabis consumers.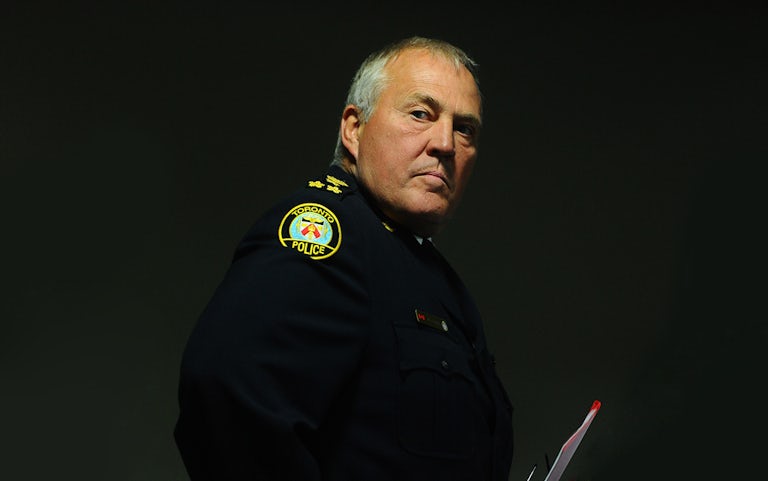 This is Canada's model for legalization. One in which the people in charge of bringing us legal weed are the same people who only understand it from a criminal perspective.
"When they think of cannabis," says Cam Battley, Executive Vice President of Aurora, one of the country's largest licensed growers, "they think that it's very simplistic like when they were back in university and they bought a few grams."
The truth is something far more complex. It's a rich and professional business culture that has developed well beyond your typical basement dwelling drug dealer. It's a nationwide industry that would otherwise be indistinguishable from any other business if it wasn't for the product.
"It's very strange to be called shady when they're the ones who force us to stay in the shadows," says Jodie Emery, co-owner of Cannabis Culture dispensaries which were raided by Toronto police.
In December, she and her husband, Canada's "Prince of Pot" Mark Emery, were ordered to pay fines of $150,000 each plus a $45,000 "victim surcharge" and two years probation. That means that this time next year, they'll be serving a sentence for a crime which no longer makes sense.
"Certainly, we know the current legislation is hurting Canadians and criminalizing Canadians who perhaps shouldn't be," the Prime Minister added to his comments in London, "But that is an engagement we will take once we have a legalized and controlled regime in place, not before."
That kind of verbal ballet is difficult to watch because Trudeau knows that correcting the mistakes of the past doesn't just mean allowing people to access weed—it means helping the thousands of people who have already been using it return to normal lives without a criminal record.