The proposed bill which aims to remove marijuana from its strict scheduling under the federal Controlled Substances Act could cruise its way into law as an amendment to a popular criminal justice reform bill recently approved for a vote on the Senate floor.
The bill proposed by New Jersey Senator Cory Booker last summer, known as the Marijuana Justice Act (MJA), would lift the federal ban on marijuana and would also attempt to undo the harms of the war on drugs by withholding federal funding from states which continue to enforce marijuana laws in ways which disproportionately affect minorities.
Its provisions make it the perfect fit as an amendment to a prison sentencing reform bill, known as the Sentencing Reform and Corrections Act (S. 1917), which would reduce mandatory minimums for certain drug-related crimes.
Booker indicated his intention to include his bill as a rider to S. 1917 last Thursday when he filed the MJA as an amendment. Riders are proposed bills which are added as amendments to other bills which may have a higher chance of being passed into law. Once a rider is approved, a vote on the original bill would also count as a vote on the bill which was attached.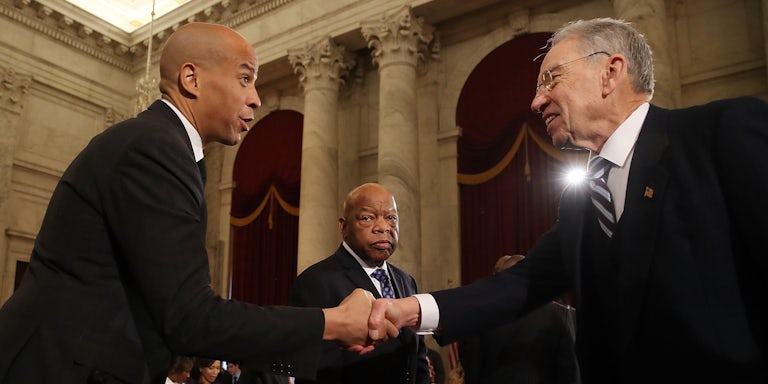 The MJA was just one of several amendment proposals for S. 1917 which has gained support from both Republicans and Democrats; having been approved for a vote in the Senate by the Judiciary Committee with a vote of 16-5. The Committee's Republican Chair, Senator Chuck Grassley of Iowa even took the time to publicly criticize Attorney General Jeff Sessions for attempting to stop the bill from gaining approval.
While the amendment is yet to be approved, Booker is expected to push its inclusion in the sentencing reform bill when it goes to the Senate Floor for a vote according to Tom Angell's Marijuana Moment.
The MJA recently picked up a new co-sponsor, New York Senator Kirstin Gillibrand, and a companion bill was introduced in the House in January by Congresswoman Barbara Lee of California. The same version of the bill would have to pass through both houses of Congress before it is sent to the President's office to be signed into law.