The relationship between church and state can be a battle of attrition. Ever since Thomas Jefferson told the Baptist Association that the United States government would not prioritize or prohibit freedom of religion, parties on both ends of the pew have tested the parameters of those beliefs. While many Christian churches across the States enjoy some level of immunity, one item seems to be the leaf breaking the camel's back: cannabis.
Standoffs between states and weed churches seem to be happening across all levels of legalization. In California, which has allowed for recreational cannabis sales since the beginning of the year, there have been horns locking between the city of San Jose and the Coachella Valley Church, which begins a court hearing this week.
The church, which promotes 'Rastafarianism' (despite supporting few of the religion's tenants) distributes marijuana and facilitates smoking for its congregation. The church has also gained some international infamy through stunt video advertisements of Jesus finding his higher powers. City officials have pointed out the obvious. "I'm not going to say they're not churches," said San Jose City Attorney Rick Doyle, "but to the extent that they're distributing marijuana, they're an illegal dispensary, in my view."
Doyle successfully got a court order to shutter the Oklevueha Native American Church, a similar operation. He seeks to do the same to the Coachella Valley Church. In California, there are now weed churches in Oakland, San Diego, and Los Angeles, among other cities. 
Some of the longer, ongoing fights aren't necessarily happening in states where marijuana is legal either. The First Church of Cannabis has been giving weed to their churchgoers in Indianapolis, Indiana for nearly three years.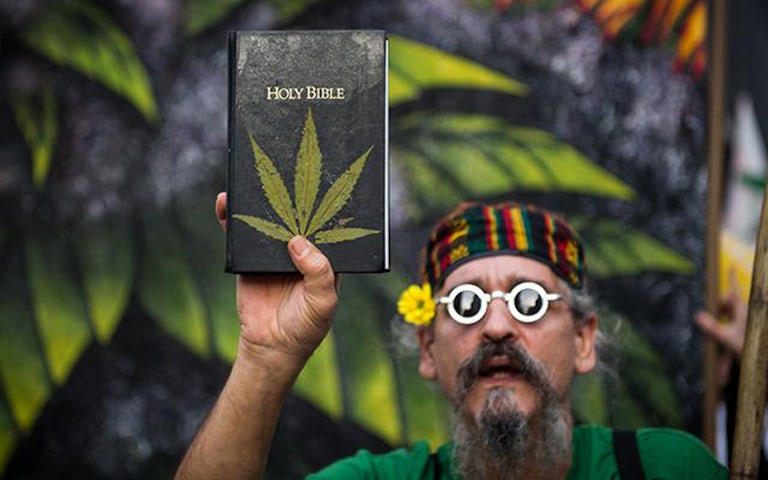 The church was formed by one-time punk band manager, Bill Levin, in 2015. Levin, who looks like an electrocuted Richard Belzer, practices partly out of spite for former governor and current vice president, Mike Pence. Levin formed his church the same year that Pence passed Indiana's version of a state-level Religious Freedom Restoration Act. Because nothing in the act spoke on the use of narcotic substances, Levin decided to start a religious institution devoted to the herb.
Then, at the end of last year, something of the inevitable happened when Indiana Attorney General Curtis Hill, who is notoriously anti-cannabis, began moving towards ending The First Church of Cannabis' operations. "Even if this were a bona fide religion in which the plaintiffs sincerely believed, the state's compelling interest in protecting public health and safety from the dangers of drug abuse would override the plaintiffs' desire to treat marijuana as some kind of sacrament," said Hill.
In Michigan, where medical marijuana was legalized in 2008, one ordained minister says he opened his weed church to in fact support public health. Jeremy Hall, the minister and a medical marijuana patient, opened The First Church of Logic and Reason in Lansing, Michigan in 2016 in the hopes that he could provide a safe place for people who use marijuana medicinally. Unlike in Indiana, where the state has yet to even pass a CBD bill, Hall's church may have some legal ground to stand on as the town of Lansing allows for the "transfer" (not sale) of less than one ounce of flower to private individuals 21 and over. They don't sell cannabis, they just allow people with medical cards to consume it and, they often do, together before services.
"If we're going to be considered a marijuana establishment," Hall told the Lansing Journal. "Then you would have to consider a Catholic church that serves wine a bar."