Marijuana may be legal in Massachusetts, but if you plan to partake chances are you'll also be expected to surrender your Second Amendment rights. It's an issue all legal states have had to deal with and its nothing new for Massachusetts, which legalized medical cannabis at the ballot box back in 2012.
Now, a gun store in Charlemont, Overwatch Outpost, is reminding its patrons that if they consume medical marijuana they cannot buy a gun by posting a reminder from the Bureau of Alcohol, Tobacco and Firearms (ATF) written in 2011. Just before medical cannabis was approved by voters, the ATF sent out a letter stating that those who carry medical cannabis cards will surrender their right to bear arms.
According to the Gun Control Act of 1968, firearms retailers are obligated to refuse sales to anyone "who is an unlawful user of or addicted to any controlled substance," and under the federal Controlled Substances Act, marijuana is illegal regardless of the laws individual states have passed. As a result, states which have legalized cannabis also inadvertently strip marijuana users of a right that's often proven to be one of the most difficult to curb.
In Massachusetts, where background checks for gun purchases are mandatory, residents who hope to own a gun have to fill out a questionnaire which asks if they consume cannabis.
"If you answer falsely on this question here, on 'question e,' if you answer no and you actually are, you're subject to a felony charge for lying on a federal form," Matthew O'Shaughnessy of the Boston ATF told WBUR Radio.
After the state's legalization of medical cannabis in 2012, many patients believed that their possession of a legal license exempted them from the gun ban. The confusion has since prompted the ATF to add a bold-lettered reminder on the form.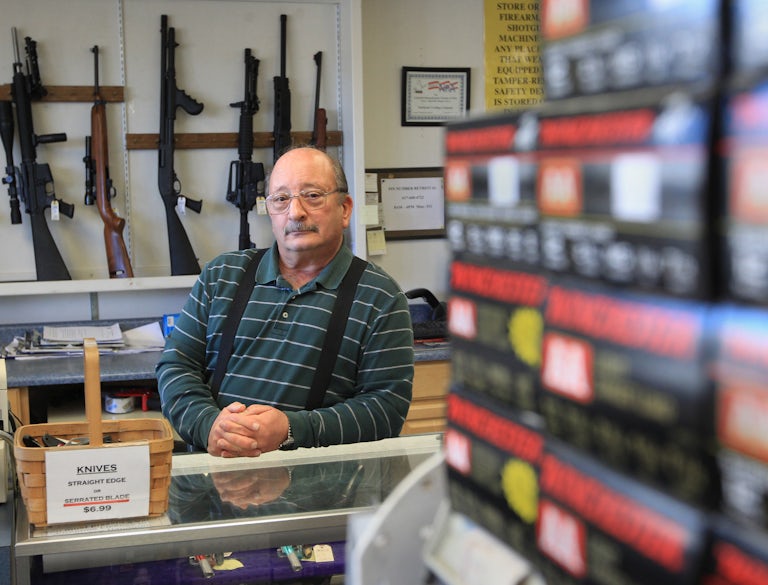 "Warning," it reads. "The use or possession of marijuana remains unlawful under Federal law regardless of whether it has been legalized or decriminalized for medicinal or recreational purposes in the state where you reside."
But O'Shaughnessy also notes that he doesn't know of anyone who has been prosecuted for answering falsely. In fact, state authorities across the country have emphasized that purchasing a firearm while also being a medical cannabis patient is illegal, but in practice, the law has proven difficult to enforce because answering falsely is so easy to do.
Under Massachusetts regulations, registry records are only available to local law enforcement, yet even in the case of local police that power is extremely limited. Police, according to Massachusetts attorney Gregory Oberhauser, are only allowed to inquire about a patient's status within the medical program.
Last November in Hawaii, medical marijuana patients received letters from Honolulu police which read, "you are disqualified from firearms ownership, possession or controlling firearms. Your medical marijuana use disqualifies you from ownership of firearms and ammunition."
After a massive outcry from residents, the Honolulu police backed off, saying they would not focus on enforcing the ban and that "formulating the policy will take time, but we want to do it right."
In Pennsylvania, as well, the state Department of Health announced in January that it would not provide medical marijuana registry records to the police, stating that police would have to request that an individual present their patient ID on a case by case basis.