Back in November 2016, after 1.8 million Massachusetts residents voted to legalize recreational marijuana, it didn't take long for the politicians in the Legislature to start interfering with the rollout of sales. First, they passed a six-month delay to the entire law, giving them more time to draw up regulations. Then, they raised the taxes on cannabis products and clarified that towns can ban the industry if they want. They also restricted advertising and packaging.
Massachusetts Gov. Charlie Baker, who opposed legalization in the first place, approved those changes, only begrudgingly accepting that "the voters had spoken."
But now, finally, the regulations have been approved. And officials say the state will be ready in July, when Massachusetts weed sales—the legal kind, that is—are scheduled to begin.
Here's what you need to know.
When will I be able to legally buy weed?
That's a fair question since it took Massachusetts almost three years to open its first medical marijuana dispensary after medical cannabis was legalized by voters. While some say legal weed sales will begin "July 1," that exact date is not yet a certainty, reports The Boston Globe. That's just the earliest possible date for Massachusetts weed sales to theoretically begin.
The Massachusetts Cannabis Control Commission will start accepting applications for weed business licenses on April 1. It then has a maximum of 90 days, from the day applications are received, to act on them. "Our intent is to have a go on July 1 and we are hitting all of the deadlines that we have in the legislation, so I'm feeling good about that," Cannabis Control Commission Chairman Steven Hoffman told the State House News Service.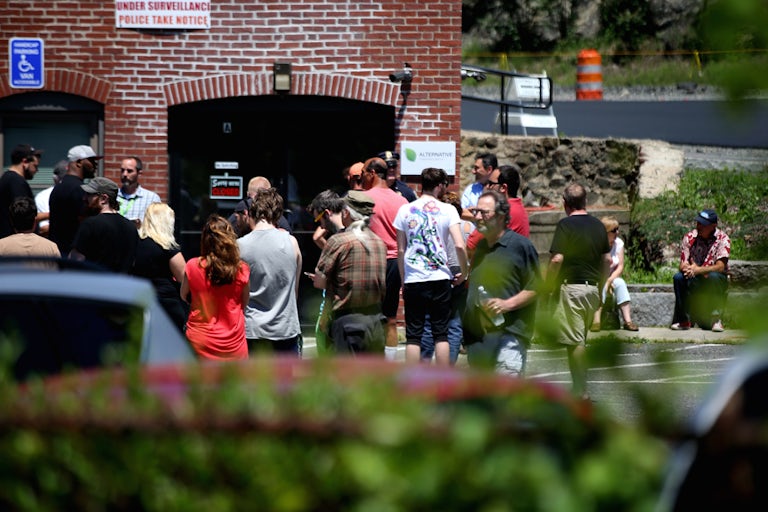 Where will I be able to buy weed in Massachusetts?
In all likelihood, the only places in Massachusetts that will be ready to sell weed in July will be currently operating medical marijuana dispensaries that also win a recreational license. That's because they'll probably be the only stores in town with any cannabis in stock. Dispensaries with licenses for recreational sales will be required to keep a reserve of 35 percent of their products on the side for medical marijuana patients. Patients with medical IDs will also be provided a separate line at the stores. Not all medical dispensaries want a recreational license, however.
Adequate supply could be a big problem for the new industry. Cultivators might not have enough time to grow a sufficient amount to meet demand. That could mean shortages and spiking prices soon after retail sales begin, as initially happened in Washington state.
Wait, will there still be local weed bans?
Some Massachusetts cities and towns have taken steps to ban pot shops within their borders. Residents in such towns can still legally use cannabis. They'll just have to go out of town to legally spend their money on any. Of the state's 351 municipalities, at least 189 have already banned retail marijuana stores.
How, er, highly will weed be taxed?
Massachusetts weed sales will be taxed at 17 percent. Local governments will also be allowed to tack on an additional 3 percent.
How much weed can I possess in Massachusetts?
If you're in public, you're only allowed to have up to an ounce on your person. But if you're at home, you can have up to a 10-ounce stash. If there is any cannabis in your car, it cannot be in view. Stash your weed out of sight in vehicles.
How much weed can I grow in Massachusetts?
You can grow up to six marijuana plants in your home. If there's more than one adult living in your residence, you are allowed up to 12 plants. That doesn't keep adding up with more adults in the home, however. It's just 12 plants, even if you have a house full of stoners. But there's some good news. Any marijuana you harvest from your own plants does NOT count towards the 10 ounces you're already allowed to possess in your home.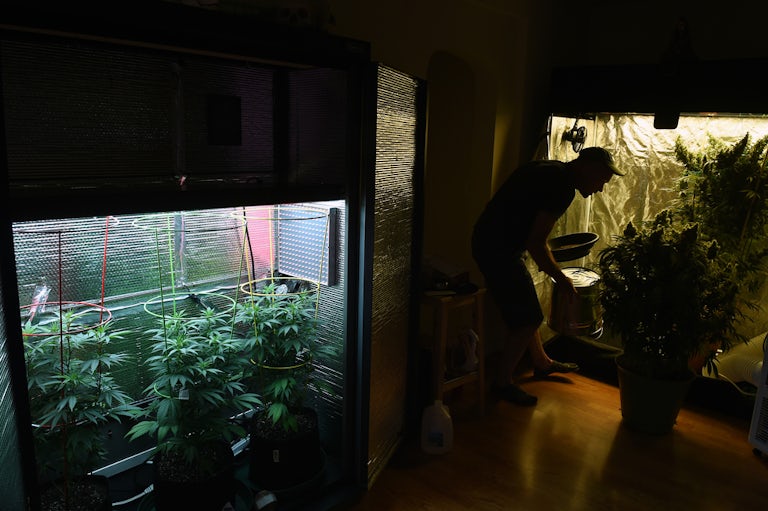 What about commercial grow operations?
Commercial grows will be limited to a maximum of 100,000 square feet. Cultivators will be sorted into one of 11 tiers, by size, and be required to prove they can sell at least 85 percent of the cannabis they grow. This rule is to try to prevent black market diversion. The CCC can demote growers to a lower tier if they can't prove they can sell 85 percent of their harvest. That means they'd be allowed to grow less marijuana in the future.
Will there be cannabis lounges? How about delivery?
The Cannabis Control Commission initially decided they would issue "social use" licenses for onsite consumption. It's still unclear, however, if actual smoking will be allowed at those locations. The CCC has promised to have a discussion on that point, and also on issuing cannabis delivery licenses, by October. First, they must consider the effects of secondhand smoke and workplace safety. A decision is due by February 2019. Social consumption and home delivery licenses, if approved, will for a time be issued only to "equity applicants," meaning those who come from communities disproportionately harmed by the War On Drugs.
Is anyone barred from Massachusetts' legal cannabis industry?
Anyone with felony drug trafficking convictions other than marijuana will be banned from the legal marijuana industry in Massachusetts.
Could there be snafus and delays?
Are we saying there could be snags in the rollout of Massachusetts weed sales? The short answer is: "Yes, but we hope not." Chairman Steven Hoffman of the Cannabis Control Commission is trying to tamp down expectations. He says not to expect things to immediately be like they are in other legal states. "We're not going to snap our fingers and have Colorado," Hoffman said, reports WBUR. "What Colorado is now, four years after passing their initiative, we're not going to be there on July 1. We will get there, but I think it's just important to, as I said, set expectations that we're not going to have Colorado on July 1st of 2018."