When it became clear that the 2018 Farm Bill would include hemp legalization, farmers all over the country rejoiced. But in the process of including legalization as part of the massive bill, three lines were added which could exclude a large number of those farmers for having previous cannabis-related convictions.
The portion of the farm bill which would legalize hemp, also includes a part which reads:
"Any person convicted of a felony relating to a controlled substance under State or Federal law shall be ineligible—
(i) to participate in the program established under this section; and
(ii) to produce hemp under any regulations or guidelines issued under section 297D(a)."
That means that while the law would legalize hemp for farmers who have already been growing it under state pilot programs, it could also force them to stop growing if they have been convicted of a cannabis-related crime.
Just before Congress went on a break in March, Senate Majority Leader Mitch McConnell (R-KY) announced that he would be introducing the Hemp Farming Act of 2018, a bill which would legalize the production of industrial hemp and allow hemp farmers to become eligible for government assistance which is already available to other farmers. Last month, McConnell managed to include his legalization proposal as an amendment to the Agricultural Improvement Act of 2018, otherwise known as the farm bill.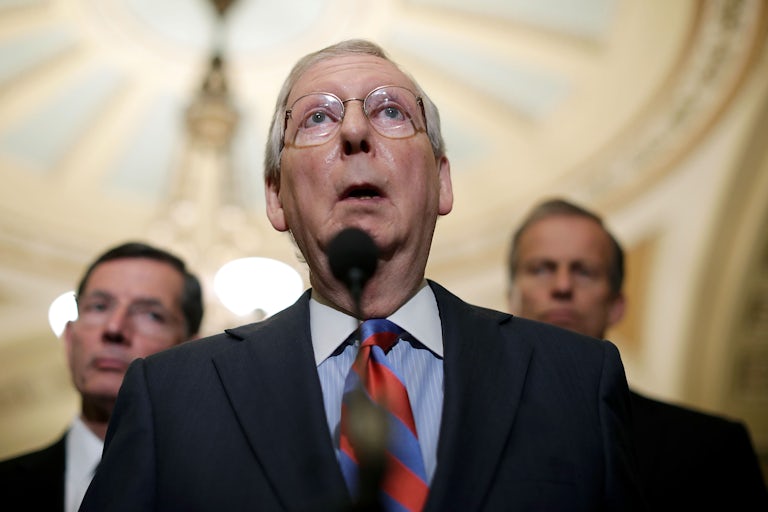 "There was a lot of discussion about what is this?" McConnell said in his March announcement. "Is this the same as the illicit cousin [marijuana]? I think we've moved past that and most members of the Senate understand that these are two very different plants."
Despite the fact that even the Senate's Republican leader believes that hemp and marijuana are completely different, his colleagues still demanded that those who have participated in illicit cannabis activities are banned from legally growing hemp.
As Geoff Whaling, head of the National Hemp Association, told Hemp Industry Daily the ban was included in the bill as a compromise with Senate Republicans who feared that the farm bill "would give illegal marijuana producers access to a nationwide commodity market before regulators could figure out how to check a new crop for THC levels."
Whaling told the Daily that this was a major sticking point for lawmakers led by Iowa Senator Chuck Grassley, who refused to include hemp legalization in the farm bill unless it included the ban on those convicted of a cannabis-related crime. As a result, hemp farmers like Veronica Carpio could be forced to stop growing.
"I have a very successful business, I've been in this from the get-go," Carpio, president of Grow Hemp Colorado, said at a conference in New York last month. "If this bill passes, I'm out."
Her last hope is now the House version of the bill which has yet to be finalized. In order for hemp to be legalized, it has to be included in both the House and Senate versions of the farm bill. So the ban could be removed when the bills are reconciled.
In recent months, the farm bill has been held up in Congress over immigration debates. Lawmakers only have until September to finalize the bill or hemp farmers could be left relying on a 2014 law which decriminalized hemp through state pilot programs and limited farmers to growing hemp for research.