The federal law which protects medical marijuana from prosecution was approved on Friday as part of a massive spending bill. The provision, known as the Rohrabacher-Blumenauer amendment, was extended for the remainder of the fiscal year 2018 which ends on September 30.
The language of the amendment prohibits the Department of Justice (DOJ) from spending any money on prosecuting medical marijuana businesses and patients in states where it is legal.
The amendment passed by Congress late Thursday night as part of a $1.3 trillion, 2,200 page, spending bill, $700 billion of which will go to the Department of Defense.
Rohrabacher-Blumenauer has been included in every federal spending bill since 2014. It is named for its bipartisan co-sponsors Dana Rohrabacher (R-CA) and Earl Blumenauer (D-OR) but was introduced by Senator Patrick Leahy (D-VT) this time around.
"While I'm glad that our medical marijuana protections are included there is nothing to celebrate since Congress only maintained the status quo," Blumenauer wrote in a statement Thursday. "This matter should be settled once and for all," he added, "Instead, Attorney General Jeff Sessions is doubling down on the failed War on Drugs and Republican leadership in Congress—led by Chairman Pete Sessions—is stonewalling."
Blumenauer was referring to Republican Rep. Pete Sessions of Texas who heads the House Rules Committee has repeatedly blocked attempts at cannabis reform. The Rules Committee rejected an amendment Thursday which would have extended the same protections to recreational marijuana states.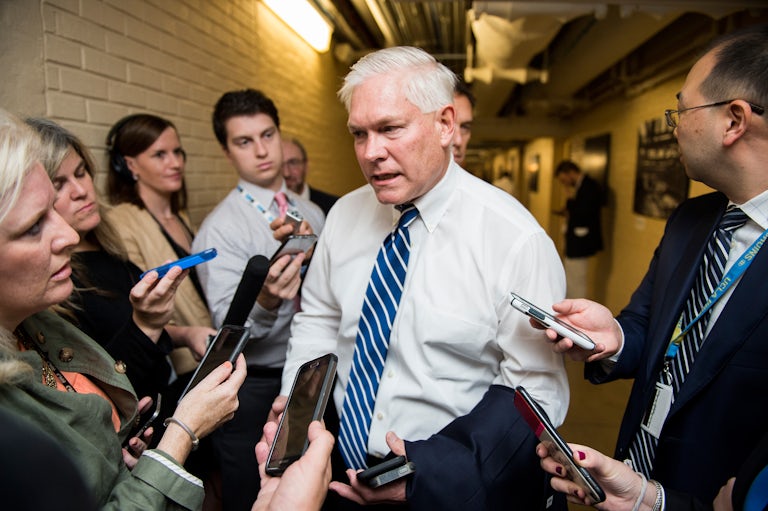 Last year, Rep. Sessions successfully blocked Rohrabacher-Blumenauer from the House version of a spending bill, but the Senate approved it. Since both houses of Congress have to pass the same version of a bill for it to become law, the amendment was added afterward to reconcile the bills.
Rep. Sessions is up for re-election in the midterms on November 6, 2018. Both of his potential Democrat challengers, Colin Allred and Lillian Salerno, have expressed support for legalization of medical marijuana according to Politico.
Attorney General Jeff Sessions has also opposed the amendment having sent a letter to Congress last year demanding that it not be included in the budget.
"I believe it would be unwise for Congress to restrict the discretion of the Department [of Justice] to fund particular prosecutions," AG Sessions wrote, somehow linking medical marijuana with violent crime, "particularly in the midst of a historic drug epidemic and a potentially long-term uptick in violent crime."
More recently, the Attorney General has admitted that the DOJ does not have the resources to enforce the federal marijuana ban in states that have legalized. Though many still feel that legal provisions, like the protections that just passed, are necessary to guarantee that federal law enforcement won't act on the ban. Those fears are fueled by Sessions' tough on crime stance and the reversal of the Cole Memo policy which advised the DOJ not to act against legal marijuana.
President Trump signed the spending bill on Friday afternoon after initially threatening to veto it over concerns that it didn't include funds for a border wall and other immigration provisions.