The Mormon Church says that it is in favor of medical cannabis legalization in Utah, but not the plan that will go before voters in November.
Instead, the church has offered an alternative to the ballot measure known as Proposition 2, demanding that the Utah Legislature calls an emergency session after the election to pass a bill which would legalize medical cannabis.
In recent months, the Church of Jesus Christ of Latter Day Saints, along with a coalition of organizations which include law enforcement and health officials, have been campaigning against a ballot measure to legalize medical cannabis which will appear on the ballot during the November 6 primary.
Among the biggest issues the church has with the proposal is that it would allow those who are medically licensed by the state to grow their own cannabis if there is not a dispensary within 100 miles of their home by 2021.
Under the Mormon Church's plan, the Governor would have to call lawmakers back to work when they would otherwise be out of session in order to come up with their own bill to legalize. This would have to take place in November or December, before the legislature is scheduled to reconvene in the new year.
For his part, Governor Gary Herbert has said that he would consider calling an emergency session, but would not do so until a plan to legalize has been put forward.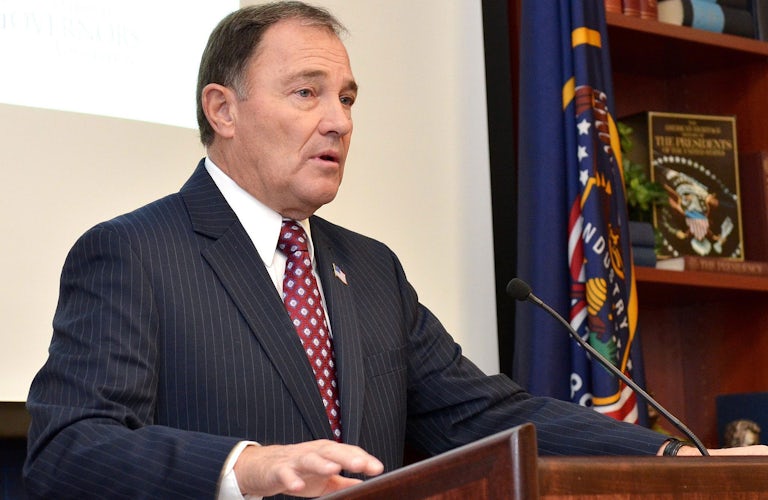 Still, the Mormon Church would like to see a plan that is both innovative and that could be applied as a model for other states, according to a report from the Deseret News. 
"This isn't 'let's wait till next year to have a conversation.' It needs to be dealt with soon," Elder Jack Gerard, the official spokesman for the church told Deseret News. "There's an urgency to accomplish this…"
Meanwhile, Democrat House Minority Leader Brian King, who personally opposes the current ballot measure, has said that he plans to vote to legalize in November and have lawmakers make their own changes to the measure.
"Proposition 2 is flawed, in some ways very flawed," King told the Deseret News, "but I'm voting for it because if we vote it down, I think the likelihood that the state Legislature will come back and put in place meaningful medical marijuana is slim and none."
Last spring, a far more restrictive medical marijuana bill passed into law allowing a limited number of terminally ill patients to try medical cannabis.
The proposal for a new piece of legislation comes as something of a surprise to those who believe that the Mormon Church has been an active opponent of cannabis reform.
In April, the Utah Senate's Twitter page got into a spat with its followers over Mormon opposition to legalization. The church has also been criticized for its connection to investments made in the pharmaceutical industry, leading its critics to believe that the church may have some financial interest in stifling legalization efforts.
According to an analysis compiled by The Salt Lake Tribune, the church has a massive influence over the state's government, with 88 percent of the Utah legislature identifying as Mormon. A recent poll from Dan Jones & Associates found 55 percent of those who identify as "very active" in the church say that they support the legalization of medical cannabis.