Cannabis arrests rose from 2016 to 2017, driven by the continuing Congressional ban on legal sales, according to the latest analysis of Washington D.C. arrest data by Marijuana Moment.
While Washington D.C. legalized recreational cannabis in 2014 with Initiative 71, members of Congress blocked it from using any funds to set up a regulated cannabis system, effectively creating a cannabis sales ban.
While arrests dropped initially after legalization, they've begun to rise again. This has a lot to do with the cannabis sales ban, according to Marijuana Moment. "Busts for distribution have skyrocketed," says the note, "while huge racial disparities in arrests continue unabated."
Cannabis arrests were up to 926 in 2017, from 676 in 2016. That's a 37 percent increase in just 12 months.
Marijuana Moment's data shows that the initial drop in arrests was driven by a nearly complete elimination of possession arrests, as D.C.'s law allows for personal possession of up to two ounces of cannabis, gifting of up to an ounce, and home-grows with as many as six plants. But the cannabis sales ban has driven many residents to seek ways of creatively "gifting" more of the substance. Some people have organized pop-up events where a t-shirt can be purchased for $40, and it just happens to come with an eighth of weed.
But D.C.'s police have begun cracking down.
This is reflected in the data, which shows that distribution arrests rose 83 percent from 2016 to 2017 following the cannabis sales ban. Over a longer time period, the change has also been drastic, with five times as many arrests for distribution in 2017 (403) compared to 2013 (83).
While arrests for public consumption are up too, pop-up events are likely to blame for the overall rise, according to Marijuana Moment. They concluded that arrests would almost certainly diminish significantly if people could "legally buy cannabis directly from licensed stores."
But Congress continues to block that from happening.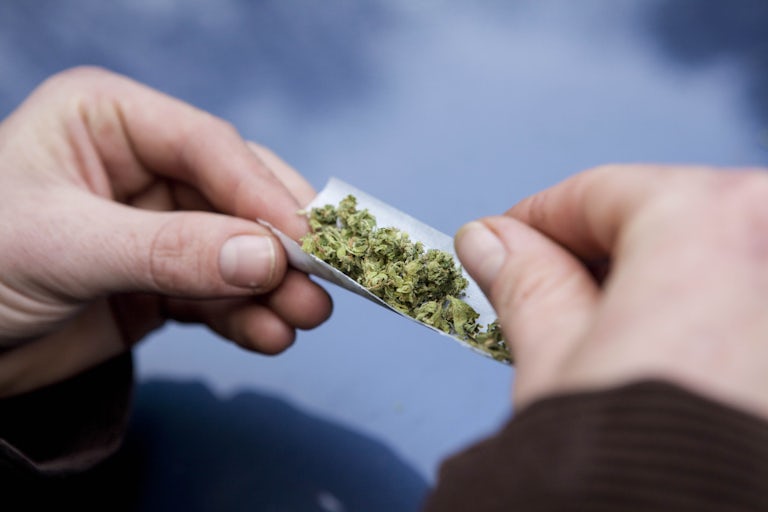 The ongoing cannabis sales ban has legalization advocates frustrated, to put it lightly.
"Thanks to Congressional interference prohibiting the District from regulating marijuana, rather than collecting tax revenue and ensuring product safety, we are wasting resources and wreaking havoc on young people's lives with continued arrests for marijuana use," said Kaitlyn Boecker, Policy Manager for the Drug Policy Alliance (DPA).
The DPA was particularly incensed by the ongoing racial disparities in D.C. cannabis arrests, something that was also highlighted in Marijuana Moment's data. Their chart shows that African-Americans have accounted for about 90 percent of all cannabis arrests since 2012. That was down 3.5 percent in 2016 but shot back up to 91 percent in 2017. Again, following the cannabis sales ban.
"The war on drugs has always been a war on people, particularly on people of color," Boecker said. "Initiative 71 was passed by voters in large part to eliminate racial disparities in marijuana arrests, but due to racial bias and uneven enforcement, four years later Black men continue to be overwhelmingly targeted for arrests."
In lieu of lifting the cannabis sales ban, she said those arrests, at least, should stop immediately.
"It's absurd that despite legalization in the District, MPD continues to make such arrests; as former MPD Chief Cathy Lanier said years ago, 'All those arrests do is make people hate us.'"