An important decision by a state appeals court yesterday has mandated that New Jersey reconsider the legal status of cannabis, due to its proven medicinal properties.
This means that the state will likely have to change marijuana's current status as a Schedule I drug, which puts marijuana on par with heroin, cocaine, and LSD. Changing marijuana's status from a Schedule I drug will open many new doors regarding sourcing federal funding for medical research into the plant.
On page 12, the appeal reads: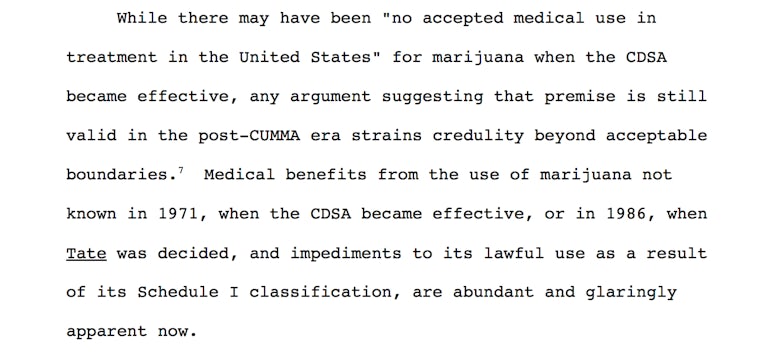 Medical marijuana has in fact been granted an exception in the state of New Jersey since 2010, when then-governor Jon Corzine signed the New Jersey Compassionate Use Medical Marijuana Act. The Act allows patients with "cancer, glaucoma, positive status for human immunodeficiency virus, acquired immune deficiency syndrome…severe or chronic pain; severe nausea; seizures, including, but not limited to, those characteristic of epilepsy; severe and persistent muscle spasms, including, but not limited to, those characteristic of multiple sclerosis or Crohn's disease," as well as HIV/AIDS to legally use marijuana.
According to New Jersey's Health Department, there are currently over 15,400 medical marijuana patients registered in the state.
It's strange, then, that in 2014 the former director of the Division of Consumer Affairs, Steve Lee, chose to uphold marijuana's Schedule I status due to a 1970 law that equated marijuana with drugs like cocaine and heroin. However, Steve Lee has since left his position at the New Jersey Division of Consumer Affairs, leaving Sharon M. Joyce as the new director. This personnel change may have contributed to the state appeals court's decision to pursue the rescheduling of marijuana.  
The aim is to question the implications of State vs. Tate (1986) in which The Supreme Court of New Jersey rejected Tate's argument for "medical necessity" due to the Schedule 1 classification of cannabis. The appeal notes that Justice Clifford did at the time leave the future open to scientific advancement which may prove the medicinal value of cannabis.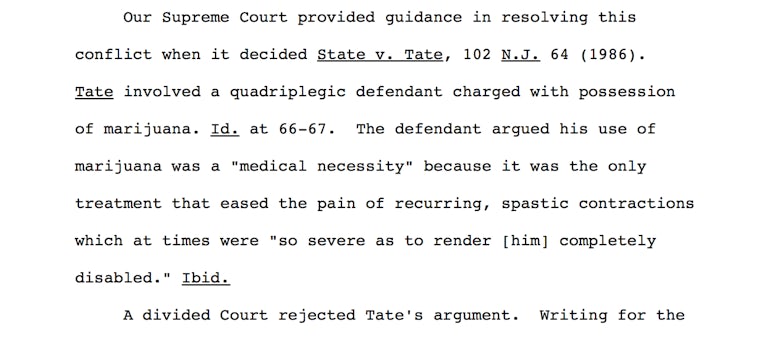 This mandate is especially a large blow to New Jersey governor Chris Christie's hardline stance on marijuana. Earlier this year, Christie called marijuana proponents "crazy liberals" who wish to "poison our kids."
Nothing has been finalized, and some like Judge Marianne Espinosa have written in opposition to rescheduling marijuana. "From the Legislature's first recognition of possible medical uses of marijuana to the present, it has consistently drawn a distinction between marijuana for medical uses and marijuana for non-medical uses.  That distinction would cease to exist if the Director were permitted to remove marijuana from Schedule I," Espinosa said to NJ.co
However, this decision will forever change the way courts deal with marijuana in the state. "State officials could still decide to keep marijuana on the most-restricted list for other reasons, but they can no longer claim the drug has no medicinal value, said Attorney Joseph Linares of Newark" to NJ.com.
This, in and of itself, is a major stride towards broader legalization of marijuana in the state of New Jersey, which will hopefully pave the way for other states looking to change marijuana's legal status.