As New Jersey's Governor Phil Murphy pushes for the legalization of recreational marijuana by 2019, a large number of local municipalities are banning the sale and manufacturing of it.
Last December—before Murphy even took office—Point Pleasant enacted a ban on pot shops within a quarter mile of churches, schools, and playgrounds. In June, the town of Lodi voted to banned medical and recreational marijuana businesses outright, including the manufacturing and processing of products.
Most recently, on Wednesday (August 8), the Clifton city council voted unanimously to join Lodi and several other communities in banning marijuana.
Currently, at least 15 other New Jersey towns ban recreational weed. Those towns include: Woodcliff Lake, Berkeley, Mahwah, Oceanport, Old Bridge Hasbrouck Heights, Hawthorne, Hazlet, North Caldwell, Garfield, Carlstadt, and Chatham Wood-Ridge.
Then there are towns like Bridgewater and Parsippany-Troy Hills which have not passed bans but voiced their opposition to legalization in New Jersey.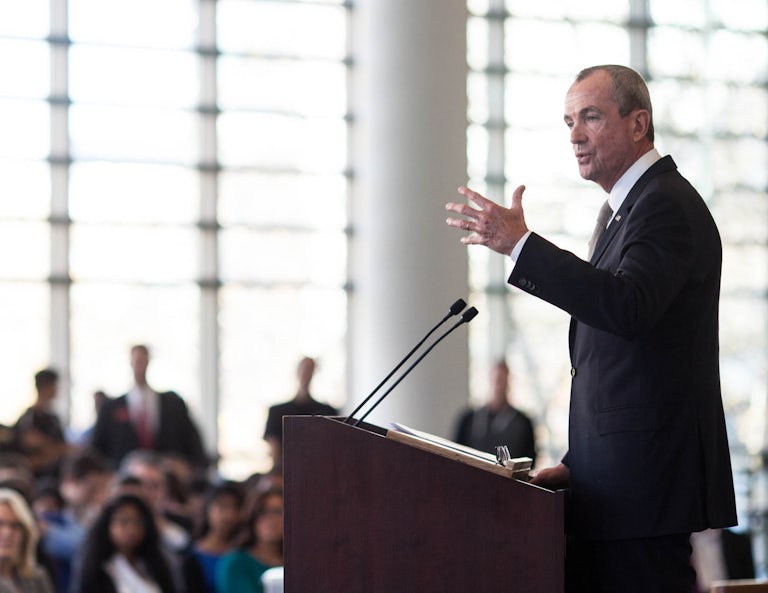 Governor Murphy was elected on a promise to legalize recreational cannabis within his first 100 days in office, but as competing legalization proposals caused a rift the 100-day mark passed with no firm plan in place. Since then, Murphy has been lobbying state representatives to push for legalization by 2019 and expand the state's medical program in the meantime.
On Thursday, state Senate President Stephen Sweeney said that the legislature could finally be ready to vote on a new legalization proposal as early as September, according to a report from NJ Advance.
"I think it's gonna be soon," Sweeney said. "We'll have the legislation done. Then you have to do the regulations and everything else."
As New Jersey is a relatively small state, the bans on local sales and manufacturing could mean that residents will have to drive to larger communities like Atlantic City and Jersey City, which have expressed an interest in welcoming legal marijuana businesses.
"The decision for a municipality not to participate in this process, prior to experiencing the benefits that come with it, is unfortunate and comes at a loss to those that reside in the community," Juan Carlos Negrin, President of the New Jersey Marijuana Retailers Association, told Herb. "Beyond the loss of financial growth, recreational legalization does wonders for aiding necessary social programs, attracting tourism, and allowing entrepreneurs to build businesses that can truly change people's lives for the better."
New Jersey's legal weed market is expected to be worth $850 million.