The New York State Department of Health has released a long-awaited report recommending New York state legalizes recreational marijuana. The report, ordered by New York Governor Andrew Cuomo, examined the economic, health and law enforcement impacts of legalization on the state.
"The positive effects of a regulated marijuana market in NYS outweigh the potential negative impacts," the report's conclusion reads, also noting that, "Criminalization of marijuana has not curbed marijuana use despite the commitment of significant law enforcement resources."
On the whole, the New York Health Department's report reads like a summary of everything we've learned so far about legalization from states like Colorado and Washington. The report notes that cannabis can have negative effects on those who are prone to mental health issues, that 8 to 30 percent of users can become addicted and that there is currently a significant lack of knowledge surrounding the effects of cannabis impairment on driving.
On the more positive side of the findings the New York Health Department outlined that, "Medical marijuana has added another option for pain relief which may reduce initial prescribing of opioids and assist individuals who currently use opioids to reduce or stop use," adding that opioid use disorder cases have increased 180 percent in New York state from 2010 to 2016.
Among the lesser reported facts about enforcement in the United States, the report found that cannabis possession is the fourth most common reason that legal immigrants are deported.
"Depending on the circumstances, it can make a lawful permanent resident deportable," the report states. "This is true even if the conduct was permitted under state law, the person never was convicted of a crime, and the conduct took place in their own home."
The study was first announced by New York Governor Cuomo in April and was meant to be released in the fall. Since the announcement, the New York gubernatorial race has put pressure on Cuomo to take a stance on legalization as his opponent Cynthia Nixon has made it a campaign issue.
On an economic level, the assessment finds that New York has the potential to be the country's largest marijuana market with the ability to generate $700 million in taxes and 200,000 jobs.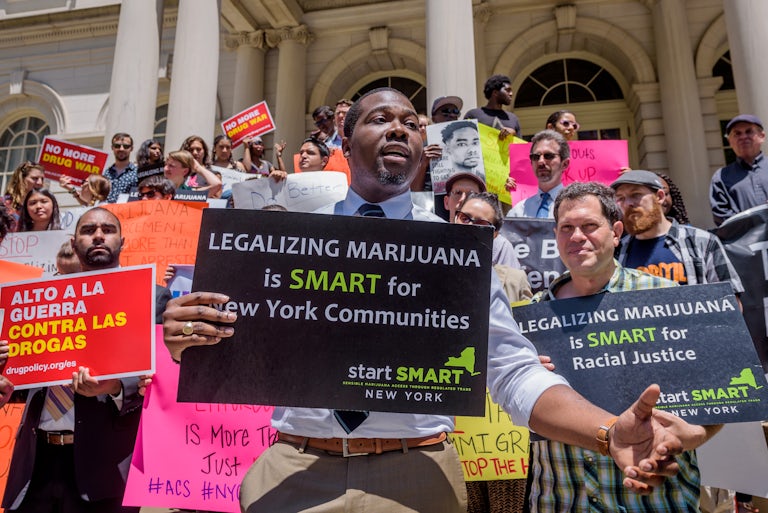 "Now you have to answer specifics," Cuomo said at a campaign event in Brooklyn. "Who sells it? Where do they sell it? What quantity can you sell? That to me, the devil's in the details. And to come up with a full program, that's what we have to answer."
For drug reform advocates, the New York Health Department's assessment is a welcome shift in policy, but they would also like to see state lawmakers address the criminal justice issues surrounding cannabis.
"Any movement to legalize marijuana must also include broad record clearing provisions, must create a diverse and inclusive industry, and guarantee significant community reinvestment to repair the harm that has been done," Chris Alexander, Policy Coordinator for the Drug Policy Alliance, said in a statement.
Changing the law, however, could prove more difficult than Cuomo's assessment suggests.
According to a News10NBC's report, only one Assemblyman, David Gantt, has expressed a willingness to take on the issue of legalization while the majority of New York lawmakers are reluctant. Still, in May the state's Democratic Party added legalization of marijuana to their platform and the Health Department's new assessment might help to bring some lawmakers on board as they seek re-election in November. If the findings of the report aren't enough to sway lawmakers, the Health Department also cited a 2017 poll which found that 62 percent of New Yorkers support legalization.
Cuomo himself has already felt the pressure from voters, increasing support for legalization in response to his primary opponent Cynthia Nixon. After the release of the report, Nixon said: "We need a governor who will stop putting people of color in prison for something that white people do with impunity, and when I am her, I will do everything in my power to pass legislation legalizing the recreational use of marijuana in New York State."