New Zealand finally has a new government. The change from nine years of conservative rule might make New Zealand the next country to legalize recreational cannabis within its borders. While it's exciting news, weed enthusiasts aren't out of the woods yet.
On October 20th, New Zealand's new Prime Minister, Jacinda Ardern, announced her government intends to hold a national referendum on legal marijuana sometime in the next three years. Ardern hasn't come out in favor of legalization herself but acknowledges the current system isn't working. Before any decisions are made, Ardern says she intends to consult with the people of New Zealand on the wording of the referendum before she takes a stance.
The announcement for a referendum on recreational marijuana is a seismic shift in how the government of New Zealand talks about marijuana. Currently, it's illegal to possess any amount of cannabis in New Zealand. The maximum punishment for cannabis is no more than three months in jail, or a 500 dollar fine.
Even medical cannabis is illegal in New Zealand. Some specialist physicians can prescribe products like CBD oil, but only to patients that meet strict guidelines. In 2016, the government lifted restrictions on some cannabis products, but New Zealand still practices prohibition of a kind that's increasingly uncommon among developed nations.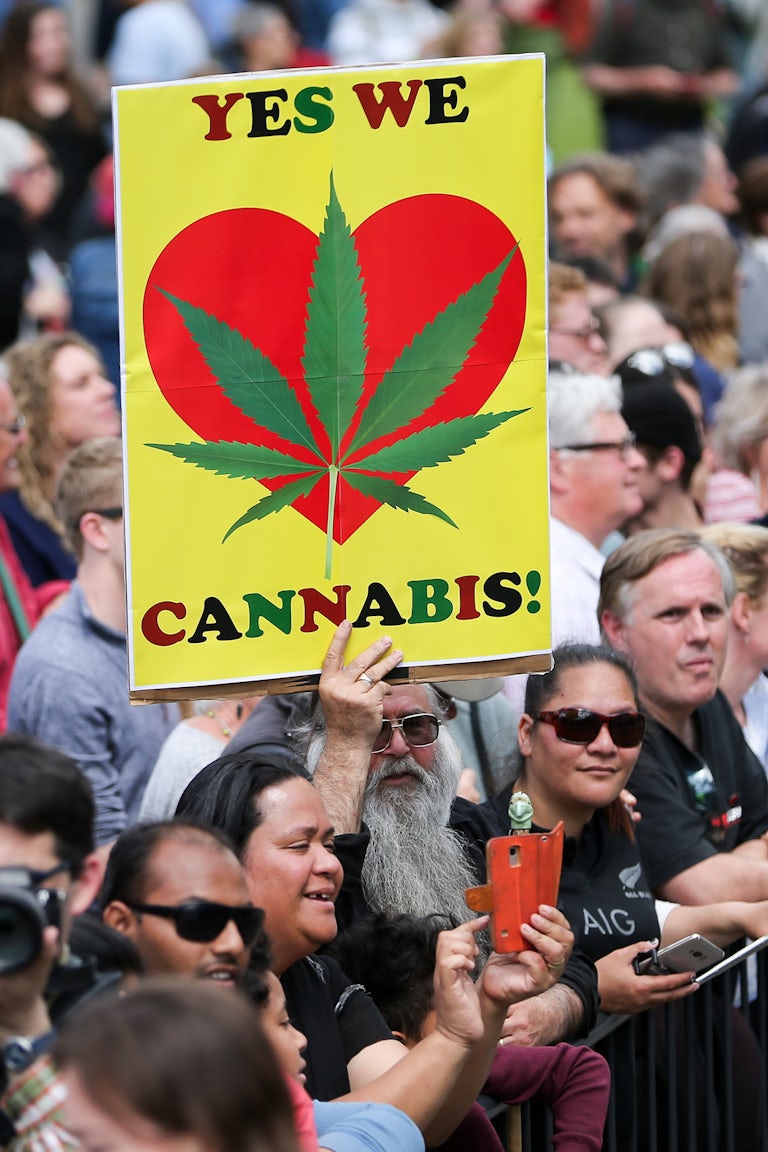 Even though a referendum is promising, there's a good chance New Zealanders won't vote for legal weed.
New Zealand is pretty conservative when it comes to cannabis. A Curia research poll found that 66 percent of New Zealanders want to keep buying weed from a store illegal. When it comes to carrying a small amount for personal use, 34 percent of respondents want to keep that illegal, while 31 percent favor decriminalization and 33 percent prefer total legalization.
Those numbers can be alarming for activists. This is especially true considering legalization enjoyed wide support in places like Canada, Colorado, and California by a wide margin. And, each of those places had a while to come to terms with medical marijuana over the course of years. New Zealand is heading down a cannabis crash course.
The challenge for activists is flipping people who want to decriminalize weed to people who want to legalize it.
NORML, a cannabis activist group in New Zealand, has campaigned for legalization for years. In anticipation of the referendum, NORML president Chris Fowlie wrote a blog post laying out strategies to sway voters. A huge part of NORML's strategy revolves around replicating success other groups had in the United States and Canada. The other key strategy to do everything possible to make the vote a landslide for legalization.
"Although 50.1% is technically a win, for legitimacy and longevity we really need a comprehensive winning margin of something like 75%. At least," the post reads.
Public opinion may sway over the next few months. The new government promised substantial medical marijuana reform in the next 100 days. Support for legalization steadily increased after medical marijuana was introduced in Canada, California, and Colorado.
While the future is unclear, there's more reason to be optimistic than ever before in New Zealand. It's unlikely anyone wants to keep spending billions on locking up weed smokers. There are many unanswered questions about the referendum, but it's a ray of light at the end of the prohibition tunnel.
"Don't fuck it up," Fowlie wrote, "If we lose, there goes any chance of meaningful reform for several decades."