On Monday, the New York City Police Commissioner James O'Neill faced questions from city council on the department's aggressive approach to low-level pot possession. The questions were sparked by recent reports that the NYPD disproportionately arrests people of color for cannabis-related crimes.
According to a report from the Drug Policy Alliance (DPA), the city continues to see tens of thousands of possession arrests despite Mayor Bill DeBlasio's promise to shift the focus of the NYPD away from cannabis. The DPA found that over 60,000 arrests have been made by the NYPD since DeBlasio was elected in 2014 and that 85 percent of those arrested were black and Latino. Meanwhile, a survey of city residents found that marijuana use rates are nearly the same across all races.
"I understand that there are disparities. If you look at the stats," O'Neill said in a response to city council on Monday, "I'm not going to deny that. But you've got to see the whole body of work that we're doing here."
The body of work the commissioner was likely referring to is the tough on crime policies instituted years ago by Mayor Rudy Giuliani. Many have associated Giuliani's policies with the city's sharp drop in crime, which according to PolitiFact, decreased significantly across the board during his time in office. But they also led to a surge in arrest rates. While DeBlasio has significantly reduced the arrests rates since Giuliani and Michael Bloomberg left office, his numbers still tower over arrest rates in the 80s and early 90s.
When asked what the commissioner intends to do about the racial disparity in arrest rates, O'Neill responded by saying:
"We really have to be careful. We are trying our best to move forward and make sure that whatever disparities exist in this city, we address them. But we also have to be mindful, very mindful, of strategies that change—how are they going to impact public safety?"
As PolitiFact points out, those strategies were based on a bottom-up approach called "Broken Windows," which suggests that pursuing low-level crimes aggressively will result in a reduction of overall crime. Politico illustrates this shift in strategy quite clearly, showing that possession arrest rates skyrocketed after Giuliani was elected and, despite fluctuating from year to year, have not returned to their previous levels ever since.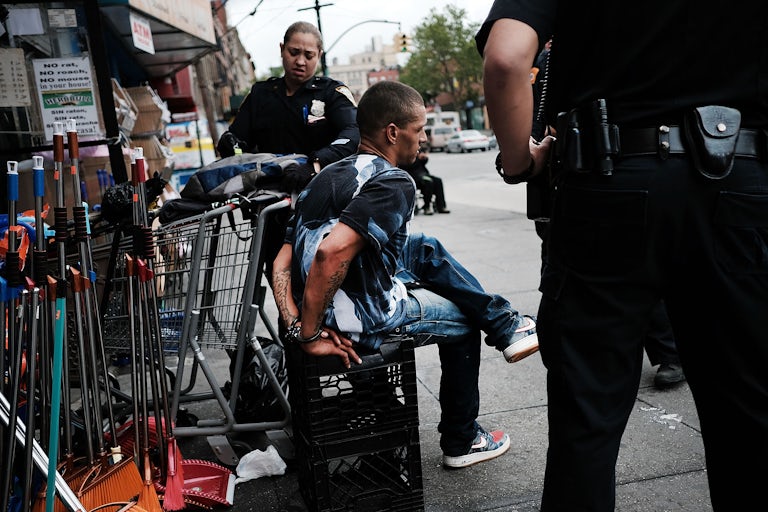 Still, the state and the city have made progress over the years. Medical marijuana has been legal in the state of New York since 2014 and possession of flower has been decriminalized since the 1970s. Even DeBlasio has made some attempts to move toward decriminalization, ordering police to issue a summons rather than misdemeanors for low-level offenses. Today in NYC, possession of up to 25 grams results in a $100 fine, which increases to $200 for the second offense and could result in 2 weeks jail time for a third offense.
But that progress is still much too slow, according to reform advocates, especially because DeBlasio campaigned on the issue. "I think the fact that you will see fewer unnecessary arrests will be good for New York City as a whole," DeBlasio said in 2014. "It will be good for New Yorkers of color and young people of color—there is no question about that."
The result has been quite the opposite from what some New Yorkers expected. According to police data obtained by WNYC, 16,925 people were arrested by NYPD in 2017; down just 1 percent from the previous year. Though it's important to note that, according to the DPA's data, racial disparities have remained relatively the same since before arrests rates rose significantly in the late 90s.
The snail's pace level of change and continuing disparities in arrests have prompted cynical responses from councilmembers like Donovan Richards, who took center stage at a similar hearing last month to grill the NYPD on its enforcement issues. Sara Brittany Somerset first reported on the New York City Council hearings for Leafly.
"[NYPD] isn't serious about addressing disparities in communities of color," Councilman Richards said, "Many of our young, black, and brown men and women are still getting summonses over marijuana, while other states are legalizing. It is a disgrace."
According to the NYPD, the disparity is the result of a disproportionate number of calls the department is getting from certain neighborhoods. The official line is that the NYPD isn't targeting communities of color, these communities just happen to be calling the police more, while officers are simply responding. For their part, council members didn't seem to buy that story and the NYPD didn't provide any data to back up their claims.
"Following up on 911 calls," Richards said, "I refuse to believe in a city of eight million, that the only people calling 911 are in communities of color. You can smell it in City Hall Park on some days."