It's looking like Oklahomans may get to vote on recreational marijuana this fall. Pro-legalization group, Green The Vote, announced over the weekend that it collected 132,527 signatures, far more than the 124,000 needed, to place their legalization measure before voters on November 6th, according to a report from Tulsa World.
But the group isn't stopping there. They have until August 8th to continue collecting signatures and that's exactly what they intend to do to make sure nothing can stop the question from appearing on the ballot.
"We want to make sure we have more than enough signatures to cover any kind of signatures that might get thrown out," Isaac Caviness of Green The Vote told Tulsa World.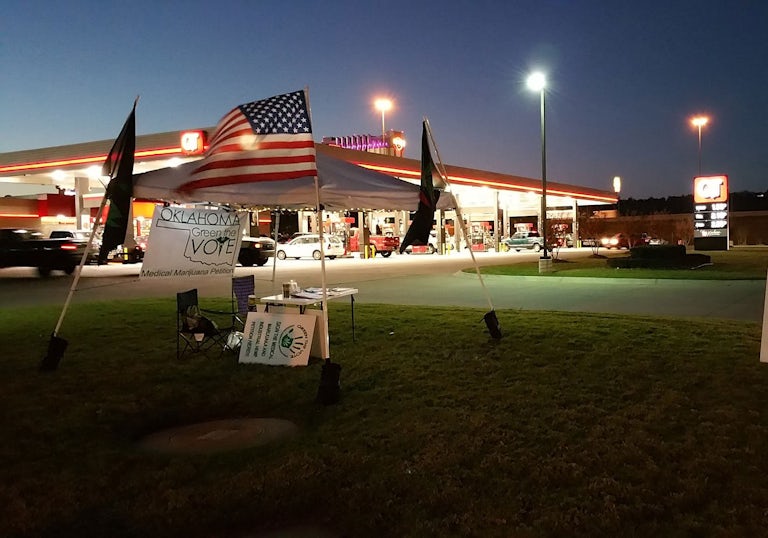 The measure known as State Question 797, would legalize the possession of up to two ounces of recreational cannabis for those 21 and older, allow for the transfer of up to one ounce among licensed medical users and adult recreational consumers, and allow for commercial dispensaries. The measure would also set aside up to $40 million tax dollars collected from sales to pay for Oklahoma public schools.
After the signatures are verified by Oklahoma election officials, Governor Mary Fallin will have until August 27th to approve the question to be placed on the ballot, according to state regulations. It's this time restriction and gubernatorial approval which leaves some skeptical about the likelihood that the question will go before Oklahoma voters in November, but among voters, legalization enjoys broad support.
In June, voters approved the legalization of medical cannabis in Oklahoma by 56 percent, enacting one of the most open-ended medical marijuana laws in the country. The new regulations were rolled back weeks later with a ban on the sale of smokable cannabis which has since been overturned.