Ontario's newly-elected Premier Doug Ford will reverse the previous government's plan of limiting recreational marijuana sales to government-run stores. Ford's new plan, reported by The Globe and Mail, will license private shops to sell cannabis once the country's recreational market officially launches on October 17th.
Details of the plan were expected to surface on Tuesday (July 31), but have not yet been made public. Still, The Globe's report from last Thursday and a subsequent report from VICE that same day confirm the vague promises of private sales that Ford made on the campaign trail.
"I have on good authority that private retail will be the future of cannabis sales in Ontario. We won," Jack Lloyd, a lawyer who represents dispensaries told VICE. For Ontario dispensaries, which have been raided and shut down since the government announced that it would legalize with the intention of limiting access, the news comes as a relief.
But not everyone is welcoming the change. Ford's opposition in the Ontario parliament fears that private retail sales could endanger children.
"What I'm very concerned about is the social responsibility aspect and ensuring that not only the outlets, but the people who work in them, are able to ensure that the product is not being distributed to people that should not be receiving it," Opposition leader Andrea Horwath told reporters.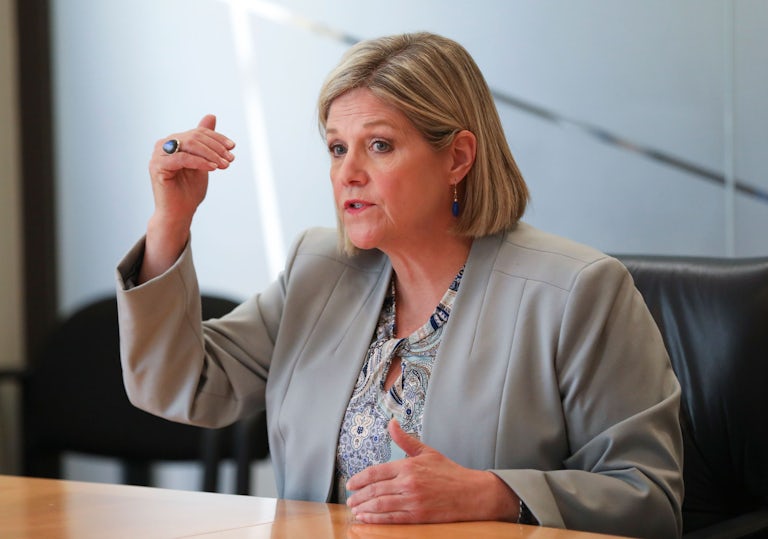 Even former Premier Kathleen Wynne expressed her concerns that private retailers would openly sell to children.
"There would be a recklessness to doing what Doug Ford is suggesting. My priority is the safety of young people," Wynne said in March, adding, "I think that a lot of parents would have concerns about cannabis being available beside candy bars in corner stores."
Under Wynne's previous plan, the Ontario government was set to have exclusive rights over sales of legal marijuana in the province under its Liquor Control Board and the newly-formed Ontario Cannabis Retail Corporation (OCRC).
Yet, as the Toronto Star pointed out, the city's first government-run store was set to be placed within the same strip mall as a children's martial arts center as well as a tutoring service and a short distance from several public schools, suggesting opponents' concerns are more political than they are practical.
According to documents obtained by Global News, some elements of Wynne's plan will still be in place, with the government remaining in charge of online sales. The documents reveal that while the government is open to a private retail option it is still ordering personnel agency Randstad to continue scouting employees for the province's government-run stores.
The Ontario government monopoly was the subject of criticism from many across the industry who believed that it was not only unfair to dispensary owners but a poor business model. The limited number of stores sparked concerns that the OCRC would not be able to accomplish the government's stated goal of eliminating the black market.
The OCRC was expected to open only 40 stores in 2018 and up to 150 by 2020 in the country's most populated and tourist-heavy province.