Pennsylvania medical marijuana patients and gun owners scored a major victory on Friday (Jan. 12) when state officials announced that they would no longer provide medical marijuana registry records to police, according to a report from the Associated Press.
Instead, the state's Health Department announced that when police want to identify someone as a medical marijuana patient they will have to do so by asking an individual to present their state-issued MMJ card.
"Each medical marijuana ID card has an expiration date and a seal," April Hutcheson of the Health Department told the AP, "which is used to verify authenticity. In the case that law enforcement needs to verify a patient's participation in the program, they will rely on the patient's medical marijuana ID card."
The change in policy is a response to public outrage after federal officials demanded that medical marijuana patients make a choice. "They can have their guns or their marijuana, but not both," said the president of the Pennsylvania District Attorneys Association, according to the Washington Post.
Medical marijuana was legalized in Pennsylvania in April of 2016, with the Health Department setting up its official registry in November of last year. Until now, those records were shared with state police through a database known as JNET which is accessible to 38,000 law enforcement officials.
Under federal law, when those records were provided to police, medical marijuana patients would be barred from purchasing firearms. The Gun Control Act of 1968 requires that background checks be conducted on all gun purchases made through federally registered retailers. The law prevents anyone, "who is an unlawful user of or addicted to marijuana or any depressant or stimulant drug" from purchasing a firearm.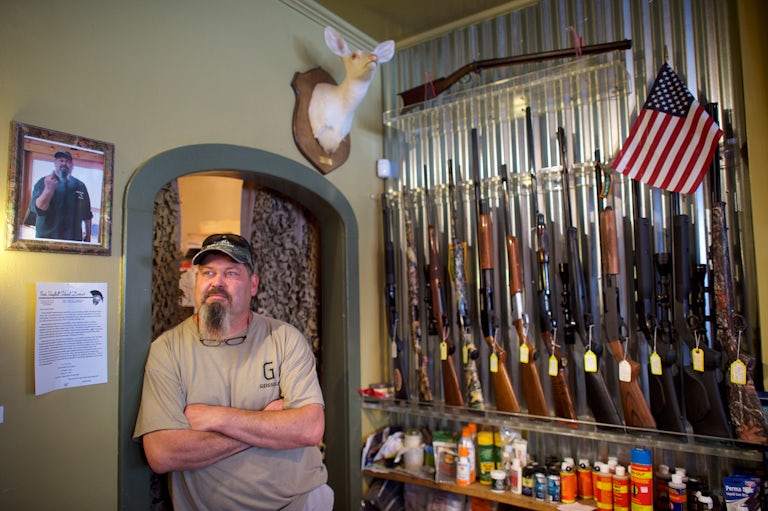 According the 9th circuit court and federal restrictions on marijuana under the Controlled Substances Act, even medical marijuana users in states where it has been legalized are barred from purchasing firearms. But the issue of enforcement has been playing out on a state by state basis.
William Bryson, chairman of the Delaware Police Chiefs' Council, said last month that marijuana use should be designated on peoples' driver's licenses so that police can enforce the ban. In November, medical marijuana cardholders in Hawaii got letters saying they had to surrender their firearms. Amid controversy, the Hawaii Police Chief who signed the letters rescinded the directive.
With the medical marijuana registry no longer available to police in Pennsylvania, patients will now be able to purchase a gun without being flagged automatically by the system. It should be noted, however, that they could still be flagged if the retailer verifies their customers' MMJ registration independently.
"It's essential that we treat medical marijuana as we would any other medication, and that we protect patient privacy in the process," Hutcheson said. "As with any other health information, patient information regarding medical marijuana is not accessible to police."
Pennsylvania's medical marijuana law recognizes cannabis as a treatment for 17 conditions which include cancer, AIDS, PTSD and epilepsy. As many as 10,000 patients have registered for the program since it launched in November, with dispensaries scheduled to open as early as February.
According to PolitiFact, the state of Pennsylvania has issued over 1 million active carry permits, making it the second most armed state in the country after Florida.