New Jersey's recently elected Governor Phil Murphy came to office partially on a mandate to make marijuana legal in the state by the end of his first year. Marijuana advocates were hopeful when he won, but their optimism has dwindled in recent months with competition among marijuana proposals in the legislature and a number of state senators saying they'd vote no on a bill to legalize. Now, with a new budget proposal as ammo, it looks like Murphy is determined to not let anything get in the way of his plan.
In a speech the governor delivered on Tuesday (March 13), in which he announced his new budget, Murphy said he calculated the numbers based on the assumption that cannabis will be legalized.
"According to research, New Jersey spends upwards of $140 million per year adjudicating low-level marijuana possession offenses," Murphy said. "And, marijuana-related arrest rates are tilted three-to-one against African-Americans, even though rates of marijuana use are similar among races."
Murphy went on to point out what many across the county have been saying for years and what the Department of Justice admitted to over the weekend: that the money used to enforce marijuana laws could be more effective if spent elsewhere.
"These resources must have a better use," Murphy continued, "whether to tackle the trafficking of illegal guns, provide stronger community policing, or to crack the back of our opioid epidemic, which was devastating our urban centers long before it made headlines."
Murphy has been joined in his push for legalization by Senate President Stephen Sweeney, who promised to have a bill on the governor's desk within his first 100 days in office. That's a goal that is looking less achievable by the day. Still, Governor Murphy is hopeful that a bill can be passed by next January at the latest.
The rest of the state's legislature has been less enthusiastic about legalization, offering bills from recreational sales to bare-minimum decriminalization. There's yet to be any sort of agreement on what plan is in the best interest of New Jersey.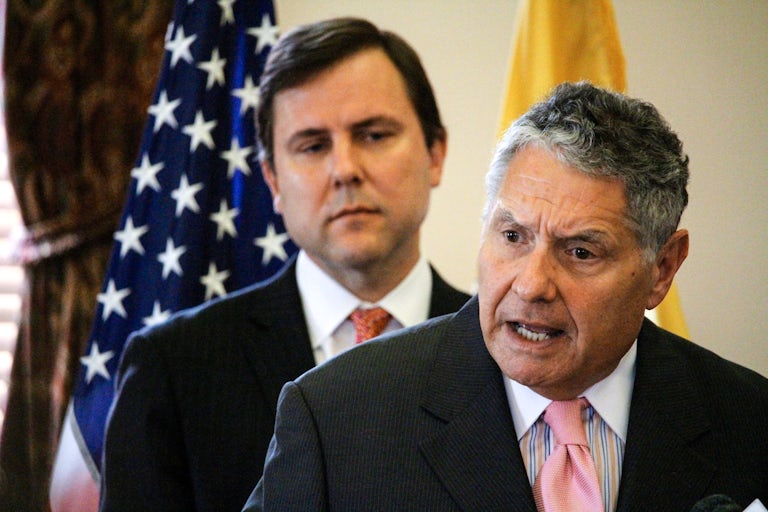 Governor Murphy singled out one of the proposed bills during his speech: a decriminalization effort by the chair of the state's Black Caucus, Senator Ronald Rice, which is co-sponsored as a compromise by Republican Senator Robert Singer. The bill would reduce penalties for possession of less than 10 grams of marijuana to a fine of $100 for first-time offenses, with an increase to $200 for a second-time offense and $500 and/or six months in jail for subsequent violations.
For Governor Murphy, this proposal is simply not enough. "Decriminalization alone will not put the corner dealer out of business, it will not help us protect our kids, and it will not end the racial disparities we see," Murphy said.
On Monday (March 12), Singer proposed that the deadlock in the legislature be broken by taking the question to the people of New Jersey through a referendum.
"If they're so assured this is a positive thing for the state of New Jersey, if they're so assured that people want to do it, let's put it on the ballot," Singer said, according to NJ Advance Media. "They won't do that, though, they're afraid of it."
More than 40 percent of New Jersey residents support legalization, according to a February poll from Fairleigh Dickinson University. Twenty-seven percent of the state supports the current system while 26 percent wants decriminalization.