Does the smell of cannabis on someone make you scared of them? If someone was going to shoot a cop, would he announce he had a gun (with a permit to carry) before pulling it out? If your answer to both of these questions is "No," then you're probably just as confused and upset about the Philando Castile as are many, many other people worldwide.
Demanding justice for Philando Castile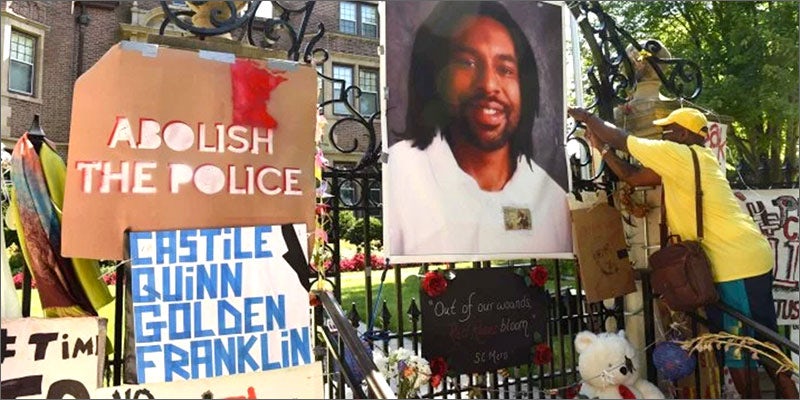 Minnesota police officer Jeronimo Yanez on Friday was acquitted of all charges in the fatal shooting of Castile, an African-American man, during a traffic stop. In an incident that horrified people everywhere, Castile's girlfriend live-streamed the moments following the shooting on Facebook while sitting in the car along with their four-year-old daughter.
The images horrified the world, as Castile's girlfriend, Diamond Reynolds, narrated the nightmarish, bloody scene that around her. Castile, a school lunchroom worker, was shot as he reached for identification.
The officer claimed he thought Castile was reaching for a gun; Castile carried a weapon, for which he was licensed. Both Castile and Reynolds had assured the officer that he was not reaching for his gun.
Yanez "did what he had to do" in killing Castile, because Castile had marijuana in his car and "was stoned," is the pathetically weak excuse offered by his lawyer as the why Castile was shot seven times in front his girlfriend and in close proximity to a four-year-old little girl, who was in the back seat.
The case was the first time ever that a Minnesota police officer was charged for an on-duty shooting.
Call this justice?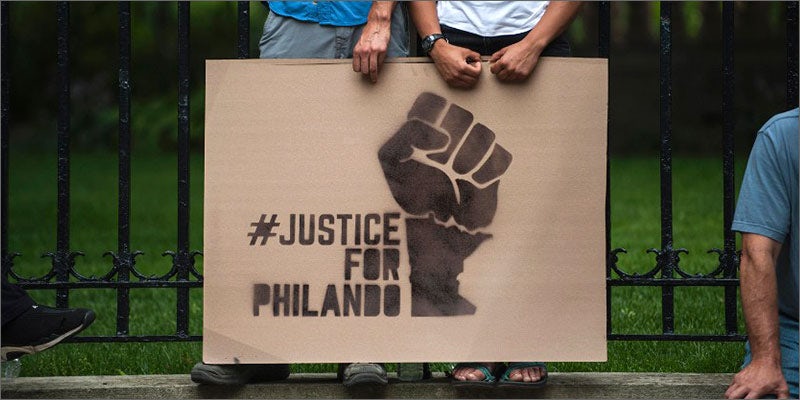 Prosecutors said Castile had mentioned his gun to reasure, not to threaten the officer.
If someone were just about to reach in their pocket and pull out a gun and shoot an officer, that's the last thing they would say. –  Prosecutor Jeffrey Paulsen
According to Paulsen, footage showed that Castile was driving normally, pulled over quickly and was alert and courteous when talking to Officer Yanez. He said Officer Yanez's defense was blaming the victim.
Derek Hodel, interim executive director of the Drug Policy Alliance (DPA), said,
We are horrified and distraught by yet another police killing of an African-American man for which no one will be held accountable.

While we cannot know the jury's thinking in Mr. Yanez's trial, we can know the context in which his trial took place, and should not be surprised by its outcome. Indeed, police discrimination against people of color, often under cover of the war on drugs, has been well documented – Mr. Castile had been pulled over, usually for minor traffic infractions, 49 times in 13 years.
Mr. Yanez's defense argued that the officer 'did what he had to do,' claiming that Mr. Castile had cannabis in his car and that 'he was stoned,' a too-common rationalization in police killings, and an allegation that would appear in this case to be contradicted by dashboard video showing Mr. Castile to be compliant, alert and courteous.
We can also know that the demonization of people who use drugs gives license to the trampling of their civil and human rights, and provides a climate of impunity for law enforcement and others who commit acts of unjustifiable violence.

While the Trump administration hardly invented the drug war, it has been quick to embrace this narrative – as Attorney General Sessions recently summarized, 'Good people don't smoke marijuana.'

We must all own the tragedy endured by Mr. Castile's family and community – until Americans demand greater accountability for the discrimination and violence of a drug war prosecuted in their name, it won't be the last. Black Lives Matter. – Hodel
Mike Padden, a lawyer representing Reynolds, said he was surprised and disappointed by the verdict. "For those who are committed to the idea of leveling the playing field with law enforcement and the citizenry, it's a big blow," he said.
John J. Choi, the prosecutor who announced the charges against Officer Yanez, said on Friday that,
This verdict brings a lot of hurt and pain and deep-seated frustration for a lot of people in this community.
Choi said he was disappointed in the verdict, and believed that Castile "did nothing that justified the taking of his life."
We gave it our best shot. We really did. – Choi