Last Friday, the Philippine National Police announced the most recent death toll in the country's deadly and widely criticized drug war targeting individuals suspected of using and selling drugs.
Over the past two months, the police have been engaging in an operation they call "Double Barrel Reloaded," in which they've raided 3,253 drug suspects, arrested an undisclosed number of "high-value targets," and killed 46 people, according to Police Chief Superintendent John Bulalacao. This recent announcement goes back on President Rodrigo Duterte's recent promise to make the drug war less lethal.
This promise was made to pacify the growing public unrest and opposition to the drug war, which came to a head following the highly publicized murder of a 17-year-old boy last year at the hands of the Philippine National Police. This prompted the Philippine Justice Department to file murder charges, and more recently, an order of arrest for the three police officers responsible for the homicide. Last year, this high-profile case prompted President Duterte to replace the Philippine National Police with the Philippine Drug Enforcement Agency as the agency leading the country's drug war. However, in December, President Duterte put the police back in charge of the drug war.
The number of people that have died in President Duterte's drug war remains unclear. What is clear, though, is that the Philippine National Police are framing some of their victims.
Human Rights Watch found that these homicides are often committed unnecessarily, in cold blood, but are later obfuscated by the police, who commonly claim self-defense, and plant guns and drugs on the crime-scene to justify their actions. While the police say that roughly 4,000 suspected drug users and distributors have been killed since Duterte's inauguration in 2016, Human Rights Watch claims that the death toll actually exceeds 12,000 people.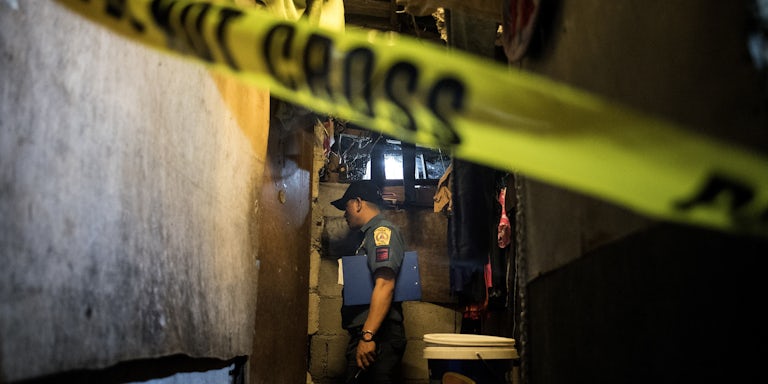 The Philippine government rejects Human Rights Watch's claims and has requested a public apology from the organization. Phelim Kine, Human Rights Watch's deputy director for Asia, claims that the Philippine National Police's death count doesn't hold up against that of non-profit organizations and independent observers.
Many of these homicides are committed under cover of darkness, allegedly by vigilante groups that leave cardboard signs at the crime-scenes accusing the victims of drug use or distribution. In late 2016, Pulitzer Prize Winning photographer Daniel Berekulak documented 57 murders in 35 days, revealing the brutality and heartbreak of the country's war on drugs. In a New York Times article featuring these photographs, Berekulak, who has spent his career documenting wars, crises and conflict zones, claimed that what he witnessed in the Philippines "felt like a new level of ruthlessness…"
Last year, President Duterte encouraged this brutality by telling a group of unemployed Filipino workers "If you lose your job, I'll give you one. Kill all the drug addicts." This statement is similar to one Duterte made to a crowd of roughly 500 people, right after being sworn in as president, in which he encouraged citizens to kill drug addicts themselves as "getting their parents to do it would be too painful."