Rifle, Colorado, is getting two new police dogs. Jax and Makai were paid for by a 12-year-old who crowdsourced the funds after hearing that Tulo, the Rifle Police Department's previous K9, was leaving the force. The small town, a population shy of 10,000, couldn't afford a replacement. Tulo, 9, was reaching the normal age of retirement, but the process was hastened by the state's legalization of marijuana.
"Dogs that can sniff for marijuana get called into question more in court," Garrett Duncan, a police officer, told the Glenwood Springs Post Independent, "can make things more difficult." Jax and Makai will not be learning to sniff out cannabis.
As states across the US change their policy on cannabis, the use of K9 units to sniff out drugs becomes more complicated. Many dogs are trained to hunt for hard narcotics like cocaine, heroin, and less serious drugs like cannabis, but they aren't trained to make distinctions between them. Nor are they able to distinguish legal amounts of cannabis versus illegal amounts.
Even if more serious criminal activity is discovered through the use of a K9 dog, it creates discrepancies that can be easily challenged in court.
California's Prop. 64, for example, says that legal amounts of cannabis possessions are not adequate for a search or arrest. But try explaining that to a dog.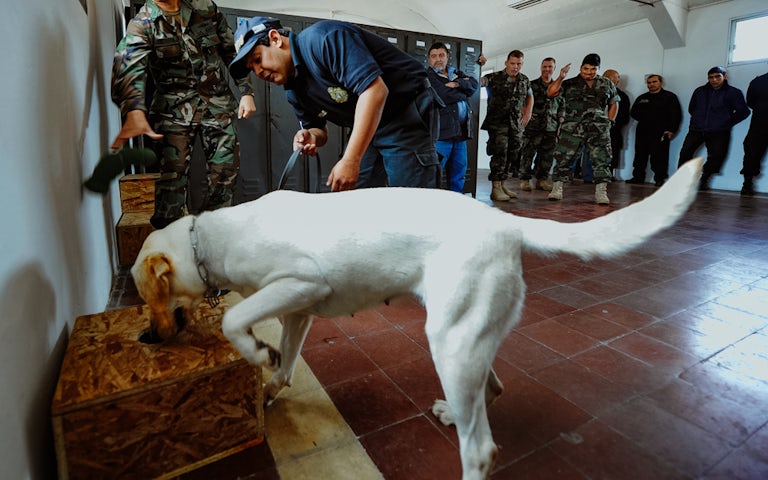 Colorado's courts came to the same conclusion as California's. Last July a three-judge panel decided that a dog detecting marijuana is no longer warrant enough for a search. The decision was made after a 2015 case where a Moffat County resident had his truck searched after being flagged by a K9. Police found a meth pipe, but the case was overturned. Courts decided there was a lack of evidence to investigate the man's truck in the first place.

Training new dogs to ignore marijuana is easy, just exclude the substance from their narcotics training. Training existing police dogs to exclude marijuana is possible, according to Seattle PD spokesman Sean Whitcomb. "Imagine you're in an orchestra and you can play the violin, viola, and cello," Whitcomb colorfully told GreenState. "Now imagine you stop playing the cello, you're going to lose your skill.".

Whitcomb may make it sound simple, but getting K9 to ignore weed is easier said than done. It takes over 400 hours to train dogs to hunt down drugs. Deprogramming parts of that training can be a time consuming and costly process just to keep up with changing marijuana policy.