A new survey has found that while law enforcement officers and the public diverge in opinion on many key issues, the two groups share many of general attitudes in relation to the idea of legalizing cannabis.
The survey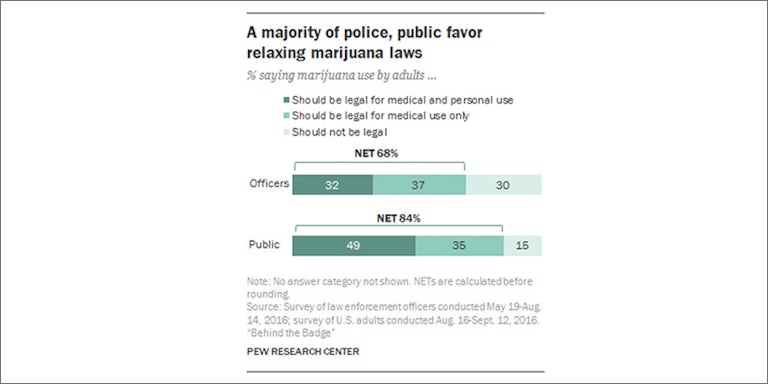 The study – compiled from the results of two questions asked of almost 8,000 law enforcement officers and 4,500 private American citizens – found that Americans are in general agreement with the police when it comes to relaxing cannabis laws.
Almost 70 percent of law enforcement officers surveyed support the easing of cannabis restrictions, with 37 percent favoring relaxing only medicinal cannabis laws and 32 percent supporting relaxing both medicinal and recreational laws.
The percentage of the general public favoring legalization is even more pronounced: Forty-nine percent of respondents said they favored easing laws on medicinal cannabis, while 35 percent said they favored legalizing both medicinal and recreational cannabis.
Differences in opinion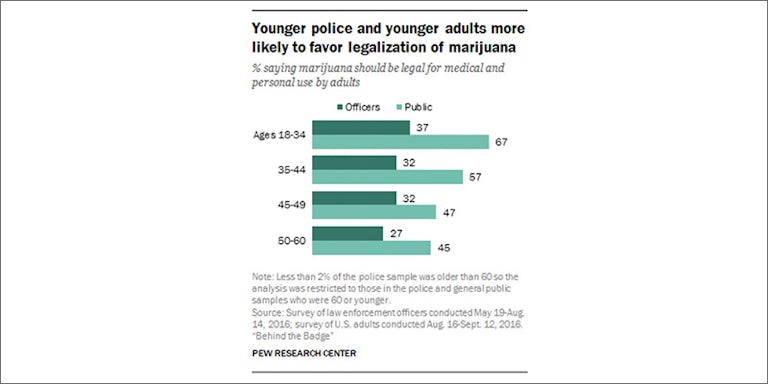 Though police and the public converged on their general attitudes toward cannabis legalization, this is not to say that the two sides have no differences in opinion.
Majorities of both groups did not favor a blanket ban on any and all cannabis use. However, the percentage of the police who supported this view was 30 percent, while the portion of the public was just 15 percent.
There were also differences between age groups when it comes to thoughts on cannabis legalization. Both cops and the general public between the ages of 18-34 were most likely to the legalization efforts of both medicinal and recreational cannabis, while members of both groups were between the ages of 50-60 were least likely to be supportive.
The survey was conducted by the Pew Research Center in two separate sections: The survey of 7,917 law enforcement officers was conducted online from May 19-August 14, 2016. The survey of 4,538 American adults was conducted online from August 16 – September 12, 2016.
General public opinion
The Pew survey is one more indicator that the American public has undergone a change in opinion when it comes to cannabis legalization policy, though there is a lack of clarity as to how much change has actually occurred.
An October survey by Gallup found that 60 percent of American adults were supportive of cannabis legalization, up from 58 percent 2 years before. The number reflected a dramatic difference from the 12 percent support registered in 1969, the first year that Gallup posed the question.
Another survey conducted in December by Harris found 50 percent support for full legalization among American adults, while a whopping 82 percent were supportive of legalizing the substance for medicinal purposes.
Interestingly, a plurality of respondents (48 percent) in that survey said that they thought cannabis legalization is an issue that should be left to the states to decide, as opposed to the federal government.