In a recent interview with the Ford County Record, a newspaper in Paxton, Illinois, Republican Governor Bruce Rauner said that he would veto a recreational marijuana bill if one were to be passed by the Legislature. Rauner has served as the Governor of Illinois since January of 2015.
Currently, the state of Illinois is ramping up for a gubernatorial election, with primary elections taking place on March 20th and the general election on November 6th. Rauner has announced that he will be running for re-election, and will go head-to-head with Representative Jeanne Ives for the Republican primary.
Both Republican candidates have opposed recreational marijuana legalization in the past. All of the Democratic candidates, on the other hand, support the recreational legalization of marijuana. The Democratic candidates include: Senator Daniel Biss, businessman and Kennedy family member Chris Kennedy, Billionaire venture capitalist J.B. Pritzker, public official and regional school superintendent Bob Daiber, criminal justice professor Tio Hardiman, and physician Robert Marshall.
"Medical marijuana was approved before I became governor…I think there are some appropriate medical uses for that and we're monitoring it," said Rauner in his interview with the Ford County Record. "Recreational marijuana, just for personal use, I think is a huge experiment. We don't know. And the drug has changed—marijuana has changed a tremendous amount over the last 30-40 years. It's very, very potent. We don't know how it impacts the developing brain. We don't know what it does to pregnant women. We don't know a lot of things."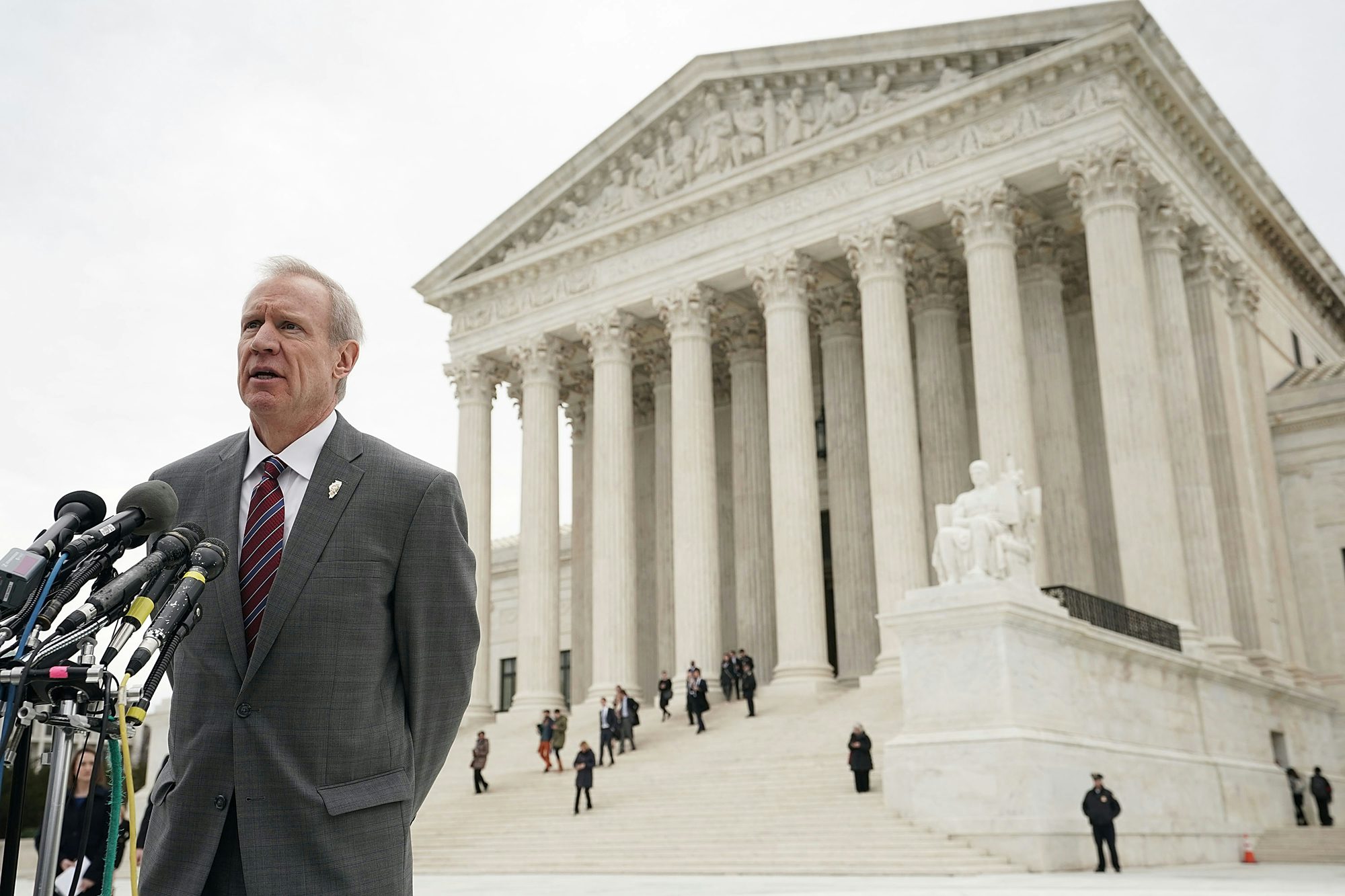 The Democratic candidates challenging Rauner argue that legalizing recreational marijuana would make economic sense, yielding tax revenue and helping alleviate the state's $9 billion in unpaid bills. In Colorado, where recreational marijuana is currently legal for adult use, the industry produced over $506 million in taxes and fees for the state between 2014 and July of 2017.
Democratic candidates, like Pritzker and Kennedy, have also expressed a desire to commute sentences for those who are currently incarcerated on marijuana charges. According to the most recent analysis by the American Civil Liberties Union in 2010, Illinois is among the top 12 states with the highest rates of arrest for marijuana possession. 
The state also has one of the strictest medical marijuana programs. Former governor Pat Quinn implemented a pilot program for medical marijuana, but it didn't go into effect until Rauner assumed office in 2015. It's set to expire in 2020. The only patients eligible for cards are those with "debilitating conditions" such as HIV/AIDS, Alzheimer's and cancer.
A referendum to ask Illinois voters if they support recreational marijuana on the November ballot is currently moving through the state's legislature. If it gets on the ballot, it won't make recreational marijuana legal in the state, but it could put pressure on lawmakers to legalize it themselves. According to a poll from the Southern Illinois University, 74.4 percent of Illinois citizens support the legalization of recreational marijuana. Only 21 percent oppose the measure.