Lately, it seems, Republicans have been unusually keen on supporting legal marijuana legislation. Last month, in a striking break from his brazen past criticisms, Senator Orrin Hatch introduced a Medical Marijuana Research Bill with a speech laden with weed puns. The recently elected Florida congressman, Matt Gaetz, has also become a notable proponent of medical marijuana, sponsoring legislation to reschedule marijuana to open new doors for medical research. A few months ago, Congressman Mike Coffman of Colorado introduced a bill that would protect states' legal marijuana laws, to guard against potential lawsuits and federally sanctioned police raids. And of course, Congressman Dana Rohrabacher of California has a long and loud history of supporting medical marijuana, co-sponsoring a bill that protects state-legal marijuana businesses and patients from federal interference.
The Republican Party has long been at the forefront of marijuana opposition. But now, it appears that Republican lawmakers are tuning in to the increasingly lucrative and omnipresent nature of marijuana industry money.
Last year, the marijuana industry was worth an estimated $7.2 billion. In January, California—the state with the largest economy in the country, and the sixth largest in the world—will officially legalize the recreational use of marijuana for adults 21 or over. Republicans, and (perhaps more importantly) their campaign donors, are taking stock of this transition.
Congressman Dana Rohrabacher has been a longtime supporter of legalizing medical marijuana. He's also been a longtime recipient of marijuana industry money. Already this year, Rohrabacher has received campaign contributions from companies and organizations like Weedmaps, Scott's Miracle-Gro, Flavrx, the National Cannabis Industry Association, Kush Bottles, the Marijuana Policy Project and Cura Cannabis Solutions. Since 2016, Rohrabacher has been the recipient of at least $79,140 in marijuana industry money.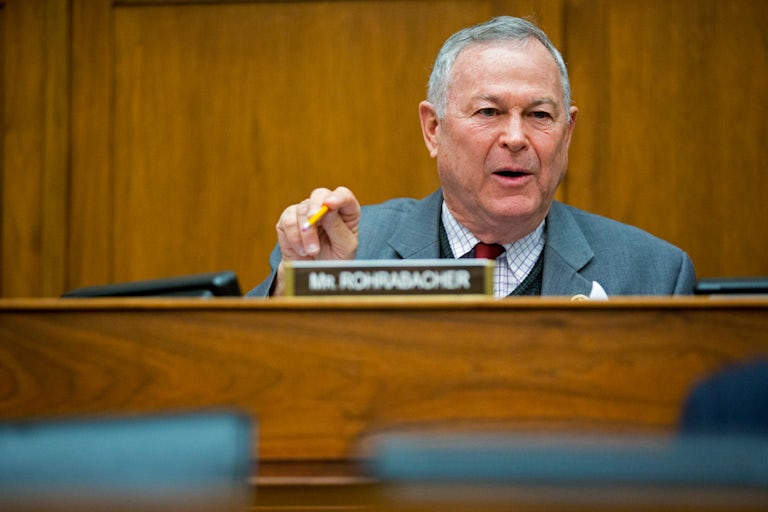 A few days ago, Congressman Matt Gaetz did an interview with Forbes where he talked about his hope of swaying President Trump to support medical marijuana legislation, like the bill he recently sponsored with Democratic congressman Darren Soto.
Gaetz is a new congressman, who ran his first race for the House of Representatives last year, raising a staggering $1.1 million, outspending his opponent by about 20 to one (Gaetz's opponent only raised about $55,000). Where did Gaetz get this money? We know that at least some of it came from the marijuana industry. In fact, Gaetz's second highest campaign contribution, at $21,600, was medical marijuana company Surterra Holdings. His third highest contributor, at $15,000, was the Miami based Costa Farms, which was among five Florida nurseries selected in 2015 to grow the state's first legal marijuana.

According to the Centre for Responsive Politics, the marijuana industry was one of Gaetz's top industries regarding campaign contributions, bringing in $21,600. But if you combine contributions made directly from marijuana businesses, with contributions made from companies with major stakes in the marijuana industry, that number jumps to over $62,600, higher than even Gaetz's top industry contributor, Real Estate.

So far this year, among Gaetz's top 20 campaign donors for the 2018 cycle is the National Cannabis Industry Association (NCIA). This year, Gaetz's campaign donations are all relatively small (the NCIA donated $3,500, and even his top donor only contributed $8,999.) But that's how elections for the House of Representatives work: candidates secure funding from often hundreds of different companies, individuals, and organizations.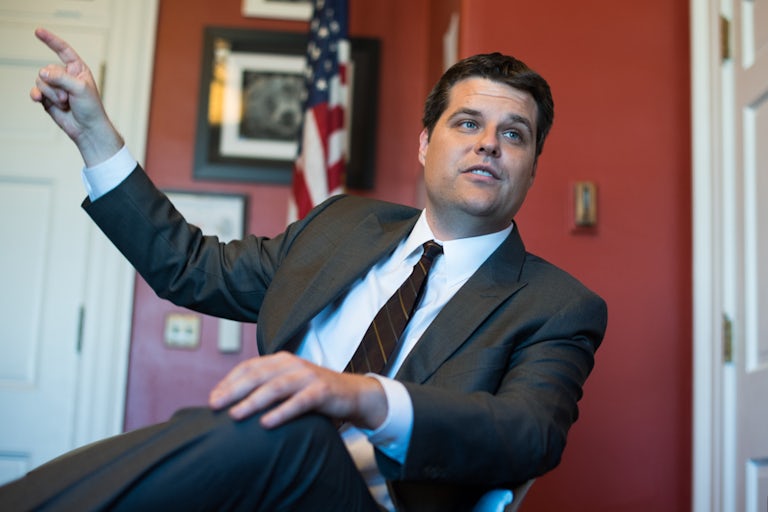 As the marijuana industry continues to grow, with marijuana dollars permeating the economy at all angles, it's increasingly difficult for Republicans to take a stance against marijuana without hurting their donors' bottom line.
Take congressman Gaetz's top donors this year for example. One of Gaetz's top donors is the lobbying firm, Ballard Partners, whose clients include a number of Florida nurseries seeking licenses to grow marijuana. According to the Jacksonville Business Journal, Brian Ballard, the company's president, "…said it is common for lobbyists to accept ownership shares of businesses they represent, as he did in the case of the medical-marijuana applicants." Other donors like US Sugar and Comcast Corp also have good reasons to favor the legalization of marijuana.
Remember Orrin Hatch's pun-filled speech on medical marijuana research? His change of heart might have something to do with his top campaign contributors having an increasing stake in the marijuana industry. After all, Hatch's seventh top contributor, Microsoft Corp (donating $37,400 to Hatch for the current election cycle) was reportedly "the first tech giant to take the leap into legal weed," by partnering with a marijuana-tracking software startup. Even the Koch political network—Hatch's eighth top donor ($37,000 this election cycle)—recently came out in support of marijuana reform, criticizing Attorney General Jeff Sessions draconian marijuana policies.
The marijuana industry's money is so pervasive that, according to one analysis, major banks like JPMorgan Chase & Co—whether they know it or not—have money tied up in it. In Massachusetts alone, according to American Banker, out of 84 applicants that operate medical marijuana dispensaries in the state, "29 reported having access to funds in at least one account at Bank of America, Citi, Wells or JPMorgan, or at one of their subsidiaries." JPMorgan is Orrin Hatch's fifth top campaign contributor.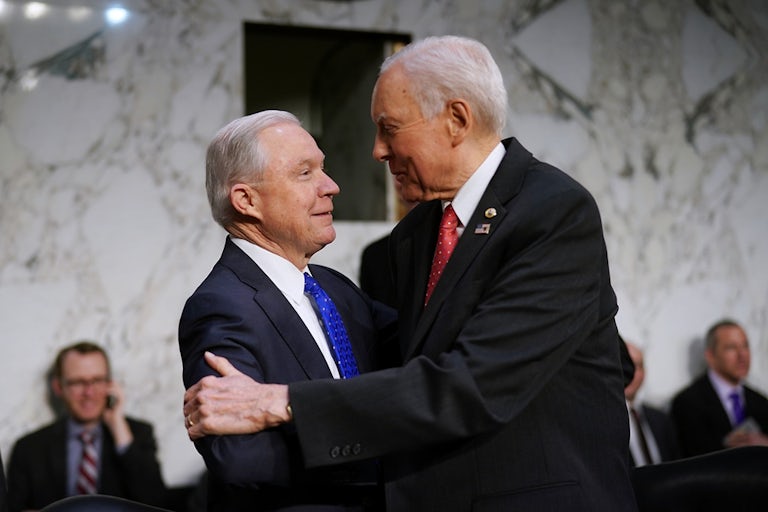 As Forbes points out, the marijuana industry's growth is even larger and faster than the dot-com boom. Investors and corporations of all sizes are looking to secure their piece of the highly lucrative pie. As the marijuana industry continues to grow, it will be increasingly difficult for Republicans to take a stance against marijuana without losing the financial support of these donors. Other Republicans like congressman Gaetz are sourcing campaign dollars directly from the marijuana industry.
In terms of lobbying, the cannabis industry is relatively inactive compared to other sectors. But that's likely to change. According to the Center for Responsive Politics, "The marijuana industry reported more than $450,000 in lobbying money for the first half of this year — its highest amount yet and double what it spent in the same time span for 2016."
Growth rate of Cannabis Lobbying
As of this year, the growth rate of cannabis lobbying is higher than any other industry.
Democrats have traditionally been the primary recipients of this money. But more recently, it's Republican lawmakers who are demonstrating themselves to be eager recipients of marijuana industry campaign dollars.