Last night (March 13), news began circulating that President Donald Trump is considering replacing current Veterans Affairs Secretary David Shulkin. While the coverage has been centered around drama between President Trump's administration and Secretary Shulkin, physicians and veterans who have long advocated for policies supporting medical cannabis are wondering what this personnel change could mean for them.
With Secretary Shulkin at the helm, the VA's policies on veterans' medical marijuana use have been unclear at best and outright uncooperative at worst. Researchers looking to understand medical marijuana's potential for conditions common to veterans—like post-traumatic stress disorder and chronic pain—have been continuously stonewalled by the VA. (Research is key to understanding the risks and promise of cannabis, which many veterans currently use without medical guidance.)
After a seven-year application process with the FDA, among other regulatory agencies, researchers at the Scottsdale Research Institute finally gained federal approval for the first-ever rigorous trial looking at cannabis as a treatment for post-traumatic stress disorder. But when they approached the VA in Phoenix—the closest VA hospital to their lab—personnel there said they couldn't refer veterans to a study involving cannabis because cannabis is federally illegal. The researchers are now having difficulty recruiting enough participants to complete the trial.
Meanwhile, the researchers have continually requested that Secretary Shulkin—or someone from his office—call the Phoenix VA to encourage them to support the trial. Questions to Secretary Shulkin's office about whether they intend to do so, however, are consistently addressed by a Press Secretary with the same email emphasizing that the VA is federally prohibited from referring veterans to a study involving cannabis. It remains unclear whether this is true.
In January, Shulkin contradicted this position himself saying cannabis research at the VA is possible, but that it's just "difficult." "We have to go through multiple agencies, and it is very challenging to work our way through that process," he told the Senate Veterans' Affairs Committee.
Some frustrated lawmakers remain convinced that Shulkin keeps finding different ways to blame Congress for the lack of movement on cannabis within the VA when in reality he personally opposes it or just doesn't see it as a priority.
"[Shulkin] has not asked for help to remove those [research] barriers. If so, we would start building a coalition to do what he needed," said Representative Tim Walz.
Walz and nine other Democrats sent a letter to Secretary Shulkin encouraging the VA to do cannabis research—and asking him for specifics on how they could help. Shulkin's reply, Walz says, was uncooperative.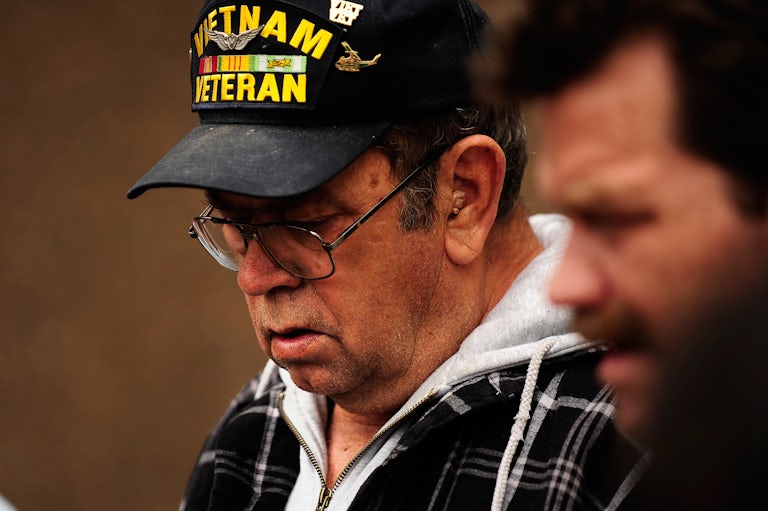 Shulkin is currently plagued with scandals ranging from his unwillingness to comply with federally mandated marijuana policies for the VA to appropriating taxpayer money to pay for his wife's vacation. Rumors last night popped up online that President Trump is considering replacing Shulkin with Energy Secretary Rick Perry. Perry dismissed the reports today calling them "fake news" and saying he's in his current position "for the unforeseeable future—happily." But that's not stopping researchers and other stakeholders from hypothesizing about what Perry might mean for the VA's policies on cannabis.
Sue Sisley, the principal investigator for the FDA-approved cannabis trial in Arizona, says she hopes regardless of who takes over the VA that things will finally change.
"I look forward to speaking with Rick Perry about our Veterans Cannabis research (cannabis for PTSD, cannabis for pain, and cannabis as substitution therapy for opioid use disorder)," Sisley told Herb. "I hope Perry orders the Phoenix VA Hospital to cooperate with referring potential subjects to our currently enrolling FDA-approved PTSD study in Arizona."
Perry hasn't been vocal on marijuana issues for some time. In the past, he has said he is staunchly opposed to legalizing recreational marijuana, but stated support for marijuana decriminalization, medical marijuana, and the right of states to make their own decisions about marijuana laws without federal interference.
"I said many times that I thought that Colorado was wrong in allowing for the use of marijuana, which they've decided to do, but that's their call. I will defend that right robustly," said Perry at a 2017 White House press briefing. "That ought to be their call."
During his 2015 presidential campaign, Perry claimed multiple times that he would preserve states' rights to implement their own marijuana policies. "I happen to believe that the states are laboratories of innovation. They're innovators just like we have at our national labs," he said. However, he also said about states who have chosen to legalize: "I think they will look back and they will find that it was a huge error that they made."
Still, as far back as 2007, then-Texas governor Perry enacted a law that encouraged law enforcement officers to issue tickets for minor crimes such as marijuana possession, rather than making arrests. Then, in 2010, on the Daily Show with Jon Stewart, Perry said: "If you want to go somewhere where you can smoke medicinal weed, then you ought to be able to do that."
A few years later in 2014, then-Texas governor Perry announced his support for the decriminalization of marijuana to make treatment more available and lessen the penalties for minor drug infractions.
These statements suggest that if Perry were to take over as VA secretary, he might be open to supporting research projects that have been federally approved and are operating in accordance with state law. However, one can never be sure. After all, Shulkin had also previously signaled his support for marijuana research, but it never resulted in progress.