The petition to place a marijuana legalization question on the November ballot in Arizona has failed to collect enough signatures, according to Safer Arizona, the organization that authored the initiative.
The petition was required to collect signatures from 10 percent of the number of voters who turned out for the last gubernatorial election, meaning 150,000 signatures had to be collected by the June 5 deadline. Safer Arizona did not hand in its signatures to state election officials because it did not meet the required number, though they posted the results on their Twitter, noting that they fell significantly short of the required amount.
The measure would have legalized possession, transportation and use of cannabis for those 21 and older and would have allowed for up to 48 plants to be cultivated at home. It also would have prohibited regulators and municipalities from passing legislation to block cannabis businesses from opening and offered some sort of forgiveness for cannabis-related offenses.
"This is what people are getting at when they go for cannabis legalization," Chairman of Safer Arizona, Dave Wisniewski, told the Cronkite News when the initiative was launched in 2017. "Everything that has passed so far has been investor-driven and doesn't take on the whole problem," he added, noting that previous legalization efforts have been too heavily focused on business interests.
The petition failed to garner enough funding and support as a result of what many believe was a division among legalization advocates and the industry. Wisniewski's proposal was seen as too broad and his prior opposition to the 2016 Marijuana Policy Project-led ballot initiative had soured his relationship with some key backers that could have helped his petition succeed.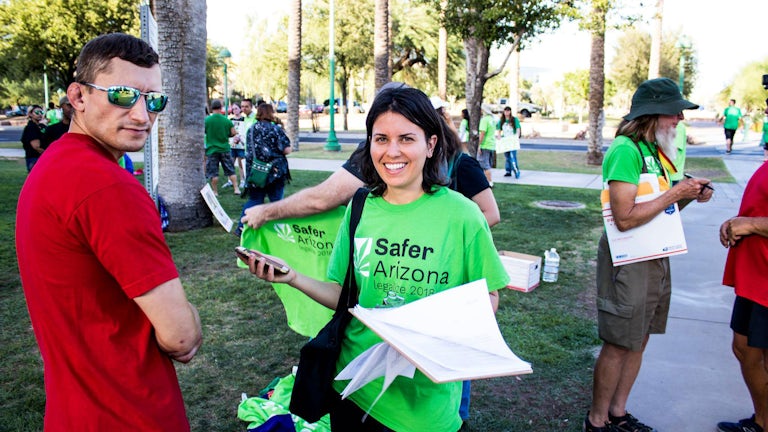 "They are pretty hard-headed," Demitri Downing of the Marijuana Industry Trade Association told the Phoenix New Times. "I gave up trying to convince them to incorporate mainstream ideas and industry acknowledgment. You cannot just destroy an industry. That ain't cool."
It's that lack of compromise among reform advocates as well as a well-funded opposition that has kept Arizona from joining the growing list of states which have decided to legalize at the ballot box. In 2016, opponents spent $500,000 to defeat the legalization initiative Wisniewski also opposed, making it the most expensive anti-pot campaign in history.
But the state and its industry reps still want legalization, it's just not clear what that will look like at this time. A February poll, conducted by OH Predictive Insights and the Consumer Choice Center, found that 62 percent of Arizona voters approved of treating cannabis just like alcohol.
In April, when President Trump pledged to support states' rights to choose whether or not to legalize, Arizona industry members expressed total delight. A spokesperson for the Arizona Dispensary Association called it, "a great day for America" while Downing praised the president's advisors for pushing him in the right direction.
Advocates now look to 2020 for another opportunity to place marijuana on the ballot. According to a Facebook post from Wisniewski, Safer Arizona is now considering a compromise with Arizona dispensaries.