The country's highest-profile anti-legalization group recently conducted a poll in the hopes of putting a damper on all the excitement around cannabis legalization. But…they didn't really do that. The poll released by Smart Approaches to Marijuana (SAM) showed only 16 percent of Americans favor keeping current federal policy regarding cannabis.
"These results clearly indicate the oft-touted vast public support for marijuana legalization has a shakier foundation that marijuana investors would have you believe," said Kevin Sabet, president of SAM. "This should give pause to politicians and marijuana financiers alike."
It's true that the poll shows lower levels of support for legalization (49 percent) than either Gallup (64 percent) or Pew Research Center (61 percent). But what Sabet conveniently ignored, of course, is that his own organization's poll showed supporters of full marijuana legalization make up the largest group surveyed; it's not even close.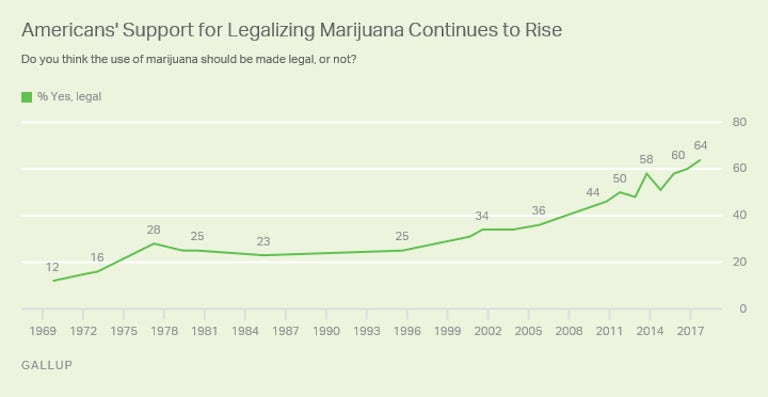 The poll, conducted by Mason-Dixon Polling and Strategy, took a different approach to other legalization surveys. Instead of a binary yes-or-no response to marijuana legalization, Mason-Dixon asked 1,000 registered voters about several nuanced options for federal pot policy.
Options presented in the poll were:
• Keeping current policy
• Legalizing "physician-supervised medical use"
• Decriminalizing marijuana by removing criminal penalties for use but not allowing sales, and
• Legalizing the commercial production, use, and sale of cannabis for recreational use by adults.
About 29 percent backed medical-only legalization and five percent backed decrim.
Even among GOP voters, who skew more conservatively on drug policy, current federal laws on cannabis are unpopular. Just one in four Republicans (25 percent) supported keeping current policy as is. Medical marijuana was supported by 36 percent of Republicans; 2 percent backed decrim; and 36 percent backed recreational legalization.
That means, of course, that a majority of Republican voters supported some form of marijuana legalization, either medical or recreational adult use. Democrats, for their part, overwhelmingly supported legal reforms. Just 7 percent wanted to keep federal prohibition.
The main takeaway? There's no denying it. Americans want change. Even SAM's diversionary tactic of peeling off medical marijuana support from recreational marijuana legalization support didn't obscure the issue. Think about this: A full 83 percent of Americans say current federal cannabis policy isn't working.