In an open letter addressed to Attorney General Jeff Sessions on Tuesday (April 24), CNN's medical reporter and neurosurgeon Dr. Sanjay Gupta is attempting to do what most would consider impossible: convince the anti-marijuana AG to consider cannabis as a solution to the opioid crisis.
The letter, in which Gupta provides first-hand examples of patients whose lives have been significantly improved by cannabis, is a last-ditch effort to convince Sessions that experts around the world agree that medical marijuana can be beneficial for certain illnesses.
"Not only can cannabis work for a variety of conditions such as epilepsy, multiple sclerosis and pain, sometimes, it is the only thing that works," Gupta writes. "I changed my mind, and I am certain you can, as well."
As recently as 2009, Gupta wrote an op-ed in Time Magazine, seemingly unimpressed with the available scientific evidence surrounding cannabis and spoke out against legalization. But now, after five years of speaking to medical experts and patients around the world, Gupta has become an advocate. That change of heart began in 2013, while Gupta was working on a documentary called "Weed" for CNN.
"I mistakenly believed the Drug Enforcement Agency listed marijuana as a Schedule 1 substance because of sound scientific proof," he wrote at the time in a public apology, pointing out that his own review of the available research was narrow and limited by personal bias.
After reaching out to Sessions and the Department of Justice (DOJ) for interviews regarding cannabis, Gupta decided to contact the AG through "unconventional" means and penned the letter, published online.
For his part, Sessions has remained a staunch prohibitionist when it comes to marijuana even though President Trump has said he believes legalization ought to be left to the states. When speaking before a Senate committee on Wednesday (April 25), the AG admitted for the first time that "there may well be some benefits from medical marijuana." But he was also quick to dismiss a mounting body of evidence that legal marijuana access is associated with reduced opioid issues. He acknowledged research showing that overdose deaths have declined in states with legal cannabis, but said he doesn't"believe that will be sustained in the long run."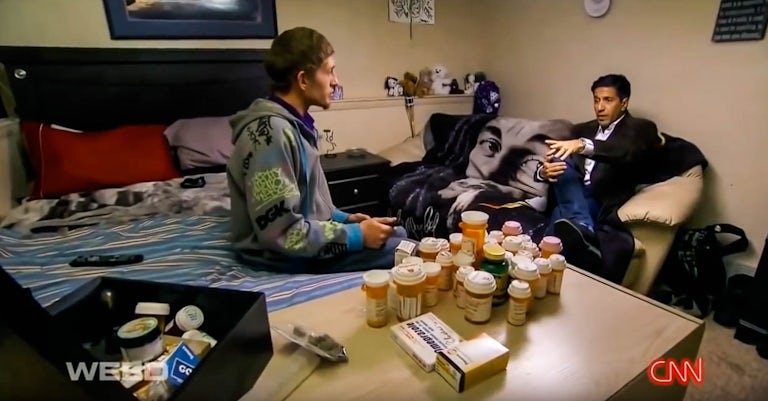 While Sessions has made the opioid epidemic a priority, he seems willing to try any solution to the crisis except marijuana, even in the face of evidence. As part of its efforts to address the epidemic of opioid overdoses, the DOJ has expanded DEA operations in areas most heavily affected, instituted drug take-back days and even taken legal action against pharmaceutical distributors.
Gupta insists that one of the most powerful weapons for fighting the crisis has yet to be considered. "If we had to start from scratch and design a medicine to help lead us out of the opioid epidemic," he writes, "it would likely look very much like cannabis."
Gupta cites several studies and first-hand accounts in his letter, but among the most authoritative are those which come from the U.S. government itself. In an attempt to convince the AG, Gupta points out that the Rand Corporation, in conjunction with the National Institute on Drug Abuse, shows that states with legal medical cannabis have had 20% lower overdose rates from 1999 to 2010.
He also points out that the National Academies of Sciences, Engineering, and Medicine has found medical cannabis to be extremely effective for pain relief, making it a viable alternative to opioids which are routinely prescribed to treat severe pain.
Medical cannabis, Gupta says, could save 10,000 lives annually if the government and health experts were to embrace it as an alternative and urged Sessions to consider the clinical studies as opposed to the misinformation promoted by the "Just Say No" campaign of the 1980s.
"For the past 40 years, we have been told that cannabis turns the brain into a fried egg," Gupta writes, "and now there is scientific evidence that it can do just the opposite…It can heal the brain when nothing else does."
As a final note, Gupta invites Sessions to meet with medical experts like Dr. Mark Wallace of San Diego and Dr. Sue Sisley of Phoenix to discuss their research and craft policy based on the evidence which changed the CNN correspondent's mind years ago. Let's just hope Sessions watches CNN.