Today, the Mayor of Seattle announced that any misdemeanor convictions for marijuana possession that were prosecuted by the city will now be vacated. In the years between 1986 and 2010, 240,000 arrests for marijuana possession were made in Washington State, according to the Drug Policy Alliance.
Vacating a conviction means that your guilty plea will be withdrawn, and replaced with a not guilty plea. This allows the courts to dismiss charges against you, meaning that you are no longer considered to have been convicted of that crime. This is particularly useful for people applying for employment or housing opportunities that require criminal background checks.
"In states like Oregon and California and to a lesser extent in Colorado, there are these mechanisms by which people can go back and reduce or remove marijuana penalties in their records for things that are now lower or no longer crimes." Jolene Forman, staff attorney with the Drug Policy Alliance's office of legal affairs, tells Herb. "But the way it appears is that [Seattle will] just get the city attorneys working with the courts to just vacate all of them, for any convictions that were processed by that court—I'm not even sure that you have to petition."
Seattle City Attorney Pete Holmes estimates that this action will lead to the vacation of roughly 600 marijuana convictions, stretching back to 1997. Upon his election in 2010, Holmes had also dismissed all marijuana-possession cases in the city of Seattle, refusing to prosecute any future cases. Washington legalized recreational marijuana for adults over the age of 21 in 2012—the first state to do so alongside Colorado.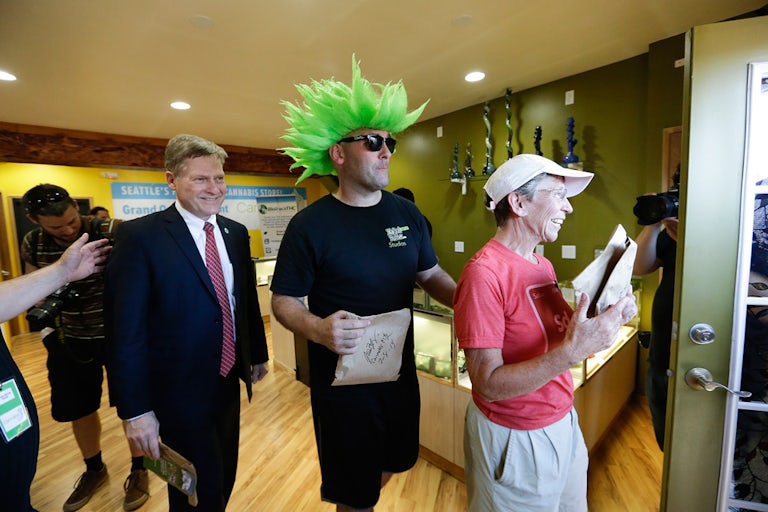 "The war on drugs ended up being a war on people who needed help, who needed opportunity and who needed treatment," said Seattle Mayor Jenny Durkan at a news conference in Seattle. "We did little to stem the tide of the supply of drugs and instead incarcerated almost an entire generation of users who could have had a different way."
Last week, the city of San Francisco similarly promised to nullify or reduce thousands of marijuana convictions made over the last few decades, including the dismissal of almost 3,000 misdemeanors and the review of roughly 5,000 felony cases.
In 2015, Oregon passed a bill that would allow those charged with marijuana infractions to clear their records. Colorado passed a similar bill last year, allowing people to clear past marijuana misdemeanors from their records.
"For Colorado, much like Seattle, it's only for a misdemeanor marijuana conviction. And in Oregon and California, it's for all marijuana-related conduct that has been reduced or removed, regardless of the level of punishment." Says Forman. But "in Washington, the state didn't similarly decide to make all of these penalties retroactive. The city of Seattle moved on this on its own to kind of follow what San Francisco just did."
In the state of Washington, nullifying past marijuana felonies would still require state action.