A 29-year-old man has been sentenced to death for cannabis oil he made and gave to patients in Malaysia. Muhammad Lukman Mohamad received his sentence, death by hanging, on August 31, nearly three years after police raided his home and seized three liters of oil containing THC.
Local news sources reported Lukman gifted and sold the product to nearly 800 patients in the country, depending on what they could afford.
Cannabis trafficking in Malaysia, and some of its neighbors, is notoriously prohibited. The country has a zero-tolerance policy regarding cannabis, classifying it alongside cocaine and heroin as a "dangerous drug." Anyone caught possessing, distributing, or using cannabis in Malaysia can be sentenced to death. People arrested for seven ounces or more are presumed to be drug trafficking.
In addition to the three liters of oil, Lukman was caught with 279 grams of compressed cannabis. Lukman's lawyer Farhan Maaruf stated in court that Lukman's intentions were merely to help people who could benefit from the medical potential of cannabis oil, which is growing in popularity around the globe as a treatment for conditions like arthritis, epilepsy, and the symptoms of chemotherapy.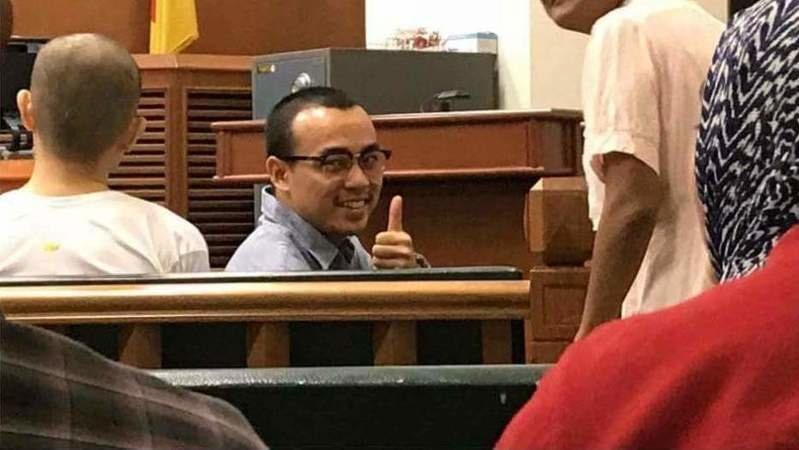 Maaruf pointed this out, noting the mounting research supporting the therapeutic applications of cannabis. Two patients—one with a blood disorder called Thalassemia as well as Lukman's mother, who has an unspecified illness—also appeared in court to defend Lukman.
Farhan told Malaysian News Site Coconuts KL that Lukman's intentions are "irrelevant" as "cannabis oil isn't recognized as a treatment under Malaysian law." The judge agreed, saying intent doesn't matter in a court of law.
Farhan is still hoping the judge will be swayed during the appeal by the lack of rigor used to collect evidence against Lukman. The police officer who seized the cannabis during the raid could not recall where he found it. Also, the university where the oil was tested allegedly lacks the proper facilities to determine the THC percentage of cannabis products. Lukman was charged for the full three liters of oil found in his home. The court-appointed expert, however, argued the THC percentage is irrelevant as any amount of THC is prohibited in the country.
Lukman's case has now inspired an online petition which has been signed by nearly 10,000 people. The circumstances surrounding the case are particularly heart-wrenching. Lukman's wife was six months pregnant at the time of the raid. She was initially also arrested but then released.
Lukman is currently in Kajang Prison awaiting his appeal.