Cannabis legalization is catching fire in the United States.
States are falling like dominoes to all forms of cannabis policy change, from decriminalization (lessening the penalty for breaking the law) all the way to implementing a recreational market. So the question is, who is next and what form of action will they take?
As the map details below, change is predominant on the coasts, with the central states reporting not much of anything related to cannabis.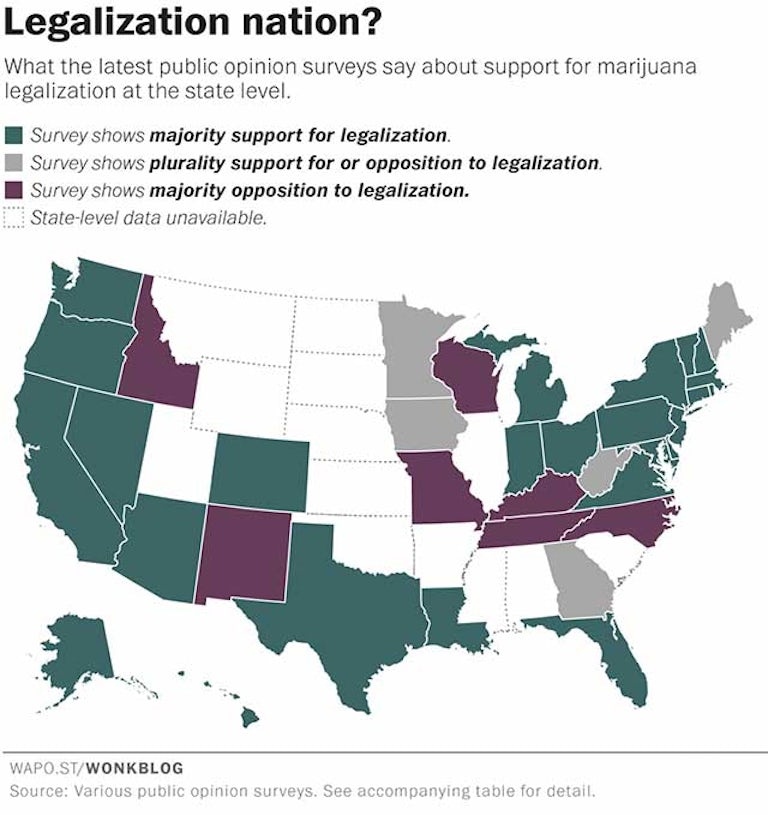 The Huffington Post predicts Florida and Pennsylvania to be the next states to develop medical marijuana programs, with Arkansas, Ohio and Michigan also showing promise.
Even greater change is on the agenda for recreational marijuana, led by Rhode Island who is expected to fully legalize cannabis next. There is also a lot of hope for Delaware, Hawaii, Maryland, New Hampshire, and Vermont within the next two years — New York is in the mix too, but its path is less clear. Ballot initiatives for November 2016 will appear in Arizona, California, Massachusetts, and Nevada, and potentially Missouri, but the outcomes are harder to predict.
Although less exciting than introducing medical or recreational marijuana, the next year promises further decriminalization, specifically in Delaware, Hawaii, Illinois, New Hampshire, and Texas.
These are exciting times! We will stay dialed in on the spur of legislative activity taking place in the next couple years.