The Utah Legislature is concerned that a loophole in the medical marijuana ballot measure going before voters in November could legalize home growing statewide. The ballot measure states that medical marijuana license holders will be allowed to grow up to six plants at home if they do not live within 100 miles of a dispensary by January 1, 2021. But if lawmakers don't put regulations in place by 2021 that allow for any dispensaries in the state, that would de facto legalize home growing statewide.
"We will move as quickly as we can. The challenge is, I don't know if it is achievable based on timelines in the initiative," Deputy State Agriculture Commissioner Scott Ericson told the state legislature's Administrative Rules Committee on Monday (June 18).
The medical marijuana ballot measure is expected to pass in a landslide with one poll released in March suggesting that medical marijuana holds 70 percent support among Utah voters.
The Utah measure is quite particular about who can apply to open a dispensary and how. In fact, it leaves very little for lawmakers to hammer out, covering everything from limits on growers' licenses to quality control provisions and labeling for products. It will be up to the legislature whether they will accept those provisions and fill in the few blanks that have been left or alter them and delay the process.
"We can be thankful for the 30 other states that have already implemented medical cannabis programs and use them as an example of how to implement this properly," DJ Schanz, director of the Utah Patients Coalition told the Salt Lake Tribune. "The home-grow provision was put in specifically because we want this to be implemented in a timely manner."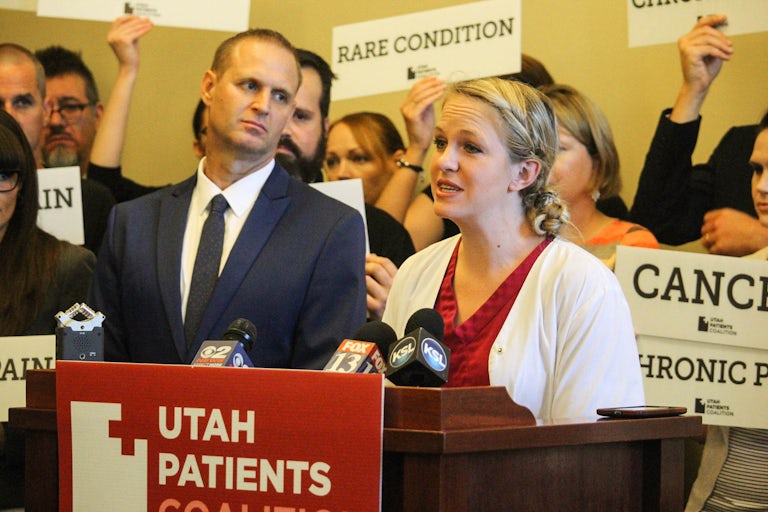 Another roadblock to the implementation of Utah's medical marijuana program could be the state's mandatory public testimony period in which residents are allowed to provide feedback on bills. All the parts of the ballot initiative which have to be fleshed out by the legislature will be eligible for testimony. This, Ericson said, could be what prevents the legislature from passing regulations for dispensaries by 2021.
In March, the legislature considered a proposal for a new law which would have delayed the measure's implementation for six months, if it passes, and allowed lawmakers to change it. That proposal, which was seen by supporters of legalization as an attempt to curb ballot questions lawmakers don't like, was voted down. It came amidst heavy opposition from the Utah Medical Association and Utah's DEA Division, among others, who were trying to get voters to take back their signatures so the medical marijuana measure couldn't appear before voters at all in November.
The Utah legislature is already trying to implement a far more restrictive medical marijuana program that was passed earlier this year. The provisions of that program, which require the state's Department of Food and Agriculture to oversee growing facilities, are expected to take a full year to implement. That bill only allows terminally ill patients access to cannabis.
In other states like Maine and Massachusetts, the details of recreational cannabis markets have taken years to implement, while states like Colorado, which was the first to legalize recreational cannabis, are still struggling to implement laws around issues like public consumption.