Last week, Congresswoman Barbara Lee (D-Calif) called Veterans Affairs Secretary David Shulkin out for preventing veterans from accessing marijuana for post-traumatic stress disorder and chronic pain, among other conditions.
"It's a shame and disgrace that the VA is preventing this type of treatment that works," Lee said to Shulkin during a meeting on Capitol Hill regarding the VA's 2019 budget.
Lee requested that Shulkin explain why he has yet to allow VA physicians in legal states to write medical marijuana recommendations for veterans. The most recent directive, released in December 2017, bars VA physicians "from completing forms or registering Veterans for participation in a State-approved marijuana program…to comply with Federals Laws."
Secretary Shulkin has continually said that the VA can't change its policies on cannabis until federal law changes, but the department has yet to point to a specific federal law that says this. Shulkin's office has also continually ignored requests from researchers, the media, and drug reform advocates to see the law supporting his claim. At the meeting last week, Rep. Lee implied it's because there isn't one.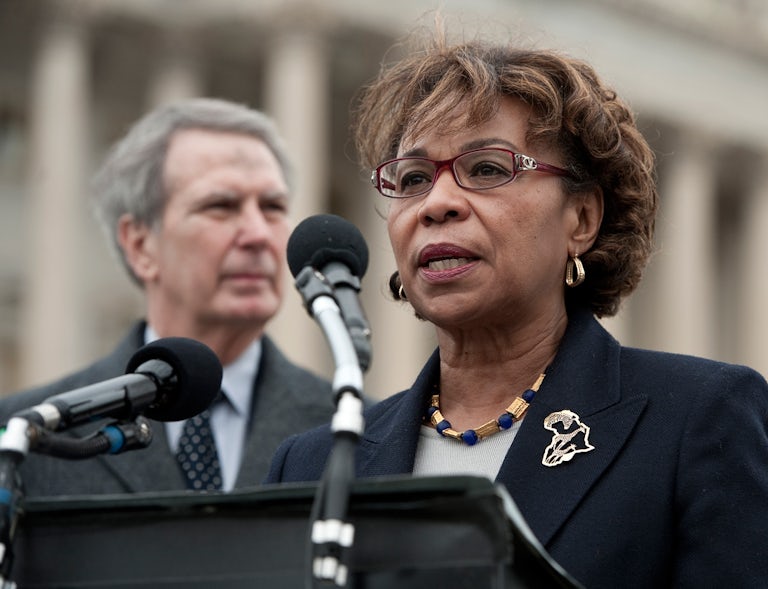 "You said that VA can't recommend medical cannabis in accordance with state laws until the Federal laws change," Lee said. "But marijuana's schedule one status does block formal prescriptions, but it does not block the ability of doctors to fill out questionnaire forms in those states. So what's the problem? What's the federal law that blocks the VA from doing this and not letting physicians simply recommend cannabis for vets who need it?"
Shulkin replied saying, "Wouldn't filling out the questionnaire, isn't that a step towards prescribing?"
Lee then clarified that "prescribing" and "recommending" are different and that while doctors cannot "prescribe" marijuana until it's turned into an FDA-approved medicine that they are allowed to "recommend" it.
According to Brian Muraresku, Executive Director of Doctors for Cannabis Regulation, becoming qualified to write medical marijuana recommendations for patients isn't typically "cumbersome." He says the process is different in the 29 states and Washington D.C., where medical marijuana is legal, but that generally any board-certified physician just has to go through a registration process. That means all VA physicians could qualify to register if the current VA directive was changed which, Muraresku says, officials within the Trump administration could do "overnight."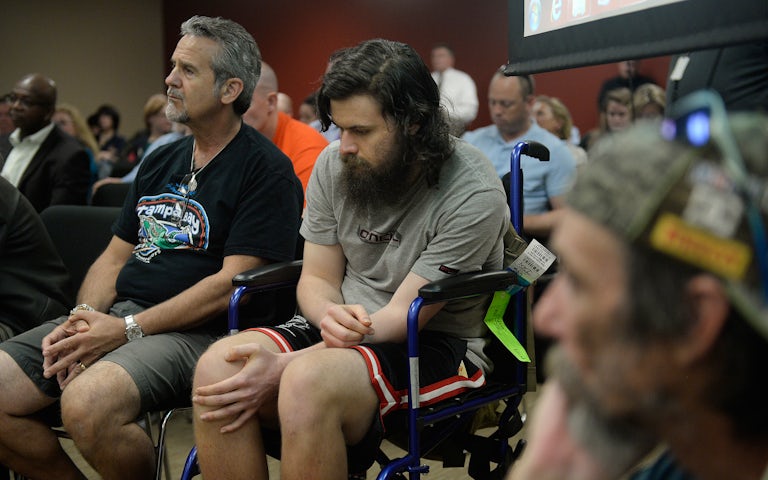 "It would be pretty easy to fold the VA physicians as recommenders into the directive," he said. It's not clear, however, whether this is something that Secretary Shulkin has the authority to do on his own or whether he'd need support from another senior advisor in the Trump administration. The directive from 2011, which the VA frequently referenced prior to the release of the new one in December, was not issued by a VA Secretary, but rather the Under Secretary for Health Robert Petzel.
Sean Kiernan, President of Weed for Warriors, an organization that advocates for cannabis for veterans, says a "pragmatic" question to consider is how many VA physicians would be willing to register with states to recommend cannabis even if Shulkin allowed them to. Muraresku, Executive Director of Doctors for Cannabis Regulation, says that an "overwhelming" majority of American physicians "support cannabis in some form," but it's unclear if these stats are representatives of the attitudes among VA staff.
Sue Sisley, a leading researcher investigating cannabis for PTSD in veterans, has said that she doesn't think cannabis will gain traction among the mainstream medical community until it's turned into a federally-approved medication eligible for prescription. This will require research into the medical potential and risks of cannabis, which VA Secretary Shulkin has also resisted. For Kiernan, a veteran with PTSD, Shulkin's resistance to cannabis research is even more of a "disgrace," to use Lee's word, then his seeming lack of interest in allowing physicians to write cannabis recommendations.
"I can understand the restrictions on a federal employee writing a script, but what I can't understand is Shulkin continuously turning his back on research, which even prohibitionists can get behind," Kiernan said. Research, he and many other cannabis reform experts believe, is the first step towards actually bridging the divide between the doctor's office and dispensaries.
Secretary Shulkin has also said in the past that the VA is federally prohibited from engaging in medical cannabis research. Then, in January, he contradicted himself noting that it's allowed, but "difficult" to get all the necessary approvals. At the time, he received pushback from congressmen—similar to the recent pushback from Rep. Lee—telling him his answer wasn't good enough.