The United States Federal government has a strict stance on marijuana. That being said, it's no surprise that the Veteran's Affairs department has adopted the same policy in the past. In fact, the VA used to completely dismiss medical marijuana, ignoring the fact that vets around the country are using it to treat their post-traumatic stress disorder and chronic pain when nothing else worked. There's countless stories about vets who say marijuana saved them from suicide when they were struggling to reintegrate into society. Last month, the VA released a new set of guidelines about medical marijuana for all its sites. It's a sign of progress, but the department still has a long way to go.
VA talks medical marijuana…kind of
Under the VA's new policy, physicians are encouraged to talk about marijuana stating: "VHA providers and/or pharmacists should discuss with patients […] how marijuana may interact with other medications the Veteran is taking, or how the use of marijuana may impact other aspects of the overall care of the Veteran."
Similar to the way a provider tracks pharmaceutical medications, the new policy requires notes on veterans' use of medical marijuana. This will allow for a more complete picture of patients, particularly as research has shown that cannabis reduces dependence on opioids which many veterans take for chronic pain.
The guidelines also protect VA patients from losing government treatments and disability payments as a result of state-approved marijuana use, something which has previously been a big concern among the veteran community. It states, "Veterans must not be denied VA services solely because they are participating in state-approved marijuana programs." 
Essentially, thanks to this policy, vets can now access marijuana through their state programs without being penalized. Still, the extent to which physicians will actually support their patients in using marijuana is yet to be seen.
For the VA, marijuana is still a Schedule I drug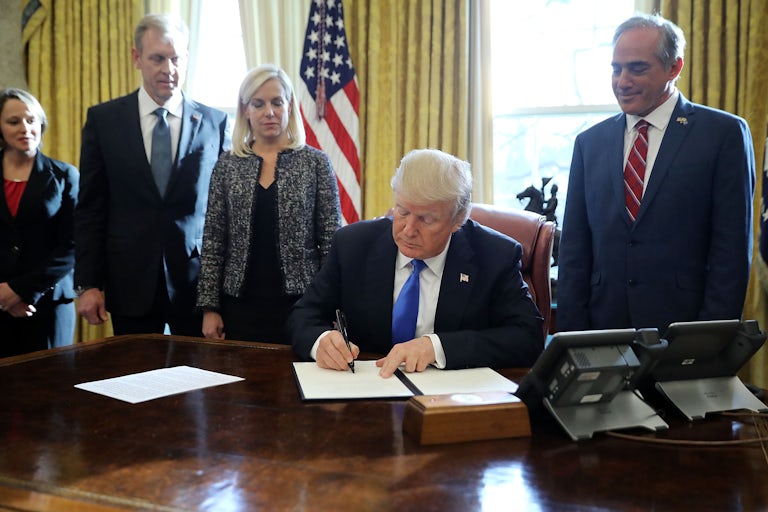 VA physicians and vets will now be able to talk about marijuana use in legal states, but vets will still be on their own when it comes to finding it. The policy states physicians are prohibited from "recommending, making referrals to or completing forms and registering Veterans for participation in State-approved marijuana programs."
This stance was reiterated in May by David Shulkin, the Secretary of Veterans Affairs. When asked by a reporter if medical marijuana should be reclassified from a Schedule I drug for medical purposes, Shulkin replied: "Until the time the Federal law changes, we are unable to prescribe medical marijuana for conditions that may be helpful."
Furthermore, vets can still be prosecuted under the Controlled Substances Act if they're caught with state-approved marijuana "even for authorized medical reasons" at a VA hospital, says the policy. 
There's still a long way to go
This new policy will certainly alleviate stress among veteran marijuana users who live in states where cannabis is legal. It also could encourage veterans who live in legal states, but have not yet tried marijuana out of fear they'd lose their VA benefits, from exploring cannabis as a treatment option. But there's much more progress to be made.
The policy leaves behind the veterans living in states where marijuana is not yet legal. It also fails to address the VA's unclear policies on whether their sites can refer patients to marijuana studies. While there have been some promising, small trials on cannabis as a treatment for post-traumatic disorder and as an alternative to opioids, there needs to be more research done in order to provide access to all veterans, not just some.