The Las Vegas Lights, a professional soccer team that competes in the United Soccer League (USL), made history last week by signing a sponsorship deal with a Nevada-based marijuana dispensary. The Lights are now officially the first professional sports team in the country to form a partnership with a marijuana retailer. (The USL is a Division II soccer league, meaning it's one step below Major League Soccer in the professional sports hierarchy.)
The dispensary is NuWu Cannabis Marketplace, which claims to be the largest medical and recreational marijuana marketplace in the world. The 16,000-square-foot dispensary even has a drive-through. As part of the partnership, NuWu will likely begin selling Lights-branded marijuana and possibly smoking-paraphernalia. NuWu is owned by the Paiute tribe, an indigenous peoples who have the dispensary on their tribal lands.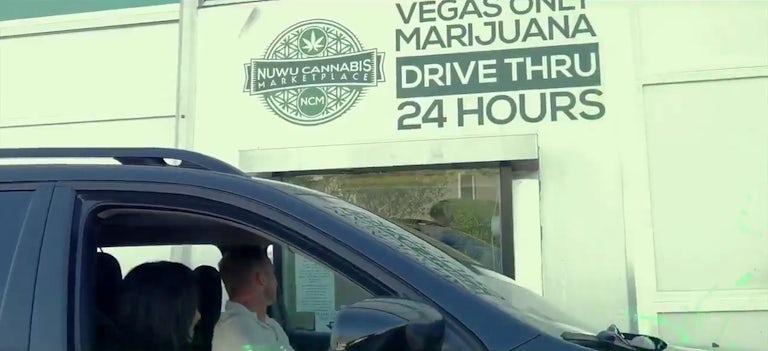 NuWu is now offering a 10% discount on their products to anyone who has a Las Vegas Lights home game ticket. The dispensary is less than a mile away from the Cashman Field stadium, which will be decorated with enormous banners advertising the dispensary. The Las Vegas Lights will be playing their next home game at Cashman Field on April 27th.
"This is the right time and the right market to do this, and we're not going to hide. We think this will be part of the destigmatization of this substance and business,' Brett Lashbrook, the Chief Operating Officer of the Las Vegas Lights, told ESPN.

The founders of NuWu opened the dispensary with the intention of making it an international marijuana tourist destination. This was made possible after the state of Nevada legalized recreational marijuana for adult use on January 1st, 2017, following a ballot vote in 2016. It's now one of nine states to have legal recreational marijuana laws in place.

The Las Vegas Lights captured many marijuana advocates' feelings about their partnership with NuWu when they made their announcement on Twitter, signing off with "ONLY. IN.VEGAS."