Would you want to play kickball against four former NFL players? Me neither, but that's exactly what the attendees of Denver's 4/20 Games got to do recently.
Reuben Droughns, Orlando Franklin, Tatum Bell and Charlie Adams came to play kickball, pose for photos, and help raise money for the 4/20 Games, reports Westword, which launched the games to "show that cannabis users are NOT lazy, unmotivated or 'stoners' and to de-stigmatize the millions who use cannabis in a healthy and responsible lifestyle." The event was the second in a series, after 4/20 games in LA in March, and was presented in partnership with Athletes for Care, an advocacy group that helps athletes use cannabis to transition out of pro-sports careers. While the four former pros probably stomped their civilian opponents, it was definitely all in good fun.
"We are here to win," Westword quotes Droughns as saying, in a pre-game huddle. "And after that, smoke a couple joints!"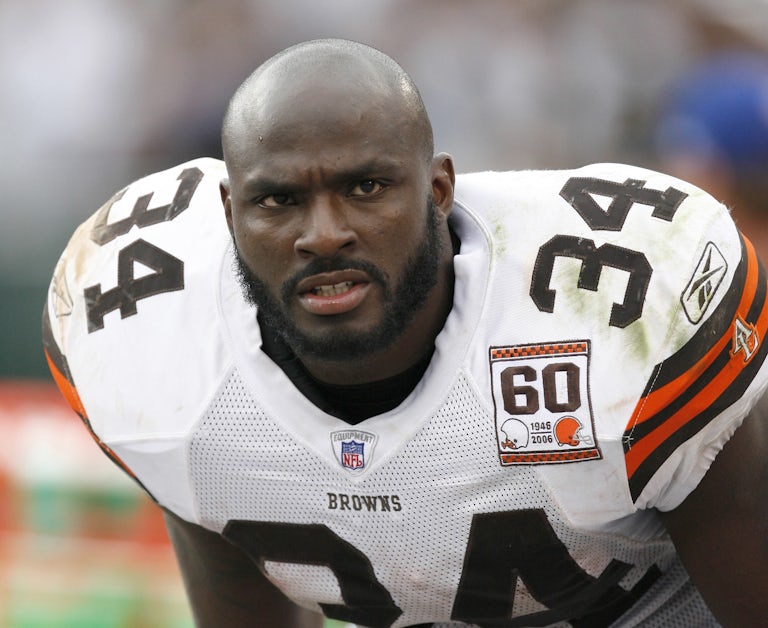 Droughns, of the four players, is the most outspoken proponent of cannabis acceptance. He recounted his own struggles with pain medication prescribed to him over his eight-year career as a running back, telling Westword that: "I had some troubles. Especially in my playing days—I had a lot of troubles with opioids."
Droughns is an active participant in and promoter of Athletes for Care and says he uses cannabis and CBD almost daily to manage his pain and fight depression. He joins a growing number of athletes who have been "coming out of the green closet" about how cannabis helped them cope with injuries they suffered on the field as well as wean off addictive opioids that are overprescribed by professional sports leagues.
Cannabis is being explored as a potential treatment for CTE, the brain damage found in 99% of former NFL players' brains. Droughns hopes that participating in events like the 4/20 Games will help reduce stigma around cannabis use by athletes and prompt the NFL to change its anti-cannabis policies.
Certainly, the existence of 4/20 Games, a quaint, cannabis-inspired field day for the general public, points to how mainstream cannabis has become. The games were sponsored by Lagunitas Brewing Co., who recently reiterated their enthusiasm for cannabis with their Hi-Fi Hops line of cannabis-infused sparkling water.
Something to quench your thirst, perhaps, after getting your ass handed to you on the kickball field?