Ricky Williams, ex-NFL and ex-CFL player is best remembered for his time on the Miami Dolphins and his suspensions from the Miami Dolphins, over drug policies that would come to define the athlete's current chapter in life. A longtime advocate of the potential of medical cannabis, Williams is launching his own brand of products using the herb he's stood by through thick and thin.
Real Wellness by Ricky Williams is a line of six products, launching throughout Southern California, initially sold in dispensaries in Los Angeles, San Diego, and Orange County. It will be comprised of vape cartridges, various tonics with hemp-derived CBD and THC, extracts and salves. It's a collaboration between Ricky Williams and OutCo, a cannabis consultancy firm and dispensary in El Cajon, California. Some of the packaging looks like what you'd see on the shelves of David's Tea.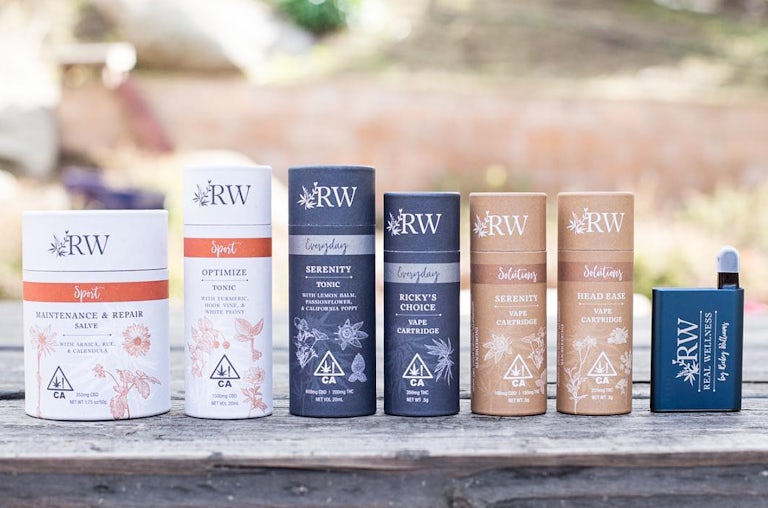 "I am known as a professional football player," Williams told the Sun Sentinel, the paper from where Williams used to play football. "In the last 14 years, I have been educating myself and training as a healthcare practitioner."
Ricky Williams has a contentious history with the NFL concerning his drug use. Despite being a decorated player, Williams was suspended from the Miami Dolphins time and time again over failed drug tests. Williams threatened to retire early in 2004 after his third failed drug test. Williams returned to the NFL a year later, but his marijuana smoking came with it. In 2006, after his fourth drug violation, Williams struck a deal to play for the Toronto Argonauts in the CFL while serving out his suspension.
Williams permanently retired in 2012. He has since studied Chinese medicine and become a cannabis activist. Last year Williams teamed up with 420 Games founder Jim McAlpine to open a weed-friendly gym in San Francisco. Real Wellness by Ricky Williams will be available online in the near future, and Williams is planning to expand to other states when he finds more manufacturing partners.