The Numbers Are Clear: Hillary Is Headed For A Blowout Win
As Election 2016 mercifully reaches its conclusion, the outcome is becoming clear: Hillary Clinton looks set to be the next Commander-in-Chief.
As Election 2016 mercifully reaches its conclusion, the outcome is becoming clear: America is on the verge of electing Hillary Clinton as the next Commander-in-Chief. The more superstitious of observers would rather not admit such things; after all, cockiness often leads to complacency, and a complacent electorate is one of the only things the Clinton campaign still fears. But make no mistake: polling in the states and the U.S. as a whole, combined with the Clinton campaign's money and turnout operation, indicate that Hillary Clinton will be sworn in as the 45th President of the United States this coming January.
How is Hillary polling?

National polling has been steady since the end of September, but the numbers have consistently shown a statistical lead for Hillary Clinton before and during the final month of campaigning.
The size of Clinton's lead depends on where you look: The polling aggregator at Pollster.com indicates that Clinton holds a healthy lead of just over 6 points.
A similar tool at RealClearPolitics finds the margin to be slightly lower, with the Clinton lead sitting at just over 5 percent.
While these numbers are not insurmountable, a Trump comeback at this point would be all but unprecedented in the history of contemporary American presidential elections.
The electoral college

National polling is only one part of the puzzle, the other half is how each candidate is expected to fare in the individual states, and what we think their ultimate numbers in the states may be. Again, by this metric, Clinton is blowing her opponent away.
There are currently seven states that remain tossups- Nevada, Utah, Arizona, Iowa, Ohio, North Carolina, Georgia, and Florida. (See map below.) Otherwise, Clinton remains comfortably ahead in the rest of the states that are either Democratic-favored or Democratic-leaning.
For some perspective: Even if Hillary Clinton were to lose all of the tossup states, which right now is probably less likely than Donald Trump winning even a few of them, she would still carry the election by 3 electoral votes.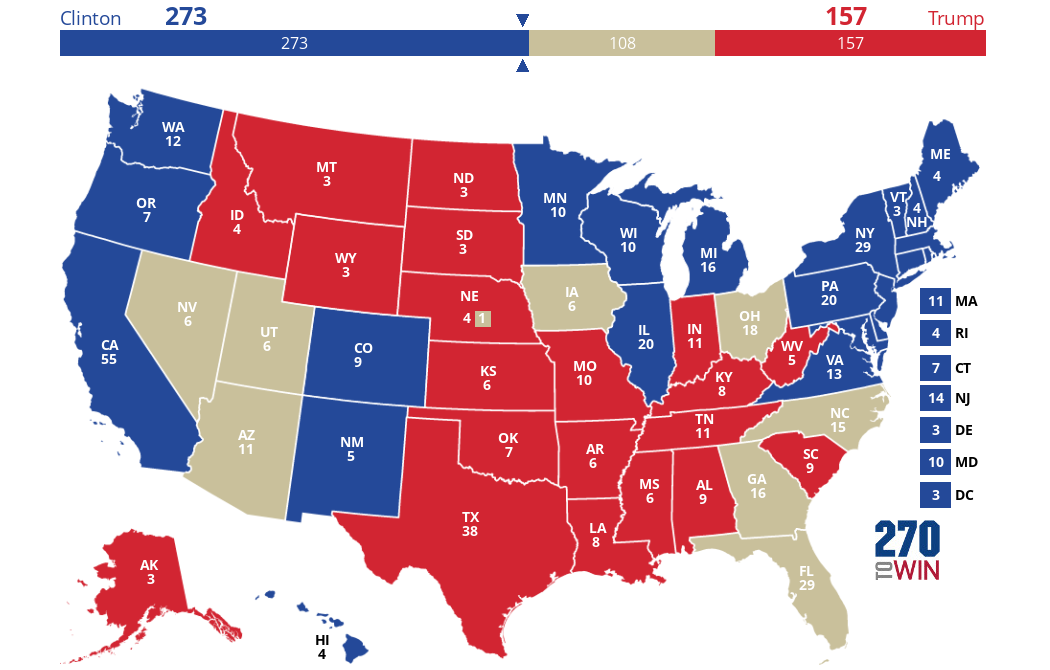 Click the map to create your own at
270toWin.com
Clinton's firewalls of Pennsylvania, Michigan, and Virgina appear to have held, according to polls coming out of each state. (Florida, the perennial battleground state, has also slipped from Trump's grasp over the past month.) This means that Trump has a steep uphill climb to even remain competitive, let alone win the election.
Money

As if anemic polling numbers at both the national and state levels was not bad enough, Donald Trump is also being made to grapple with a serious financial disadvantage, now with less than two weeks until Election Day.
From a fundraising standpoint, Clinton has lapped her opponent: The Democratic nominee raised $154 million in September alone, bringing her cash-on-hand total to roughly $150 million in the bank. Donald Trump began October with roughly $75 million in the bank. (Clinton also has an advantage in money raised for outside groups.)
Trump also recently made clear that he would no longer hold high-priced fundraising events, a crucial blow to his and the party's ability to raise the funds necessary to turn out voters in key locations.
The same cannot be said of Clinton. The Democrat's star-studded fundraisers, featuring such entertainment luminaries as Billy Crystal, Bette Midler, Sarah Jessica Parker, Neil Patrick Harris, and Anna Wintour, among many others, are expected to rake in cash that will contribute both to herself and her party in their quest for domination at the ballot box.