It was just another ordinary day in a country where cannabis is completely legal. Toronto's Pearson International Airport installed "amnesty bins" much like the ones that already exist in California, Nevada, and other American states where adult use cannabis is legal and available. But when one Reddit user posted a picture captioned: "Pearson International installed a 'free weed' bin :)," the internet, understandably, exploded.
However, a spokesperson for Pearson was quick to respond and told Gizmodo: "Free weed is resoundingly incorrect, and I think that's putting it mildly. Once something goes in the container, it doesn't come out." Bummer.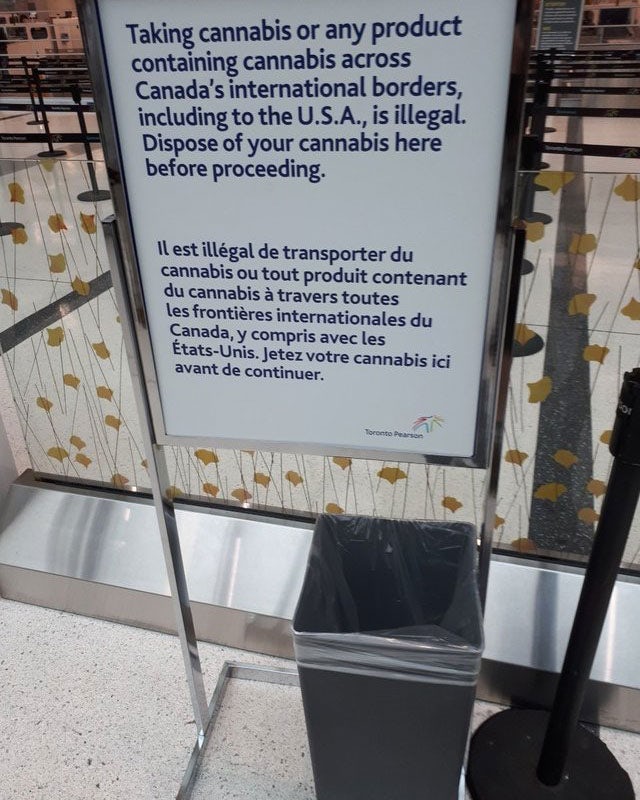 Canada made adult use cannabis available on October 17, and since then, the country has had to install many signs warning passengers about the dangers of traveling internationally with cannabis. In fact, a New York man was arrested at the border less than 10 days later trying to smuggle cannabis products he bought legally in Canada into the United States. The 23-year-old New Yorker was charged with "possession of a controlled substance, importation of a controlled substance, and smuggling goods into the United States," according to local news.
Even an Herb staffer noticed an increased amount of signs and warnings when he traveled from LA to Toronto this weekend. He explained that before security there's signs that instruct travelers to dispose of any cannabis before traveling.
Hence, the need for these amnesty bins. So if you're planning on going to Canada to try some legal weed, go for it and enjoy yourself. But, don't get yourselves arrested by traveling internationally with cannabis. If you accidentally find some weed on you when you arrive for your flight, toss it away in a "free weed bin" without bugging out. And just come back to Canada next weekend, eh?