Last year, through a sneaky bureaucratic maneuver, the DEA took steps to deny medical cannabis patients critical access to CBD oil, despite research that shows promising therapeutic affects for a myriad of different afflictions.  Even while medical cannabis gains scientific legitimacy, it still faces political scrutiny. 
Many medical marijuana patients turn to CBD oil as an alternative to smoking. Wendy Lockman from Atlanta did exactly that on a trip to Europe.  Since she couldn't travel with her medicine, her son bought her some CBD oil from a store in Switzerland to treat her fibromyalgia. While she was initially wary of the effectiveness of CBD oil, since that trip months ago, Lockman says "I don't have to smoke weed anymore." 

Lockman went to CBD oil because of her experience with traditional pharmaceuticals that treat fibromyalgia, specifically Pregabalin. "I felt like I was crazy on that stuff. I wouldn't recommend it for anybody," she said.
CBD oil is such a fundamental part of Lockman's health regimen that she learned how to make it herself, and stockpiles it, in case of a government crackdown.
"No matter what, I'm going to use it until it stops working,"
The fear of a government crackdown is not unfounded. Last year the DEA clarified it's position on CBD oil stating that, despite its non-psychoactivity, it is no different than any other cannabis product.
That lack of distinction combined with an Attorney General who thinks marijuana is only used by morally flawed people puts the legal status of CBD oil in jeopardy. The irony here is many people who use CBD would like the government to become more actively involved in research, much like the support lent by Israel to its MMJ research programs
Kelly Woods uses CBD oil to treat her muscle spasms. At first, she just took ibuprofen, but the pain caused her to take too much too often, and it affected her digestive track. "The pharmaceutical route solved one symptom but caused another," she recalled.
Like Lockman, Woods makes her own CBD oil as well, but for different reasons. Because CBD oil isn't regulated, figuring out exactly how much of the cannabinoid is actually in a given solution can be difficult. "There are a lot of companies out there that have fantastic marketing, but really low-end products," she said.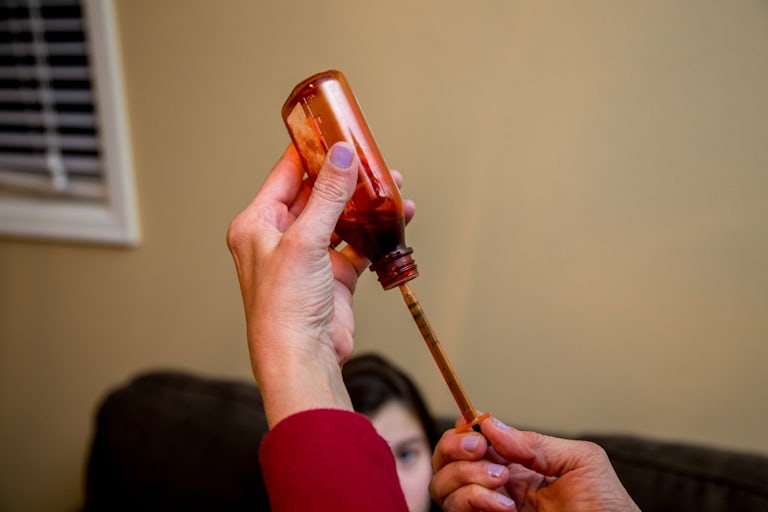 This uncertainty has Woods wishing for more control over her medication intake, though she recognizes that government control could have adverse effects if married with corporate profiteering. "It's a double-edged sword if the government took more control. But I hope it will be regulated," she said.
Others fear what may become of CBD oil not for themselves, but for their children.In Texas, Jill Pollard is one such person. Pollard's daughter has a host of different medical issues. "You could call her a medically complex child," she says.
Pollard was already curious about CBD oil. In her research, she had come across it online, but that was never enough to persuade her to try it for her family. "I don't think I ever would have touched it if it weren't for a doctor's recommendation."
After her daughter had a seizure, doctors diagnosed her with a seizure disorder and prescribed a popular pharmaceutical. It stopped the seizures, but the side-effects were totally debilitating."They gave her powerful stuff, especially for a three-year-old," she said. To stop this she sought a second opinion. Her new doctor prescribed CBD oil. His theory was the seizures weren't the result of traditional epilepsy, but rather the result of brain inflammation.
After spending a few weeks weaning off the side-effect inducing pharmaceutical and transitioning onto CBD oil, not only did her daughter not suffer any more seizures, she showed significant cognitive improvements. "She sleeps better. She eats better, and our main goal for the past five years has been to keep her off a feeding tube," Pollard says.
But Pollard is not only nervous about the legal implications of using CBD oil to treat her child. A friend of hers, who also uses CBD oil to treat their child, was reported to Child Services. "They accused her of doping her child. She's a wonderful, hardworking mother," Pollard says.
"We're law-abiding citizens. But for whatever reason, they just don't want this miracle product on the market." Like many people in similar situation, Pollard understands that morality and legality are not always synonymous