Cannabis is rarely demonized in Copenhagen, Denmark's famous Christiania district. In fact, the self-proclaimed anarchist "micro-nation" within the Danish capital city is rather well known for its openness toward cannabis culture. But even in Christiania, it's generally frowned upon to waltz right into a police car carrying a massive amount of weed.
That's exactly the fate that befell one Danish man who was carrying 1,000 joints when he mistook a police car for a taxi and climbed right in.
According to the city's police department, who posted the story on their Twitter, the man was in a hurry to get home, but the seemingly amused officers had other ideas.
"Last night, a cannabis dealer from Christiania who wanted to get home quickly got into a taxi. He received a big surprise when he realized it was actually a police car he was sitting in," the Twitter post read. "The police officers were happy to see him since he was carrying around 1,000 joints."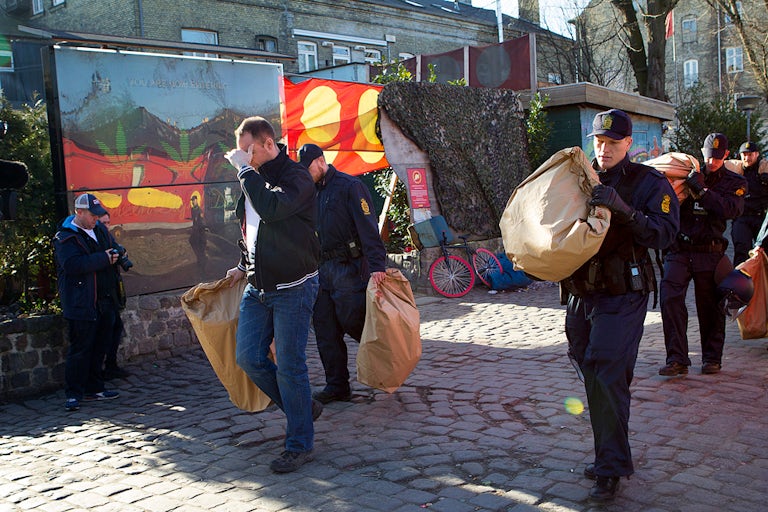 Christiania makes up a rather large chunk of Copenhagen, spanning 84 acres of the city. For decades, it's been where those who choose to live 'alternative lifestyles' in the country go to be free. It was founded in 1971 after the military abandoned the site. In the years that followed, people from the surrounding neighborhoods slowly began to take over the empty buildings to build a city within a city.
While many substances—including cannabis—remain illegal in Denmark, authorities have largely left the region alone under the assumption that it would limit drug use to just one part of the country.
It stayed that way until 2004, when opponents of the thriving hash market in Christiania began to call for a crackdown. While cannabis use has fallen dramatically since then it remains a haven for cannabis enthusiasts.
Still, the laws aren't relaxed enough that you can carry 1,000 joints right into a police car. While an initial Tweet from the police suggested that the dealer might only face a fine they later clarified that jail time was more likely his fate.