This year, a total of five states will be voting on legalizing recreational cannabis, and cannabis advocates couldn't be more ecstatic. Out of the five, it's pretty much assumed that the state of California should have no problem getting this measure passed. Despite the groups that oppose California's Prop 64 measure, the majority of California residents are more than ready to call their home a legal state.
They got more bounce in California
In California, the legalization of cannabis has been on the radar for quite some time now. Since 1996, medical cannabis has been available to patients for qualifying conditions, and since 2011, cannabis has been decriminalized, which eased up on punishments for possession.
Yet in the recent years, cannabis advocates and lawmakers have worked steadily to gather the required signatures needed in order to snag a spot on the ballot and make cannabis fully legal once and for all.
This year, things are much different, as the initiative actually exceeded the 402,000 signatures it needed to qualify. Not to mention, the majority of Californians, 60% to be exact, support legalization and plan to vote "yes" on the measure come Election Day. In other words, if the vote follows recent polls, it's safe to say that legalization is a sure bet.
So, what does this all mean?
The lowdown on Prop 64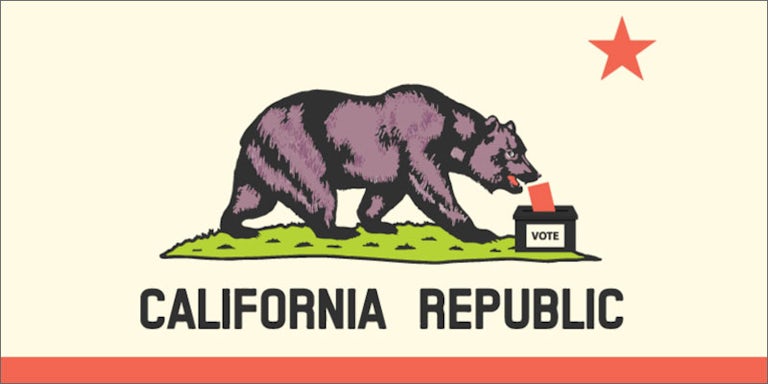 The Adult Use of Marijuana Act (AUMA), also known as Proposition 64, would allow adults 21 and older to legally possess up to one ounce of cannabis and grow up to six plants for personal use. But that's not all, folks.
Here's what falls under Prop 64:
A system to license, regulate, and tax the sale of recreational cannabis will be established (following the same guidelines in place in Colorado)
A 15% tax will be placed on all cannabis transactions and the money will be put toward providing funds for substance abuse education and treatment programs
Individual cities will have the option to add their own taxes and fees (giving much-needed revenue to the cities and towns that are struggling financially)
Punishment for cannabis violations will be reduced
Judges will be allowed to reassess sentences for those that are already in jail for selling and/or growing cannabis illegally
Licenses will be allowed for on-site consumption premises, or "cannabis cafes"
Prohibits commercial grow operations with more than half an acre indoors or one acre outdoors until at least 2023 while making provisions for licensed businesses smaller than 10,000 square feet
While this new measure gives Californians a chance to dip into the legal cannabis market, those who abuse its privileges by selling legal cannabis could receive six months in jail and/or a $500 fine, so don't be stupid!
There's no doubt that legalizing cannabis in California will result in a major industry boom. As one of America's largest states, given the amount of revenue the cannabis industry has already generated in Colorado, the chances that California will strike gold once again are very high.
So for all you Californians out there, grab your papers and your pipes and get ready to make history!
Do you live in California and plan on voting this November? Are you excited? Let us know on social media or in the comments below.