While the name 'Calvin Cordozar Broadus Jr.' may not sound familiar, his pseudonym–Snoop Dogg–certainly does. That's because his nickname overpowers his real name, something Snoop Dogg states and credits as a defining factor in his life, along with the first time he used cannabis.
In a rapid-fire style interview with Esquire, Snoop Dogg shared the tale behind his famous nickname, while also sharing other events, maxims, and philosophical beliefs that have contributed to making him the person he is today. 
"My momma gave me the name. I used to love Peanuts and Charlie Brown. Snoopy was my favorite cartoon character growing up. I watched so much, I started to look like him." 
Many years later, Snoop Dogg has seen his nickname go through different phases: Snoopzilla, Snoop Lion, and the Doggfather, among other monikers.
There is a lot to be said about nicknames, in general. For many, its a way of reinventing oneself and creating an identity on one's own terms, which is something Snoop cites as a custom for many young black men. 
"In the black culture, certain kids are given nicknames that they roll with forever; the nicknames outweigh their real names. I'm one of those scenarios."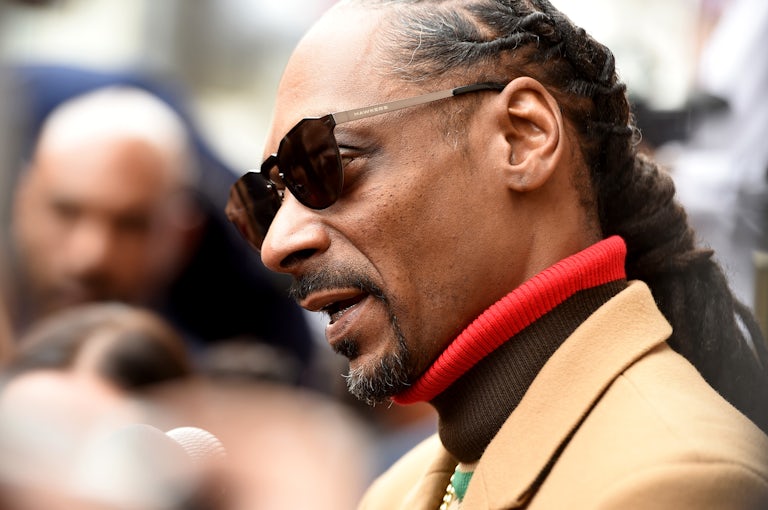 Speaking of identity, Snoop also told Esquire about the first time that he ever smoked weed, which he considers another significant moment that defined his persona and changed his life forever.
"The first time I got high off marijuana was in the seventies, with one of my uncles. They had these little roaches on the table–these part-way-smoked marijuana cigarettes–and there was some Schlitz Malt Liquor Bull.
"I went in there and sipped the Schlitz, and my uncle asked me did I wanna hit that roach. And I was like, 'Yeah.' He put it on the roach clip for me and lit it up, and I hit that motherfucker. I was about eight or nine years old."
Obviously, the age of eight or nine is far too young for someone to be trying cannabis, but in Snoop's case, it may have been inevitable. Perhaps, it was his early introduction to cannabis that resulted in his long list of accomplishments and recent induction into the Hollywood Walk of Fame.
If you're wondering if the Doggfather had any nuggets of wisdom about his relationship with weed since then, here's what he had to say:
"Weed: It makes me feel the way I need to feel."