The sun roared through Kat Gopez's mansion-lined street and bounced off of a black Mercedes parked outside her house in the San Fernando Valley. A VW van—the stuff of every SoCal roamer's dreams—sat nearby.
A bandanna-wearing dog, Nickle, met us at the front door, which Gopez opened along with her husband Lovine and their young son Mato. Gopez, who is known online as Kombucha Kat, has big, dark eyes and pin-straight brown hair that laid neatly over an olive silk shirt. She smiled and welcomed us inside, where a table had been set up with grapes and strawberries.
Before settling down here in the 1990s, Gopez and her husband spent their spare time driving around, exploring and camping in that now-parked VW bus. Gopez began to find herself interested in the many plants that crop up in the Californian crevices, mystified by their uses. "Eventually I started learning about plants here in LA [and] foraging," Gopez said. "The more you spend your time with that silence, with plants and nature, the more you feel like they start speaking to you in a way."
There was never any grand decision on Gopez's part to start making her own kombucha with the foraged plants. "It was just natural that I started brewing," she told me.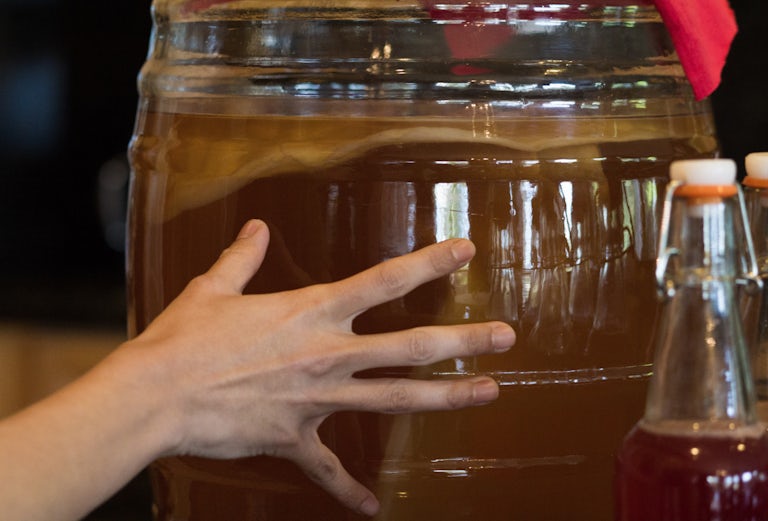 The art of an all-natural medicated drink
Two years ago, armed with her knowledge about consuming plants and the nature of plant medicine, Gopez began to make her own cannabis-infused kombucha. The usually transparent brewer is rightfully secretive about her process, guarding it close to her heart because of how much trial and error it took to perfect. She did reveal that she built on her past brewing with native plants, such as mountain foraging for the mugwort and wild yeast needed to make mugwort beer.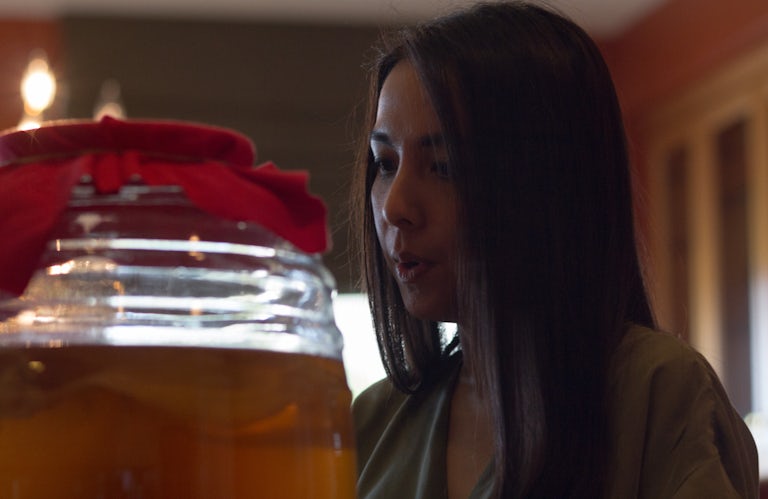 As any homebrewer knows, the ingredients used to make kombucha are crucial. Gopez makes sure to use organic teas—a mix of green and black—as well as mainly organic fruit. She still forages too, living as she does in a plant-speckled mountain range.
Gopez's key ingredient comes from a less bucolic environment. "For now," she told me, "I've been getting [cannabis for the brew] at the dispensary. It's a little pricier for me, but I've been trying to work my way to kind of scale up in that sense. That's why all my brews now are small-batch brews."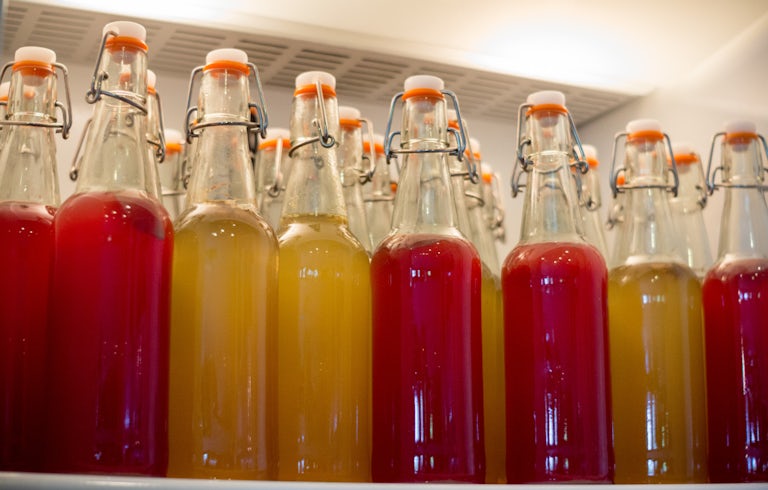 Trying Kombucha Kat's cannabis kombucha
The kombucha was a bright but soft yellow color, peppered with little bits of cannabis that settled at the bottom of the bottle in a fine layer of sediment. This particular batch was a mix of two strains, Malibu and NorCal Blue Dream. 
Gopez swirled it around, trying not to agitate the liquid too much. She mentioned that there were stains on the ceiling from times that bottles had over-carbonated and violently exploded. Tipping the bottle, she poured some of the fizzy drink into my glass and handed it to me, telling me to be completely honest with her about what I thought.
I didn't have to pretend; The drink was sweet and had a spicy tartness, just enough of that raw kombucha bite to satisfy my home brewing-honed palate. It wasn't as cloyingly saccharine as some bottled kombuchas tend to be, and even though the smell and taste of the brew didn't resemble cannabis there was something indescribably different about it. The deceptively tasty brew, which our photographer said he could have drank a gallon of, comes in two, 30 milligram servings per bottle. It's markedly less potent than most dispensary-offered THC drinks, a welcome change for some medicinal—and even recreational—users looking for a way to sip on something that won't bowl them over.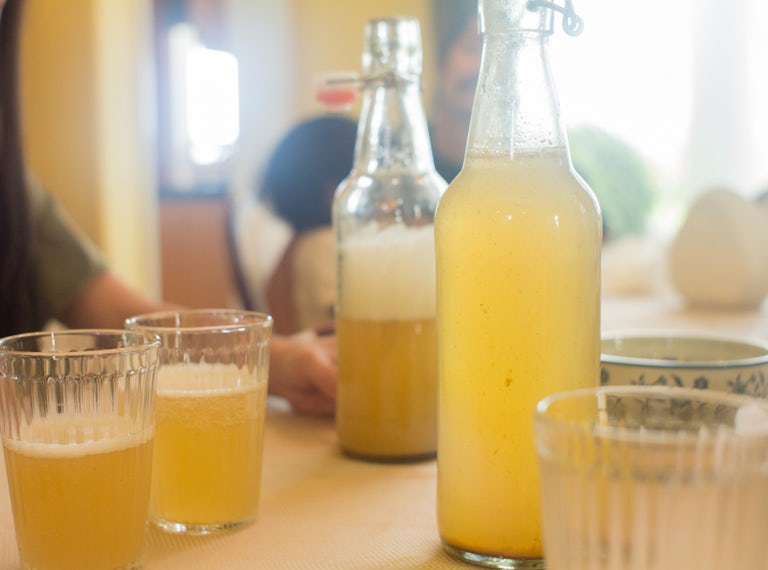 The second brew we tasted, equally as strong, had a Filipino citrus fruit known as kalamansî. In the Philippines, where Gopez was born, the fruit is used to make lemonade, fish dishes, and candy, among many other regional treats.
Lovine and Gopez walked us out to where the kalamansî grows, a big, bright green tree set against a mountainous valley backdrop. The tree is over 20 years old, planted by Lovine's grandfather when everyone moved in. Lovine reached up with his garden tool to grab us one of the kumquat-like fruits as Mato watched nearby. He handed the fruit to his son. "We're going to let our friends try too," he said.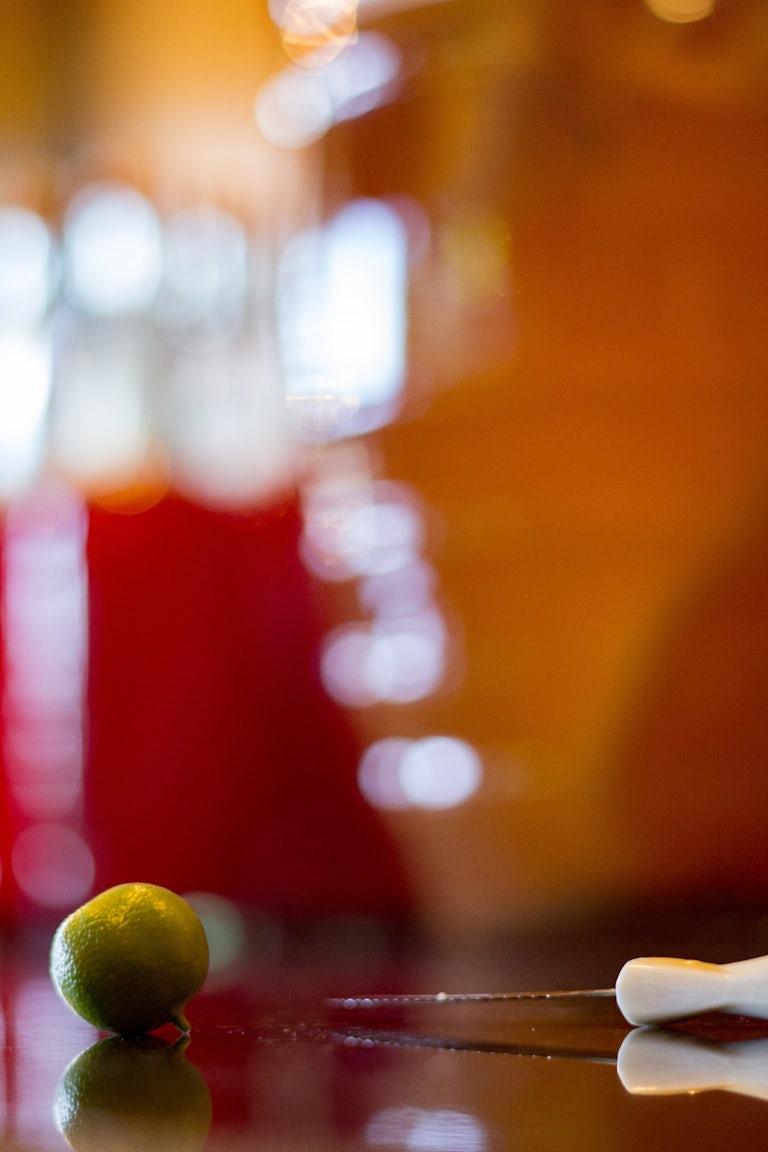 Gopez, slicing the fruit in the kitchen, told me about the pervasive hunger in the Philippines and how she has learned to not take food for granted. We then begin to talk about social media and her Instagram presence, and she simply says that she hopes her brewing is inspiring others to take care of themselves and the planet. She looks at me and smiles, excited. "In that grander scale," she laughs, "I hope my kombucha is taking part in that too."
Photos by David Diperstein