CBD is the talk of the town. No, it's the talk of the globe. In case you haven't heard the skinny on CBD, CBD provides the many benefits of marijuana, but without the high. Like its cousin THC, you can find CBD in everything under the sun, from strains of weed to lube to cooking spices. But of all the ingenious CBD-infused products available today, CBD gummies are making the biggest impact, especially for non-smokers. Taking them is no different than having your daily gummy vitamin, the best kind of vitamin—they have a yummy taste, and best of all, they make finding your ideal CBD dose a breeze.
CBD Gummies: Effects Of CBD-Infused Gummies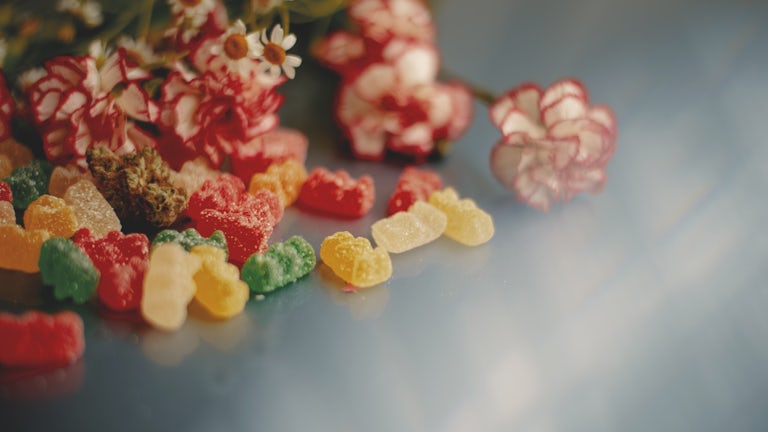 You know that CBD won't get you lit, but in gummy form, will it make you feel out of whack in any way? Edibles are famous for their potency and unpredictable effects, but fortunately, when they're infused with CBD, they're a lot more gentle. They take anywhere from 30 minutes to two hours to kick in and can last as long as eight hours, same as a regular edible, but with only a handful of potential adverse side effects. From this non-intoxicating cannabinoid, you're likely to experience relief and an uplifted mood. In too high of a dose, maybe drowsiness or an upset tummy.
CBD Gummies Dosage: Finding The Sweetest Dose For You
Fortunately, most CBD gummies come in small, pre-dosed servings, ranging anywhere from 2–10 mg a piece. In such manageable doses, it's much easier to avoid the very few unfriendly side effects with CBD gummies than with, say, CBD oil or other products. If you're new to CBD, edibles or CBD period, 5 mg is an excellent place to start. Two hours later, if you still don't feel anything, then that's a good sign that you need to increase your dose. Then again, your body can take a few days to adjust to the CBD, so it's not a bad idea to wait three days or so before upping your CBD dosage.
If you have experience with CBD, then you can stick to what you know works. Again, CBD in gummies is evenly distributed, so all you have to do is hit your magic number. For those who have ever had to measure out CBD oil in a syringe, that's a huge relief. Not to mention, more convenient and travel-friendly.  
CBD Gummies: Drug Test Safe Or Too Risky?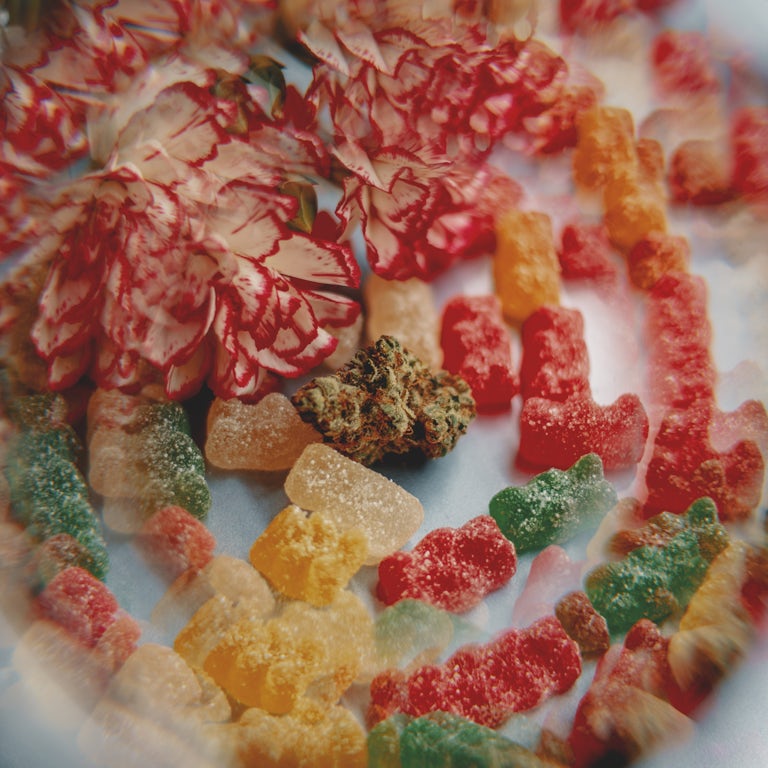 Whether you are prepping for a job interview or have to submit a urine sample for the courts, there's no need to stress with CBD gummies. CBD gummies contain traces of THC that are so small that a drug test won't detect it. Hemp-derived CBD gummies are completely THC-free, so there's always that option if you're still concerned.
The only time you should be concerned about CBD gummies when you have a drug test around the corner is if you know nothing about them. Maybe you bought a bag from your dealer, or, you found some random company on the web. Either way, whenever you turn to sources outside of a licensed trusted brand for CBD, you have to be careful. Having no labels or lab tests are a bad sign. Not only are you unaware of how reliable/effective the CBD is, but you also don't know if it's authentic CBD, meaning there could be anything in there, including THC.
The Best CBD Gummies
CBD is enormous right now, and everyone wants in. You're destined to come across devious companies ready to sell you crap. There's plenty of things to waste your money on, but useless CBD gummies shouldn't be one of them. We have a couple of CBD gummy aficionados here at Herb and have found a few of the finest that taste good and do a beautiful job at making you feel better. From anxiety to insomnia, here are the best CBD gummies for defeating the discomfort in your life:
Best CBD Gummies For Sleep: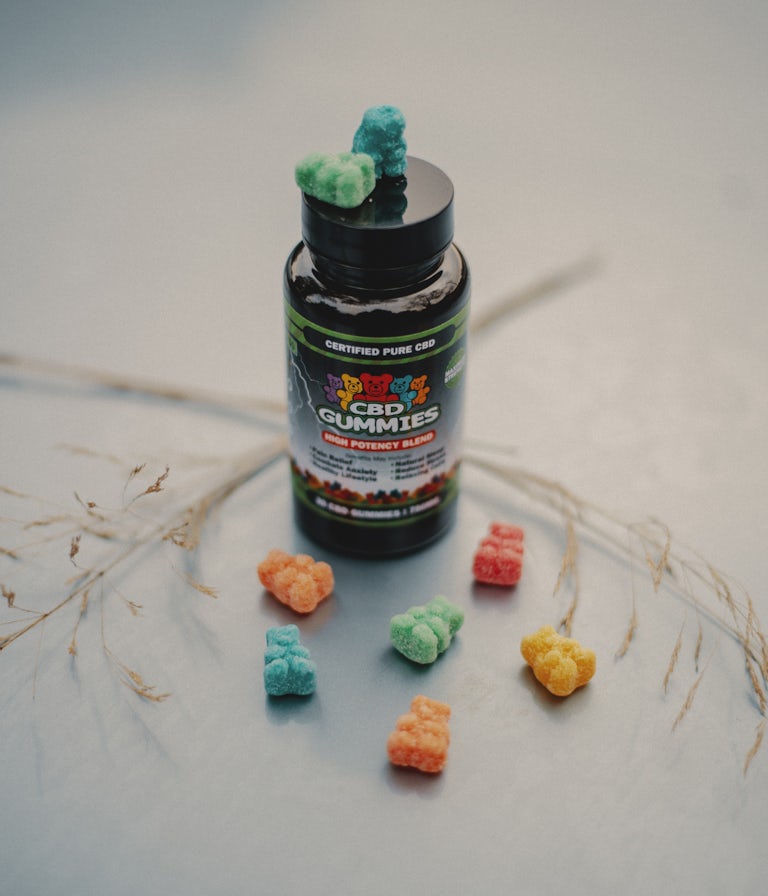 If you want the good zzzs, then you need something specially formulated to give you better sleep, like Hemp Bombs CBD Sleep gummies. Each of the five gummies contains 15 mg of CBD and 5 mg of melatonin, insomnia's worst enemy. These CBD gummies help you fall asleep faster and stay asleep longer. Unlike most sleep aids, they provide complete serenity, no groggy mornings.
Best CBD Gummies For Anxiety: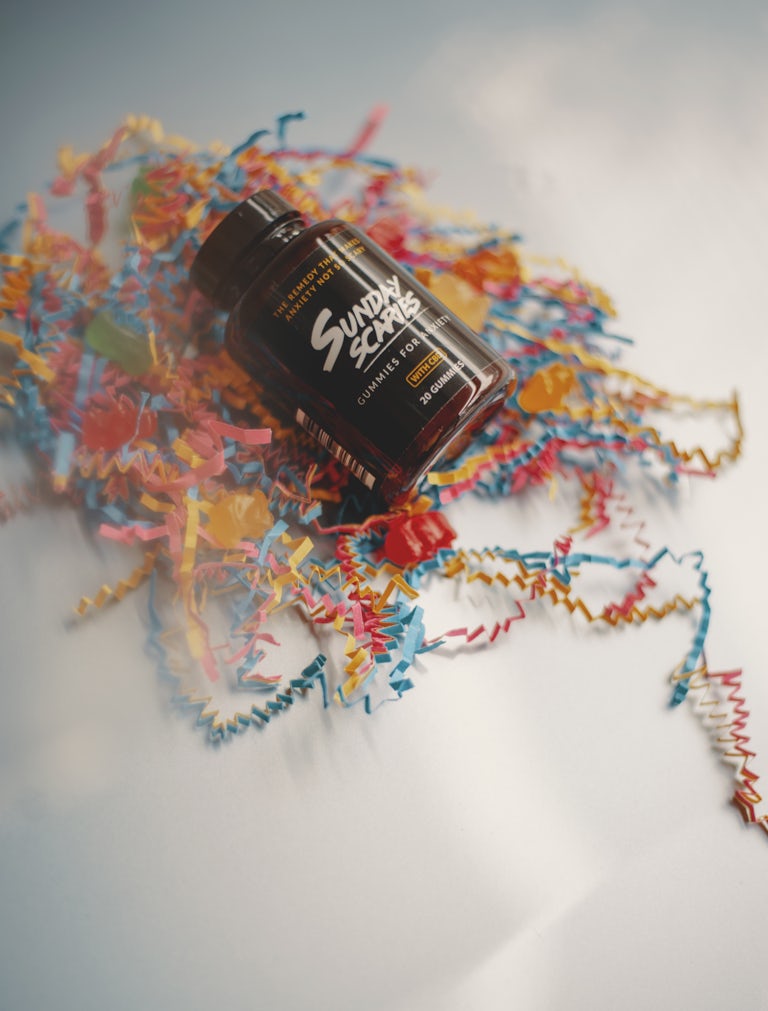 Unless you suffer from anxiety, you don't truly know anxiety. There is no argument. If you want to see what CBD gummies can do for your racing heart and mind, then there's no better bottle to start with than Sunday Scaries. People that actually know what anxiety is like made Sunday Scaries CBD gummies. They contain 10 mg of full-spectrum CBD a pop along with vitamins B12 and D3. For those with mad social anxiety, these gummies are a gift. After a few rounds, you may find yourself going out for dinner and facing the crowd like a champ again.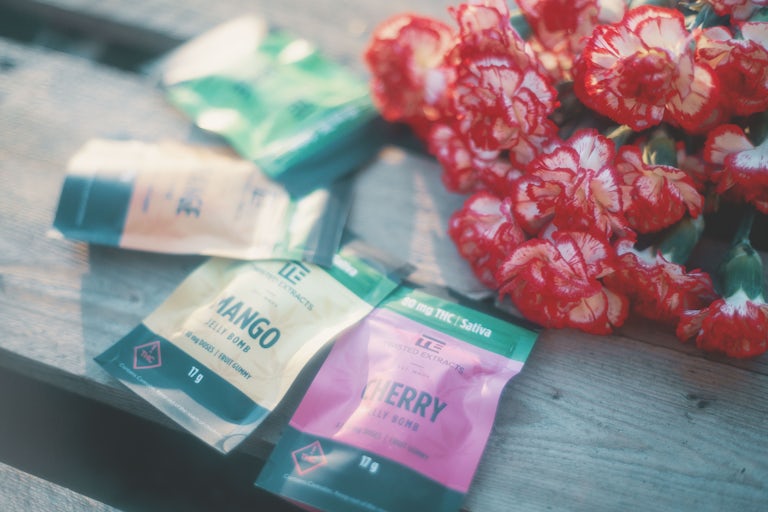 For taking the edge off anxiety, Twisted Extracts CBD Jelly Bombs are your kind, candied soothers. Infused with 80 mg of 99.9 percent pure CBD isolate and 0 mg of THC, these Lego block-inspired gummies are a peaceful oasis for escaping the unruly symptoms of anxiety. They come in two uplifting flavors, pineapple, and peach, with no herbal flavor in the slightest. Moreover, they can be divided perfectly into portions of eight, which makes finding your perfect dose of calm plain sailing.
Best CBD Gummies For Pain: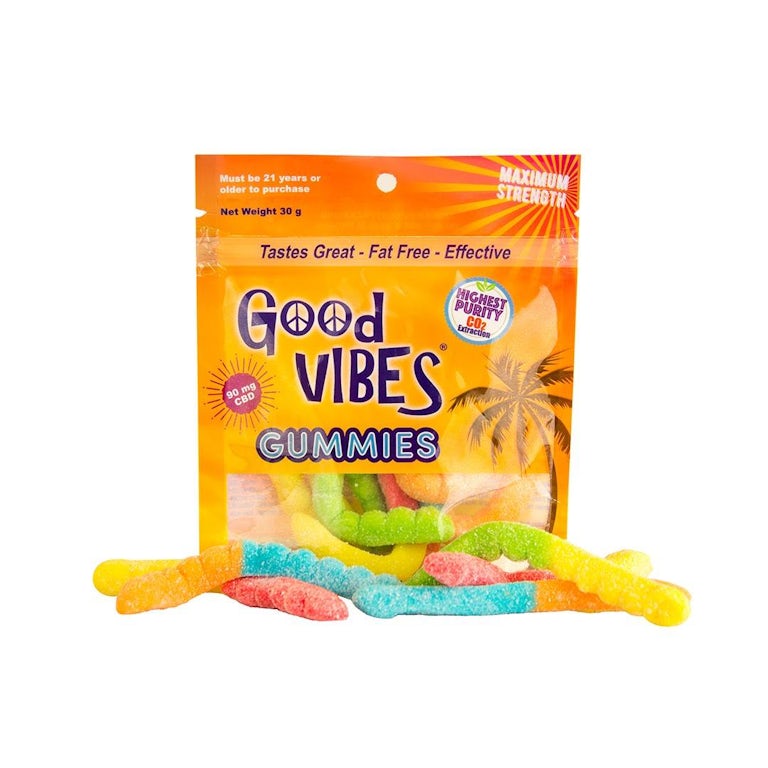 Pain is both uncomfortable and distracting, regardless of how mild it may be. Trying to get things done when your body is aching and throbbing is like trying to work with a screaming toddler in the background. For a sweet and healthy treat to rid of those annoying sore spots, try Good Vibes CBD gummy worms. On top of cutting your pain in half, these CBD gummies help you relax, making them perfect for the evening time when you're winding down. Each critter has 15 mg of the highest purity CO2 extraction. Plus, they're fat-free!
Best CBD Gummies For ADHD: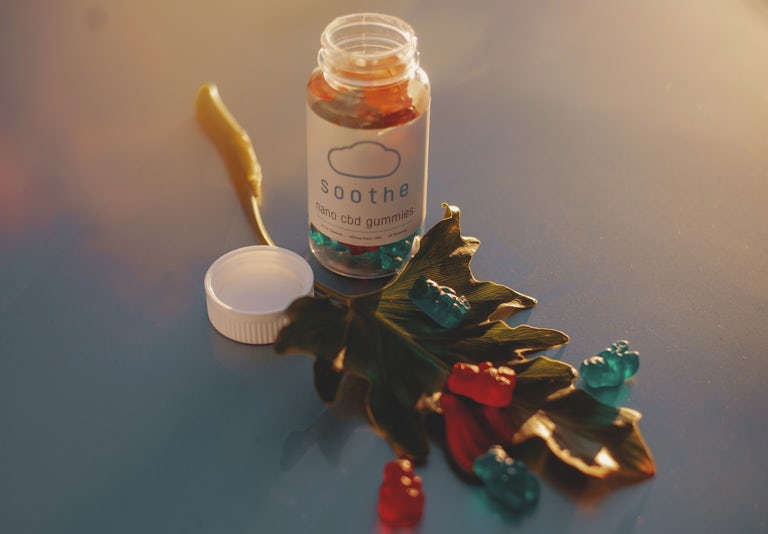 It's kind of hard to chill when you have ADHD. If you're one to fidget and can't sit still for too long, then Soothe has the right CBD gummies to calm you down and help you relax. Their blue and red nano gummy bears contain 10 mg of CO2 CBD isolate a piece. Moreover, they're kosher and organic and provide vitamin B12, electrolytes, and organic terpenes for flavor and effect, and other natural ingredients. Most customers say the blue bear is their favorite and that in addition to keeping you chill, these gummies control stress and boost your focus.
Best CBD Gummies For Migraines: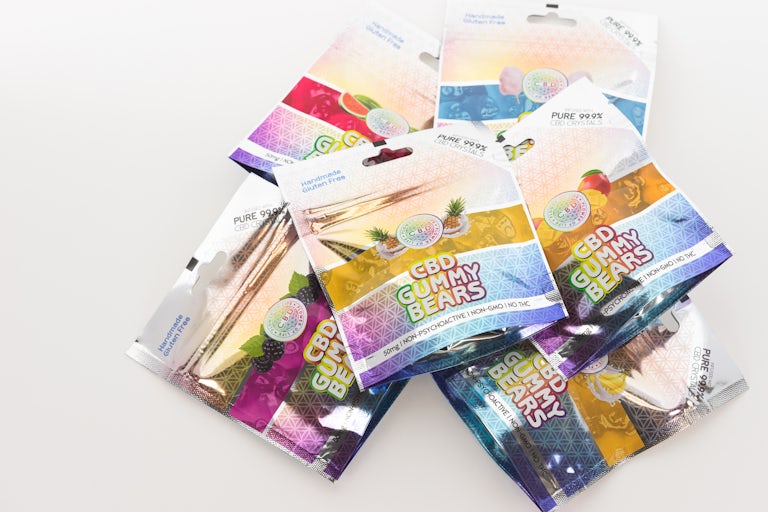 Relieve a migraine and enjoy a sweet treat at the same time with Flower Of Life CBD Gummy Bears. With these CBD gummies, you don't get a variety of flavors in a pack, but you do have exotic options, including Banana Cream Pie, Cotton Candy, Pina Colada, and more. Each bear, handmade from scratch, delivers 10 mg of Pure CBD made from the highest quality 99.9 percent pure kosher CBD crystals. Aside from a painful migraine, Flower Of Life CBD Gummy Bears is also excellent for relieving nausea, which often accompanies it.
Best CBD Gummies: Bears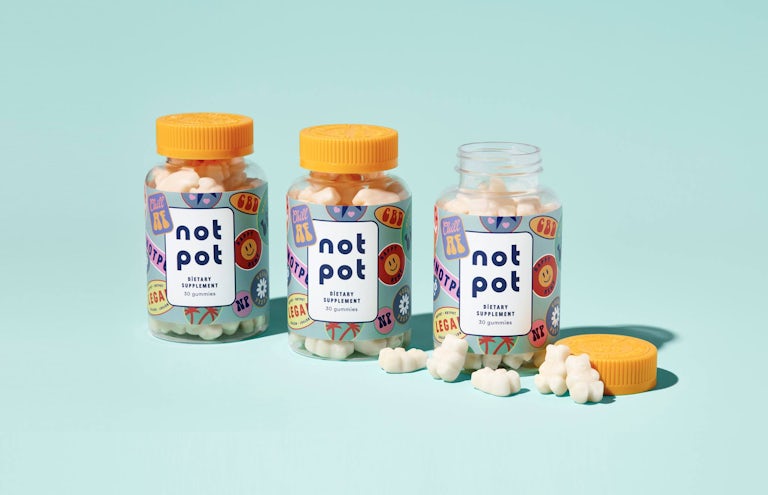 If you're on the hunt for a quality CBD gummy bear to use as a general daily dietary supplement, then Not Pot's vegan CBD gummies will fit well into your wellness regimen. According to Not Pot, they are like a strawberry-flavored hug for your endocannabinoid system. Each polar bear is infused with 10 mg of full-spectrum hemp and 100% vegan ingredients. From a stress-free day to an ache-free body to peaceful sleep, Not Pot gummy bears give good vibes only. They even come in a fun/hip bottle.
Best CBD Gummies: Amazon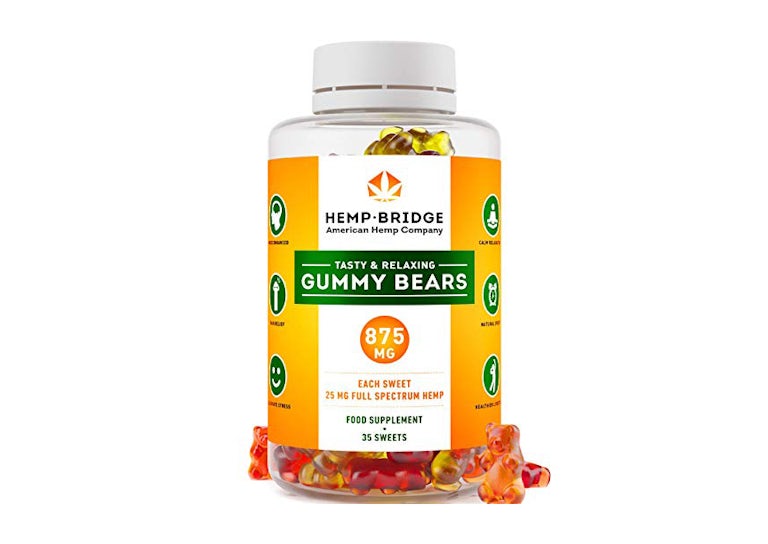 We get it, people are obsessed with Amazon, and because Amazon exists, they don't feel like shopping anywhere else when it has practically everything. That includes CBD gummies. If you must buy your CBD-infused gummy goodness from Amazon, then Hemp Bridge is a decent brand. Each bear is vegan, non-GMO, and organic and has 25 mg of full spectrum hemp-derived CBD. Customers love the affordable price, pleasant taste, and especially, the relaxing effects.