Thanks to the internet, you now have seemingly endless options for imaginative places to hide your stash. One quick Amazon search for "discrete safe" and you've hit the motherload. If you're trying to hide pounds of dried herb, however, you might be in for a struggle. But if you are simply looking for the best places to hide your stash, we've got you covered.
Best Hidden Stash Boxes
It seems like there's always someone wanting to kill your buzz. Whether it's parents, mooching roommates, or a nosy landlord, hiding your stash is a prudent idea. Here are the best products to help you out.
Wall Clock Hidden Safe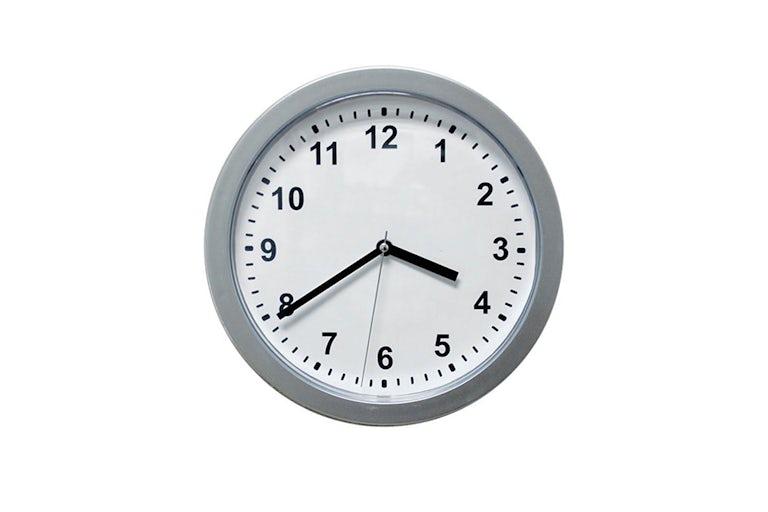 This is one of the sneakiest products for hiding weed because it's a functional clock. It operates using one AA battery, not included. The internal safe has two shelves. The Wall Clock Hidden Safe retails for $19.95.
Romulan Ale Diversion Safe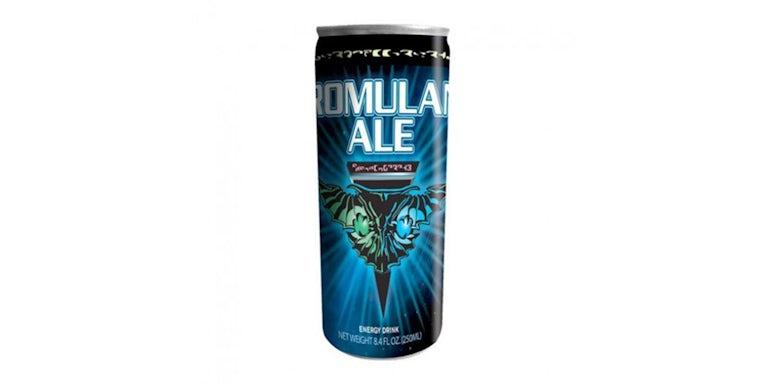 This one's perfect for the Star Trek geek who wants to hide their stash in plain sight. Made from an actual Roman Ale energy drink can, it includes a secret compartment for your weed. It retails for $14.95.
Fire Extinguisher Security Container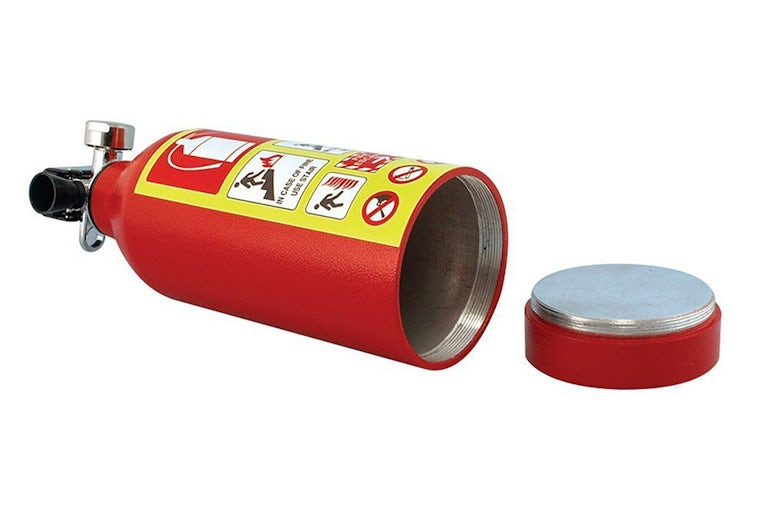 The stealth storage space inside this "fire extinguisher" measures about 5.5″ x 2.75″ (perfect to fit something like the Flowermate V5S with the rest of your stash). It unscrews from both the top and the bottom. It's one of the best stash products around as no one will ever think to tinker with it. This 11" Fire Extinguisher Security Container retails for $33.00.
Dictionary Book Safe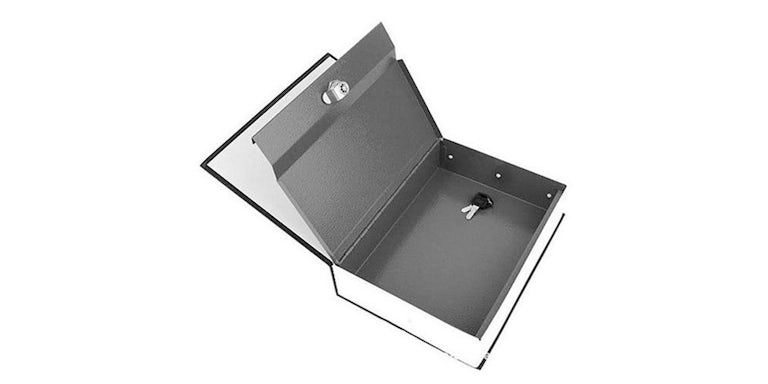 It appears to be "The New English Dictionary," but it's actually a secret stash with an internal lock. Lock it up and put it on the shelf with your real books. This Dictionary Diversion Secret Book Safe retails for $13.95.
Hairbrush Diversion Safe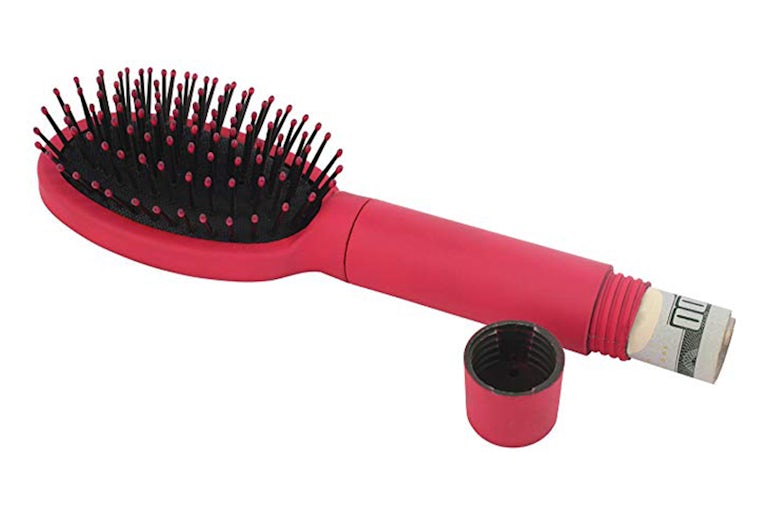 This ordinary-appearing black and magenta hairbrush contains a small stealth stash inside. This Mantello Hairbrush Diversion Safe retails for $10.99.
Toilet Brush Diversion Safe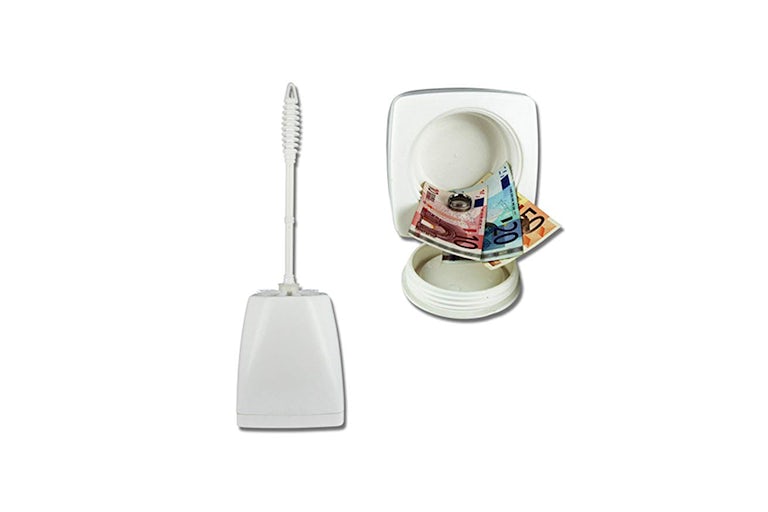 Who wants to mess with your toilet brush? That's just weird; which makes this one of the best stealth stash products available. This Stash Safe Toilet Brush Diversion Safe contains a small storage compartment inside. It retails for $17.95.
Pringles Stash Can Diversion Safe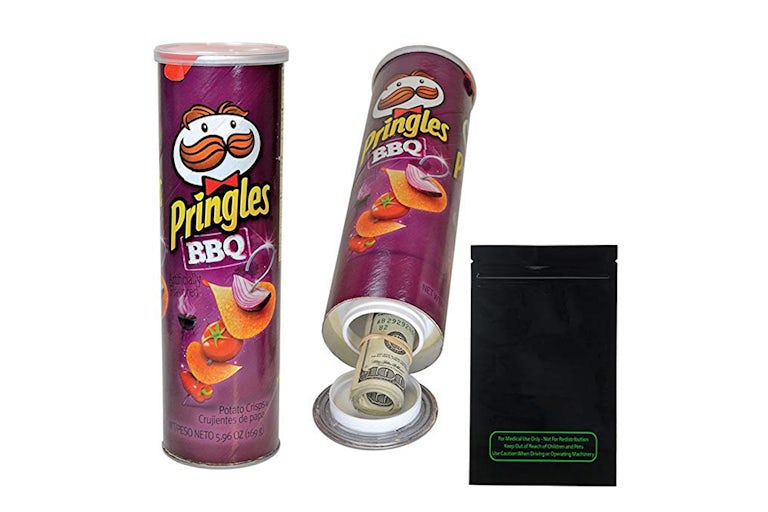 This realistic Pringles can has a bottom which unscrews to reveal a secret compartment. It also produces a realistic sound when shaken, because it comes with real chips inside. This Bewild Pringles Stash Can Diversion Safe retails for $14.99.
Door Stop Diversion Safe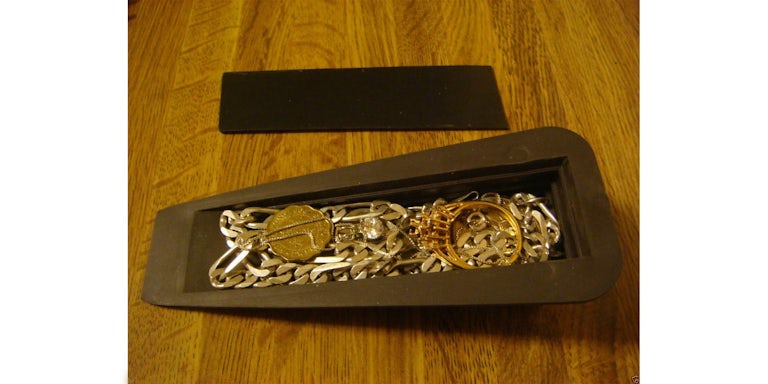 This dark brown Door Stop Diversion Safe is made of rubber. It features a snug-fitting black plastic bottom cover which reveals a small stash compartment. It's not suitable for high-traffic doors or kicking around. It retails on eBay for $16.95.
Spam Can Diversion Safe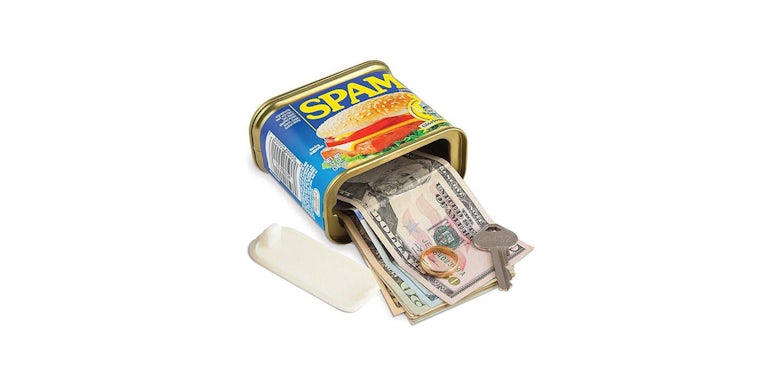 This SPAM can has a removable bottom which reveals the stash compartment. It should be relatively safe in your pantry. After all, who actually wants SPAM? This SPAM Can Diversion Safe retails for $10.99.
Toilet Paper Diversion Safe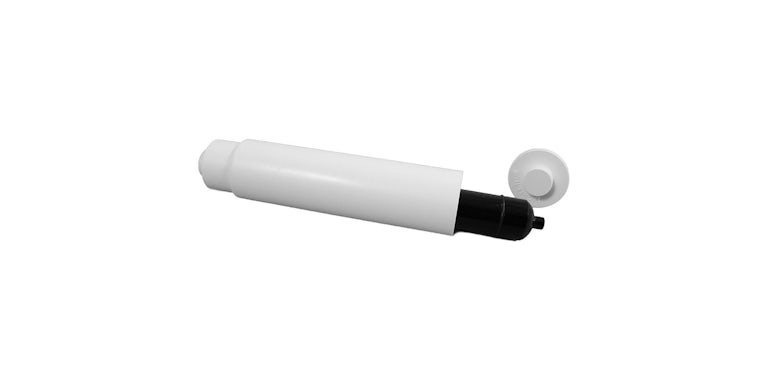 This functional toilet paper roll holder keeps your stash hidden in plain sight. The hiding area is 6″ long. An airtight container fits inside (a great place to keep your Jane West Onesie safe). How many stash-thieves are going to check your toilet paper roll holder? This Hollow Toilet Paper Diversion Safe must be included on any list of the best stealth stash products. It retails for $16.71.
Stowaway Magnetic Stash Container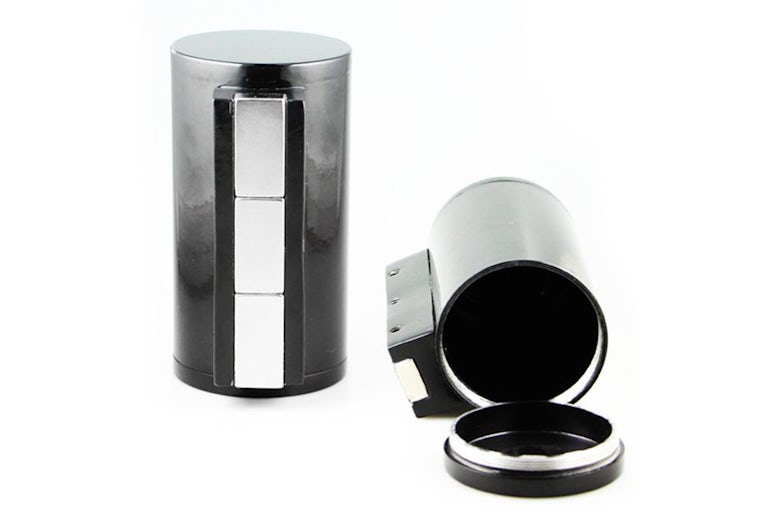 Live in Europe? Having your car searched can be an agonizing ordeal. To make road trips safe and stealthy, why not keep your stash in the passenger area? This Stowaway Magnetic Stash Container can hold on tight all the way there. €79.99
Car Cigarette Lighter Pill Stash Box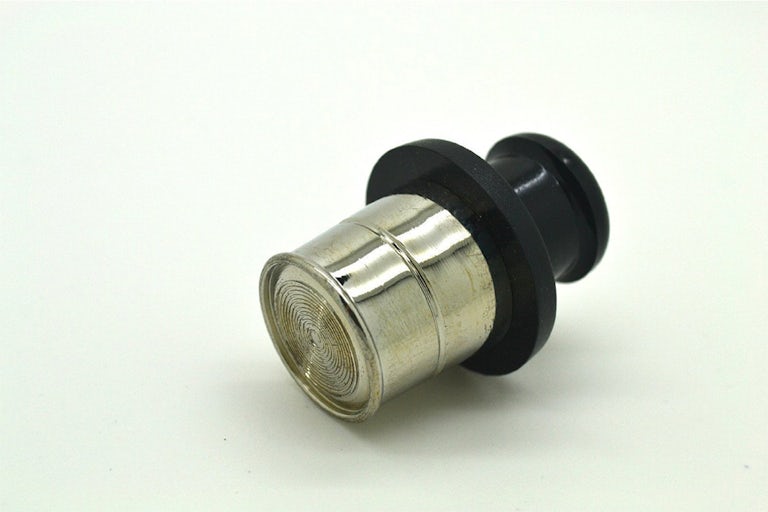 Having your stash hidden under the car only works if you do it in advance. For those times you have a little something for the road in the vehicle, hide it in your cigarette lighter stash box! This fake lighter looks just like the real thing but can hold several capsules, or a small baggie. Available on Amazon for $7.00.
Phone Case Stash Box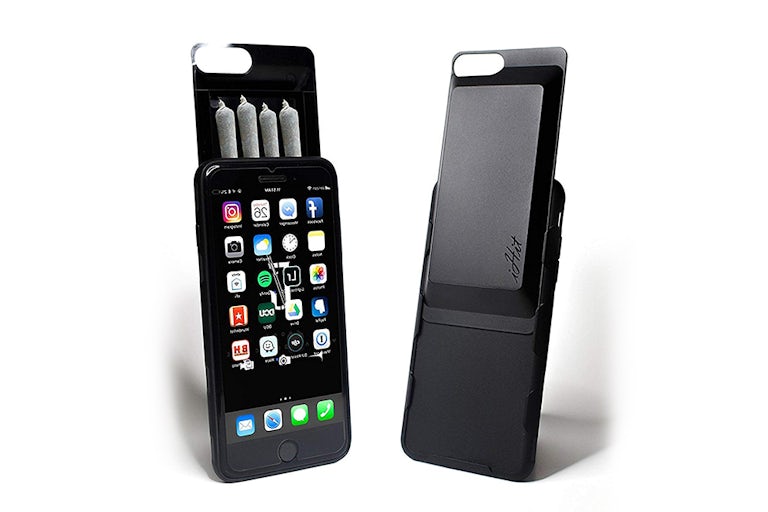 The place no one ever looks for your weed? Your phone! Phones are generally flat, making them challenging places to hide your herb. But, the folks behind the iHit figured there was a better way to optimize your phone space. Store a few joints or perhaps even a gram or two in this simple yet ingenious smartphone cover. The iHit Stash Phone Case is available on Amazon for $20.00.
Best Places to Hide Weed On Your Person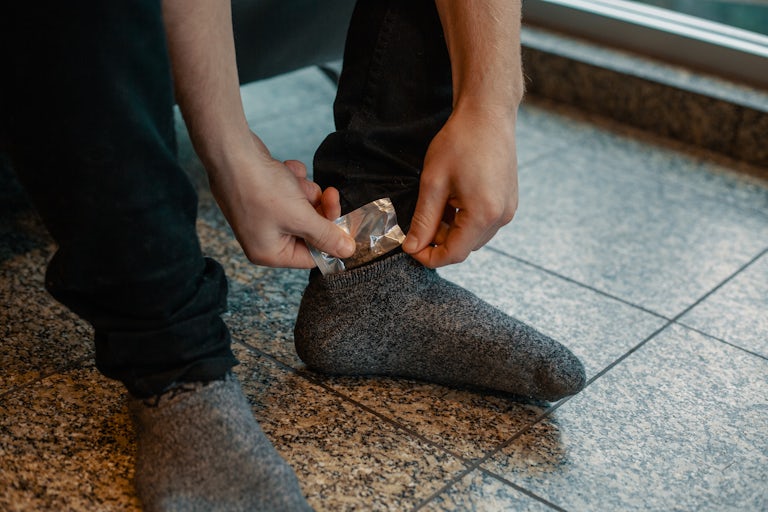 Underwear
Hiding your stash in your underwear is probably the oldest trick in the book. Tuck your roach in your bra or simply toss your goods down your front. While consumers are often patted down before entering music festivals or outdoor concerts, security staff members are not legally allowed to get too handsy.
Belt Buckle
A medium to large belt buckle makes for an excellent place to store a gram or two. If your buckle is big enough, you may even be able to temporarily keep a joint tucked away from prying eyes. Fair warning, though: herb stored behind a belt buckle can feature a high risk of falling out.  
Sock
Socks are another classic. While you may have to remove shoes before entering a music festival or concert, you typically don't have to take off your socks. A joint or a simple gram can be tucked right into the top. If you happen to have high arches, you may even be able to get away with keeping your stash under the arch of your foot for a minute or two. Though, be wary about crushing your stuff.
Rolled-up Sleeve
As it turns out, you can fit quite a lot in a rolled up sleeve. A couple grams can easily be folded up in the sleeve of a button down. If you roll your sleeve properly, this hiding spot is fairly secure. This means you can take just enough herb on your next outing without having to worry so much about losing the stuff.
Rim of Hat
If you're just trying to save a little something for later, the rim of a hat is a solid choice for those who need to quickly hide a joint. Obviously, you can't fit a whole lot up there. But, it's easy enough to tuck a small pre-roll away for later use.
Best Places to Hide Weed from the Police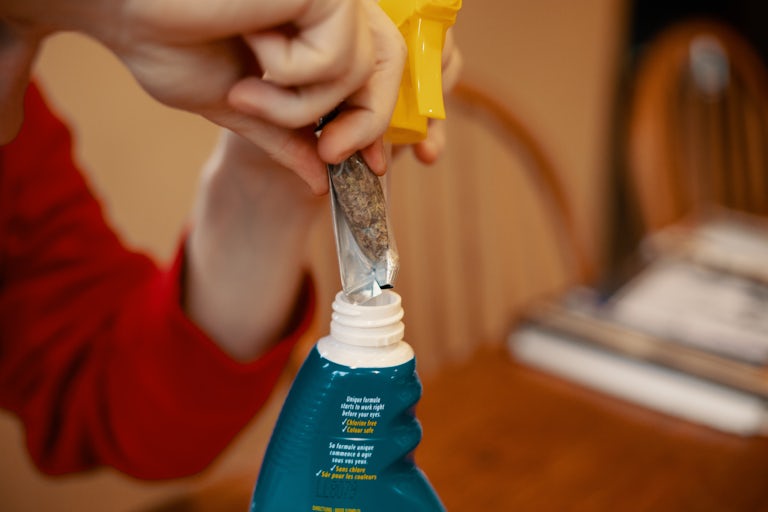 If you get caught with cannabis out and about, you can utilize some of the simple tricks mentioned above. But, if you're at home or in your car, you may want to have a plan of action in case of catastrophe. While it is arguably asinine that non-violent consumers can still be harassed and face criminal charges for possessing a plant, police raids are still a sad reality for many consumers. Here are the best places to hide weed from the police:
In a Discrete Safe
A discrete safe is useful for both home and car travel. But, to be clear, it is not recommended to drive while under the influence of cannabis. Yet, if you happen to be pulled over while in transit, placing your stash in a discrete safe before you hit the road is a good idea. Whether you pick up a hairbrush or a fake fire extinguisher, having some sort of disguise might just keep you out of trouble. If traveling with cannabis in a legal medical or recreational state, keep your goods unopened and in the trunk or back of the car.
Inside an Opaque Cleaner Bottle
Wrap your stash in plastic and shove it inside an unassuming bottle of household cleaner. Of course, to prevent damage to your herb, it would be wise to empty the cleaner bottle, keep your herb in an air-tight and waterproof bag, and perhaps fill the container partly with water to avoid any suspicion if it's moved.  
Under the Floorboards
Sometimes, the movies have it right. A loose floorboard or hidden entrance to a crawl space are perfect spots to stash your valuables. Just don't forget where you put them! It is unlikely that anyone will want to go through the effort of tearing apart the structure of your house, so find a perfect spot for a locked safe.
Best Places to Hide Weed in your Room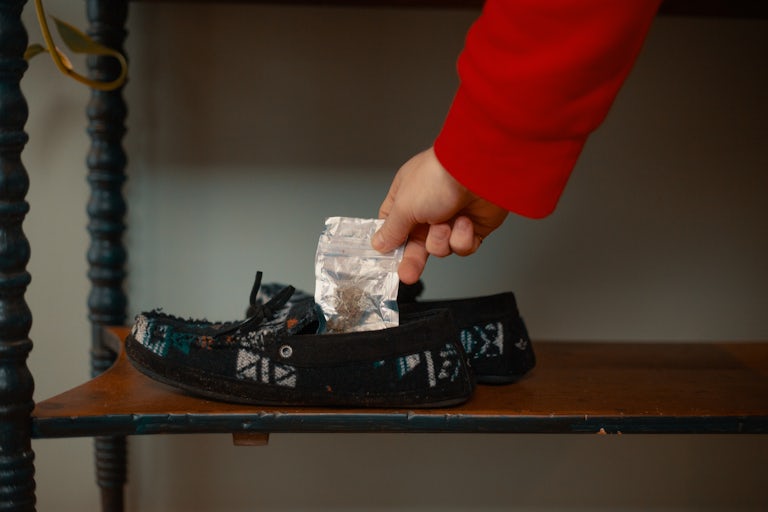 In an Old Shoe
If you have a few pairs of old shoes in your closet, why not hide your stash there? Non-descript and unassuming, shoes are often overlooked as solid stash spots. Just make sure that your goods are wrapped in plastic. After all, shoes can also be quite dirty and might alter the smell and flavor of your favorite flower.
Inside a Hollowed Out Candle
There are several reasons why hiding your weed in a candle is a good idea. Not only are scented candles fragrant enough to block out the scent of cannabis, but how often would someone suspect to turn a candle upside down to check for herbal goods? Next time you smoke, you may even light it for a few minutes to freshen up the air.
In a Book Safe
A book safe is a classic but often fool-proof way to hide your stash. It's a rare occurrence that someone takes the time to leaf through your personal library. As a bonus, book safes often feature locks. Meaning, even if someone happens to find your precious materials, you can always refuse to open up your lockbox.